It first aired on Sunday night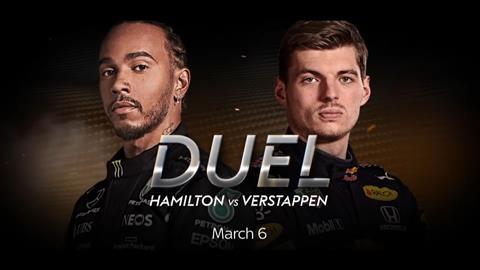 Duel: Hamilton v Verstappen, a documentary charting the season-long battle between the pair for the 2021 F1 drivers' championship, has reached 1.14 million viewers for Sky Sports on all platforms.
The two-part documentary first aired on Sunday at 7pm on Sky Sports Main Event, ahead of the 2022 F1 season beginning in Bahrain on 20 March.
A key part of its success has been through social and digital viewers, with over 300,000 tuning in through those platforms.
A Sky original production, Duel: Hamilton vs Verstappen features exclusive interviews with Verstappen himself, Red Bull and Mercedes team principals Cristian Horner and Toto Wolff, and former Formula 1 world champions, F1 journalists and Sky Sports pundits. There are also breakdowns from the Sky Sports Formula 1 team explaining the action through the incident-filled season.
Sky Sports director of F1 Billy McGinty said: "After last season's drama we can't wait to pick up where we left off, live on Sky Sports F1."