Sameer Pabari, managing director, international media, for the NFL, spoke to Broadcast Sport about how the league targets its growth abroad.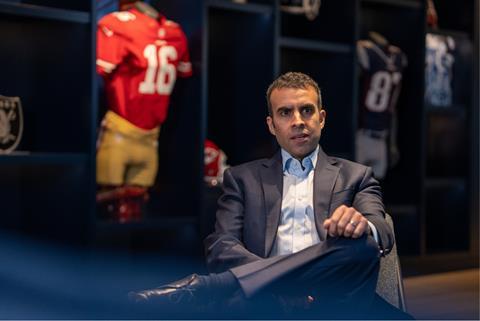 The NFL will have been looking on at the European sporting environment with interest recently, as the European Super League group of football clubs tried and failed to introduce a semblance of its franchise system.
However, while sports fans were against the Super League, they have been becoming more and more open to the NFL in recent years - and especially in the UK. So much so, that rumours surrounding the chances of a franchise moving to London have been floated on several occasions.
Sameer Pabari, managing director, international media, at the NFL spoke to Broadcast Sport about how the sport so closely linked to American culture is looking to become a global powerhouse.
"We want to make markets 'franchise ready'," he explained. "But it would obviously be down to an owner whether a franchise ever made the move."
Getting 'franchise ready' appears to have been going well in the UK recently, with NFL now available to watch in five different ways - all targeted at different levels of interest. The BBC, Channel 5, and MTV pick up casual viewers, Sky Sports' dedicated NFL channel gives constant coverage, and the NFL's OTT platform Game Pass is there for the most committed followers.
These outlets have seen some impressive figures in the last year, with over four million tuning into the Super Bowl on the BBC or Sky - its highest UK audience in more than 30 years. In addition, a million viewers a week have been drawn to the BBC's NFL Show on linear and digital, and there has been a 38% year on year increase in weekly average ratings for all live game windows during the regular season for Sky Sports.
Pabari said: "Our key mission is to grow the sport outside of the US, and through maximising the reach of the NFL among the broadcast audience we can.
"There are three components to this. Free-to-air is integral to reaching the largets possible market, and gives a slightly different tone of voice - perhaps assuming a little less knowledge. Internationally, we're a challenger sport. So we want engagement across many platforms.
"With pay-TV, we believe in being part of a strong sports bundle for general sport fans, and then Game Pass is there for very committed NFL fans who might want to follow an individual team."
This strategy has seen success: "25% of viewers on Channel 5 have been new to the sport, and MTV has attracted a younger audience. More people than ever before have been watching the BBC's NFL Show and the Super Bowl. Game Pass has seen good growth over the past year. Sky Sports' channel has seen great year on year growth and put NFL front and centre."
Although it is yet to hit the point where the sport could join the Premier League, cricket, and others behind a paywall: "As people become more interested in NFL, they can consume more and more of the sport. We're likely to keep this as it is."
Even Covid hasn't been able to make the organisation change its mind, despite it seeing international games cancelled: "We were lucky with lockdowns coming in our off-season. Our KPIs such as viewers, subscriptions, merchandise sales, etc. actually grew over the past year, and so there will be no real deviation from the strategy."
This broadcast strategy is part of a wide-ranging plan to grow the sport, which entails four pillars of media, international games, grassroots participation, and increasing the number of international players in the league. Grassroots is an area of particular interest, targeting a "passion crossover" between non-contact flag football and growing broadcast audiences.
However, Pabari doesn't want to stop there, especially when it comes to where they have most control - Game Pass - despite it already having a 57% increase in international users year on year.
"Game Pass gives us a direct relationship with fans, allowing us to create bespoke content when perhaps our media partners don't have the space. If you're a fan of a team, it is perfect, and it has seen strong growth over the last few years with great acquisition and retention.
"However, there is more room for growth. Only a small proportion of fans use Game Pass. So, we want to make the product more open to people who don't know so much about the sport, as well as further personalisation and localisation. We want to make it more relevant to the casual fan."
The NFL will continue in this vein, boosted by the recent announcement that all teams will now play at least one international game over the next eight years. "We are constantly looking to innovate," Pabari said. "And we'll continue our long-term commitment to the UK."