The Professional Triathletes Organisation has agreed a three-year deal with IMG, beginning with flagship event, The Collins Cup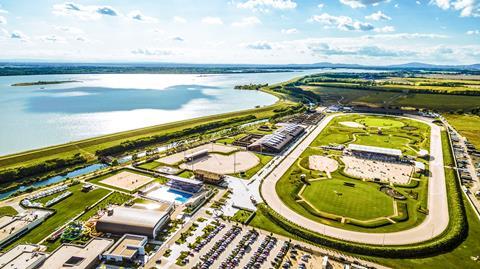 The Professional Triathletes Organisation (PTO) has appointed IMG to assist in distributing global media rights for the PTO's flagship event - The Collins Cup.
The deal also includes the distribution of future PTO-owned events over the next three years.
The Collins Cup is a global annual competition which will see teams of the best professional triathletes from the USA, Europe and the Internationals competing for $1.5m.
It will take place on 28 August 2021 at the X-Bionic sphere in Slovakia (pictured above) and aims to attract a wider fan base to the sport of triathlon.
The multi-year deal with IMG covers the distribution of media rights for the Collins Cup and future PTO owned events, as well as helping the PTO devise its long-term media rights and distribution strategy.
IMG will start its relationship with PTO by finding broadcast partnerships for the Collins Cup, with a focus on the USA, UK, Germany, France and Spain.
Tim Godfrey, chief marketing officer, PTO, said: "Bringing this level of strategic media experience to professional triathlon is absolutely core to the remit of the PTO. IMG is truly the best in the business of building televised sport and we look forward to building on the success from working together on the PTO 2020 Championship with the upcoming Collins Cup and for our future events in the coming years."
Hillary Mandel, executive vice president, head of Americas and global media partnerships, IMG, added: "The PTO has enormous potential with their ambitious plans to professionalise the sport around top-tier major events, with best-in-class production and athlete focused storytelling. Their unique approach to athlete ownership and innovative new formats like the Collins Cup makes for a compelling broadcast proposition to take to the broadcast market."