Four hosts have been revealed, and Formula One TV and radio producer Jason Swales is on board as executive producer.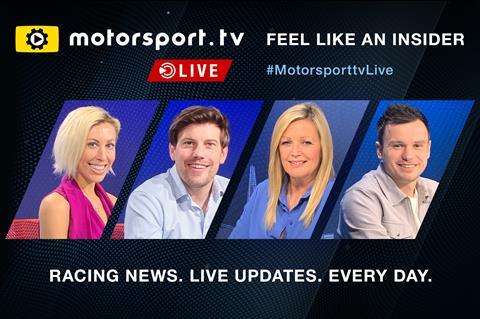 The Motorsport Network has confirmed that Diana Binks, Chris McCarthy, Rachael Downie and Bryn Lucas will be the lead presenters for the Motorsport.tv Live news channel.
In addition, Jason Swales, with 20 years experience as a radio and TV producer in Formula 1 media, with BBC, NBC Sports and Formula 1, becomes the executive producer.
The four presenters will be based in the Motorsport.tv studios in London, sharing hosting of live bulletins that will begin this week. The bulletins will air at 8am, 12pm, and 3pm GMT until the summer, when the addition of a second studio in Miami, USA, will mean they can move to hourly.
Hosted on the OTT Motorsport.tv platform with clips featured on Motorsport.com, Autosport.com and Motor1.com, Motorsport.tv Live will cover breaking news in motorsport. It will focus on major motorsport series and events such as Formula 1, Formula E, 24 Hours of Le Mans, NASCAR and IndyCar, as well as putting a spotlight on topics of interest from other areas.
Binks joins after working as a live reporter on 24 Hours of Le Mans and presenting Speed TV in the USA, Motors TV in Europe and So You Want To Be an F1 Driver? on Sky Sports. She said: "I'm really looking forward to joining the team at Motorsport TV Live and excited to be hosting live shows where anything can happen."
McCarthy started out as a racing driver himself, before going on to commentate on and present esports and traditional racing. He said: "It's a real honour for me to be part of the Motorsport TV Live team. I've been working in the sport for nearly seven years and it's been a passion of mine since I started racing back in 2008 so to be delivering the news about a sport I love is a dream job for me."
Downie has been a broadcast journalist with Chelsea TV, Arise News, Sahara Force India Formula One Team, and the British Grand Prix, and she said: "I've always been passionate about motorsport and I believe it's an exciting time for the industry right now. On a personal level, as a female sports broadcaster, to be part of the very first rolling motorsport news channel is incredible and makes me proud."
Lucas has fronted Goodwood Revival, TCR UK, Autosport International, Goodwood Festival of Speed, the Dunlop Touring Car Trophy, Super Formulaand the Le Mans Esports Series Final, and added: "Having spent a vast amount of my career talking about motor sport and running up and down pit lanes grabbing interviews with drivers and teams, I am delighted to be part of this brand-new platform."