Head of radio and digital, BBC Sport, Ben Gallop, tells Broadcast Sport about what the broadcaster has in mind for the MMA competition.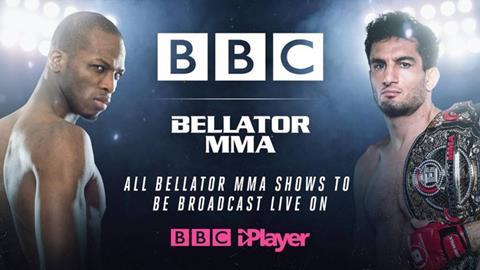 MMA competition Bellator will be shown on BBC iPlayer throughout 2021, thanks to a deal agreed by the free-to-air broadcaster.
This comes after Bellator Paris was shown on the platform back in October, bringing MMA to the platform for the first time. UFC is also regularly covered on the BBC's radio channels, with Conor McGregor's recent defeat to Dustin Poirier on BBC Radio Five Live.
The success of Bellator Paris was a factor in picking it up again for 2021, explained Ben Gallop, head of radio and digital, BBC Sport.
"There was very positive feedback, both anecdotally on the night and from the data that we received," Gallop explained to Broadcast Sport.
He added: "It was one of the best performing programmes that week for activations of new accounts."
It wasn't a surprise that this was the case. The BBC is looking to emerging sports such as Bellator as a path to gaining the young viewers that it needs to be attracting.
Gallop said: "MMA often comes up as one of the most popular sports with young audiences, which is a group that doesn't usually reach the BBC. This is part of a wider push to make iPlayer a go to for those younger audiences, and make it a regular destination rather than somewhere for one-offs."
When sport fans, young or old, get to the platform, they could then take advantage of the other content on iPlayer: "The USP of iPlayer is liveness. We are really keen to make iPlayer a destination for sport fans. To draw that audience in, and then we will be able to offer them all of the great content that is also on the platform."
Scheduled 2021 Bellator events:
Friday, 2 April: Bellator 255, Mohegan Sun Arena, Uncasville, Connecticut 9pm ET/3am BST
Patricio Freire v Emmanuel Sanchez (Bellator featherweight title, featherweight grand prix semi-final)
Friday, 9 April: Bellator 256, Mohegan Sun Arena, Uncasville, Connecticut 9pm ET/3am BST
Ryan Bader v Lyoto Machida (light-heavyweight grand prix quarter-final)
Anthony Johnson v Yoel Romero (light-heavyweight grand prix quarter-final)
Friday, 17 April: Bellator 257, Mohegan Sun Arena, Uncasville, Connecticut 9pm ET/3am BST
Vadim Nemkov v Phil Davis (Bellator light-heavyweight title, grand prix quarter-final)
Corey Anderson v Dovletdzhan Yagshimuradov (light-heavyweight grand prix quarter-final)
Friday, 7 May: Bellator 258, Mohegan Sun Arena, Uncasville, Connecticut 9pm ET/3am BST
Juan Archuleta v Sergio Pettis (Bellator bantamweight title)
Further events to be confirmed
When it comes to Bellator, the BBC hopes to attract these supporters through a concerted push across all of its platforms to attract an audience.
"We want to join-up our coverage across platforms. We always get really good feedback from combat sports, not just boxing but also UFC and other MMA, and we will look to build on this with written features and audience interaction around the events," Gallop said.
However, any special production innovations, or having a BBC presentation, to bolster this approach may have to wait until after the pandemic. Gallop added. "Once Covid will allow, it is possible that we will try to do more with events in the UK and Ireland."
For now, the broadcaster will be taking the world feed from Bellator, with the events then available to watch on demand. This on-demand option may prove to be popular given the start times. All fights scheduled to date are in the US and at 3am BST, but later in the year there is still a chance of international bouts.
Despite this, Gallop is confident there will be a live audience in the UK, even with the early morning starts. He takes heart from those who have been getting up early to take in the England cricket team's test series in India on Channel 4 this month.
"They're not the most hospitable timings, so availability to watch back is important. We will then see if there is an appetite for highlights shows.
"However, people are really committed to sport. We see it with Formula One and the cricket when it is taking place in different time zones, people will adjust their body clocks and watch."