Subscription service Spark Sport will air the tournament in New Zealand.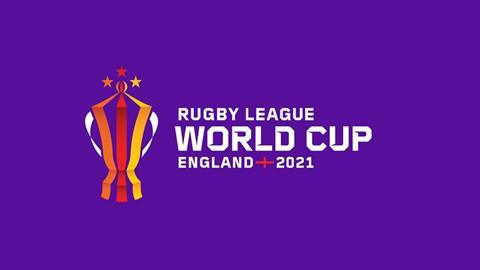 The Rugby League World Cup has signed up its first international broadcaster, New Zealand-based Spark Sport.
The BBC is the host broadcaster for the competition, with International Rugby League and the Rugby League World Cup assisting on production. The tournament taes place between 23 October and 27 November this year in stadiums across England, and it is the first time that the men's, women's and wheelchair events will be held simultaneously.
Subscription service Spark Sport, which also shows the likes of New Zealand men's and women's cricket, F1, Premier League football, the NBA and NFL, is making its first move into rugby league with this acquisition of the New Zealand rights.
Jonathan Neill, RLWC2021 commercial director, said: "Our ambition is for RLWC2021 to open up new opportunities for the sport and Spark Sport has shown their commitment by confirming they will show all 61 matches across the Men's, Women's and Wheelchair tournaments.
"Our partnership with Spark Sport provides a significant focus for growing both the women's and wheelchair games as well as showcasing the excitement and appeal of international Rugby League. Spark Sport will provide dynamic and flexible viewing options, with a deep level of content and engagement to support the continued growth of the sport.
"We're looking forward to engaging with fans in New Zealand, exciting all existing and new Rugby League viewers, and inspiring a new generation to create a legacy via RLWC2021."
Spark Sport head of sport, Jeff Latch, added: "Rugby League World Cup 2021 marks a pinnacle event for the Rugby League world, and we are enormously proud to have secured the rights to bring the tournament to league fans from a range of diverse communities across Aotearoa.
"There's a great opportunity for the Kiwi Ferns to showcase the skill and talent in the women's game with all eyes on them as one of the favourites. The Kiwi men on the other hand are looking for redemption as anticipation builds around who will make the squad with the growing Kiwi talent pool coming through the NRL.
"There's a huge New Zealand fan base supporting our Kiwi teams, and our neighbouring Pacific teams with Tonga, Samoa, Fiji and the Cook Islands bringing competitive squads and plenty of passion and flair to the tournament. I think back to the last Rugby League World Cup and the energy these teams and their fans brought to the sold-out venues. They really were the heart of the tournament and I love that this year we'll get to bring them all the action from England."