The trio will refrain from posting football content over the Bank Holiday weekend to protest racial hatred and discrimination.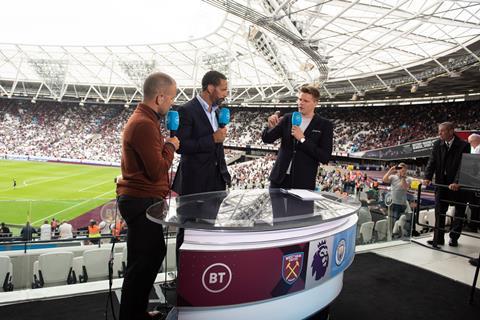 Broadcasters Sky Sports, BT Sport, and DAZN will join the social media boycott this weekend.
Originally announced by The FA, Premier League, EFL, FA Women's Super League, FA Women's Championship, PFA, LMA, PGMOL, Kick It Out, Women in Football and the FSA, the blackout on football content across social media is in protest against racial hatred and discrimination on the platforms.
The ECB and county cricket sides have also joined the protest in solidarity.
The boycott will run from 3pm on Friday until 11.59pm on Monday, covering the entire weekend of football fixtures. It's main calls to action are for social media companies to do more to combat racial hate online, and for the UK government to bring in stronger legislation around the problem.
BT Sport was the first of the trio to announce its involvement, on Wednesday, stating: "BT Sport will be joining English football in its social media boycott this weekend to demonstrate our support and stand up against online hate speech.
"We will also launch 'Draw The Line', a campaign that aims to address the problem by raising awareness of the impact of online hate and advocating for change. The only content to apear on our channels across this weekend will be in relation to social media abuse."
Sky Sports and DAZN then joined on Thursday. The former said: "Sky Sports will not post any sports content to its channels on Facebook, Twitter, Instagram, YouTube, Snapchat and Tik Tok for the duration of the boycott period from 3pm on Friday April 30 until 11.59pm on Monday May 3.
"Sky Sports stands with our football, cricket and other sport partners to urge social media companies to do more to eradicate online hate and ensure social media can be a place for sports fans to discuss, debate and consume the best sporting action without discrimination and abuse."
DAZN's statement read: "We stand in solidarity with English football's protest against racism on social media.
"At DAZN, we stand alongside The FA, EPL and EFL in tackling racial hatred and discrimination on social media platforms.
"Many players and others connected to football have received ongoing and sustained discriminatory abuse online, through social media and otherwise.
"The collective efforts of the sports community – which includes broadcasters, leagues, teams, players, officials and charities - call for significant improvements in policy and procedures regarding online discrimination on social media platforms.
"To show our solidarity, we are participating in the social media blackout of English soccer content on DAZN social channels this weekend. DAZN joins various English teams and athletes in this boycott."