It will host Arsenal and England legend's Seaman Says podcast on its platform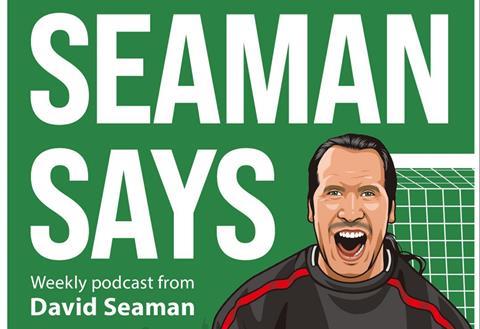 The Sport Social Podcast Network has agreed to host, monetise, and distribute David Seaman's Seaman Says podcast.
Hosted by the Arsenal and England legend, and produced by Manchester based Listening Dog Media, Seaman Says has become known for interviews with sporting icons such as Paul Gascoigne, Jurgen Klinsmann, Sir Mo Farah and Faye White. As part of the network, it will be released bi-weekly on all major platforms.
It joins the likes of Wisden Cricket, The Late Braking F1, The Joe Marler Show and The Geraint Thomas Cycling Club on the Sport Social Podcast Network, which aims to help creators grow and monetise shows.
Jim Salveson, head of Sport Social Podcast Network, said: "Entering into a partnership with the Seaman Says team is a major win for Sport Social, and the icing on the cake following a brilliant year as a global podcast network.
"When we launched, we'd seen real opportunity to help support and grow the riches of sport podcasting talent by bringing them together under one roof. And it's paying off - reaching over 2.4m downloads and building a growing global community are milestones we are really proud of.
"Now's the time for us to build on this momentum, identifying brilliant shows – like Seaman Says - that we can really support by bringing them into the network. We're excited to secure more great shows, in new sports and with new creators, as the network continues to grow in 2022."
Callum Marks, producer of Seaman Says, added: "In the past 12 months we've built a show we're proud of, creating an equally brilliant audience to boot. When Jim and the Sport Social team told us about their ambitions and offered us the opportunity to join the network, we jumped at the chance.
"Their experience in the sports podcast market is going to be invaluable in taking Seaman Saysto the next level – we're definitely in safe hands with the team! We're really excited about where the partnership between Listening Dog Media & Sport Social can take Seaman Says this season."