The new digital sports platform will host the UECTV video application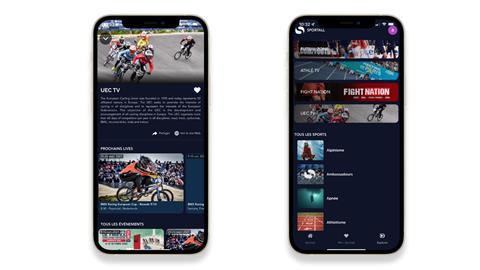 New digital sports platform Sportall is providing the European Cycling Union's (UEC) digital production, promotion and distribution solutions for the UECTV app.
Dedicated to all things cycling, the app offers live and replay access to a set of UEC competitions from across Europe. It is available through the Sportall app or tv.uec.ch.
It joins other options on the Sportall platform such as combat sports app Fight Nation, athletics media app Athle TV, and French futsal association's Futsal Zone.
Enrico Della Casa, president of the European Cycling Union, said: "It is a great joy for me to be able to provide this solution to all cycling enthusiasts who will also be able to benefit throughout this year from free access to all of our digital programming. It is a fantastic opportunity for visibility for our athletes, our competitions, and to reach a young and broader target audience, even beyond our BMX and MTB riders who will naturally gravitate to this content."
Thierry Boudard, chairman and CEO of Sportall, added: "The UEC is setting up its own digital platform; we congratulate them! Sportall is very happy to be able to serve an international federation of this calibre. This association opens a new path to increase visibility and promote European cycling and marks an important step for Sportall, who is now ready to export their tools and know-how throughout the whole world. A big thank you to Stéphane Garcia from the Sarrians club in France, who was responsible for our first steps in the world of BMX and for our meeting with the UEC."