Noel Curran, director general of the European Broadcasting Union - which represents public service broadcasters across the continent, explains why sports federations should continue to back free-to-air broadcasts.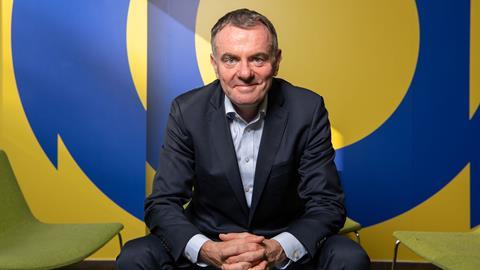 This summer, live sport has been back with a vengeance.
The rescheduled UEFA European Championships and Tokyo 2020 Olympic Games and Paralympic Games, alongside the usual favourites like the Tour de France, have seen audiences coming back to sport in huge numbers.
It's been great to see spectators back in stadiums but, where that has not been possible, broadcasters have played an even more important role in delivering all the action straight into people's living rooms.
After a year when we've been driven apart, it's felt good to come together and be part of something bigger.
And that's where public service broadcasters have come into their own. Providing a home for sport where it can be enjoyed by everyone everywhere.
Over two thirds of sports fans don't even have access to the premium sport channels, meaning they're excluded – as many were during the Olympics – from following every second of the action of their favourite sports.
We've also seen in the last year how the global pandemic has negatively affected consumer incomes in Europe with fewer and fewer people now willing or able to pay for premium sport content.
For sports federations, it presents an interesting challenge. How do federations balance the reach provided by free-to-air channels with the revenue generated by lucrative broadcasting rights deals with the premium TV channels?
It's not a straightforward equation. Federations need to understand that the financial impacts are not just about the broadcast rights payments. Free to air attracts much bigger audiences. It also attracts more diverse audiences and with that a much more diverse range of sponsors. Even in purely financial terms, it can be the more profitable option for many sports.
Most sports – outside the big hitting world of football, Formula 1 and the Olympics - would require a 40%+ uplift in the value of their broadcast rights to offset the value of free TV reach if they were to go pay only.
Free-to-air channels reach over 800 million Europeans – dwarfing the reach of the premium channels. Not only does that provide better value for sponsors, it leads to increased engagement and participation in sport.
Public service media also reaches a much wider demographic. Women and younger audiences are particularly hard to reach by traditional pay TV. Our members' digital footprint cannot be underestimated and allows us to exploit all the rights of sports events, beyond the confines of the linear schedule, and engage with a much broader audience.
Sport should be for everyone. We need public service media to bring audiences together to enjoy big national moments, to inspire the next generation of athletes and to grow fanbases for new and emerging sports.
With a rapidly evolving media landscape, only time will tell how the marketplace adapts to balance the demand for both reach and revenue but free to air has a significant role to play in satisfying both needs.
Noel Curran is director general of the European Broadcasting Union, which represents public service broadcasters across the continent.