The final episode of ITV's Broadchurch generated more than 260,000 Twitter messages on Tuesday, a record amount of traffic for a UK drama.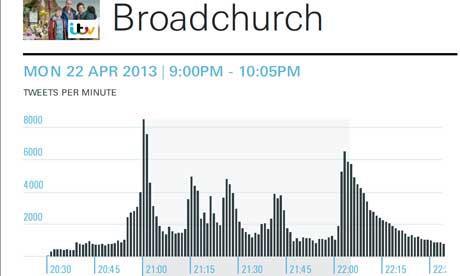 Broadchurch ITV Tuesday 9pm-10.05pm
Total tweets: 260, 709
Peak tweets per minute: 8,493
The climax of the whodunnit, which is to return for a second series, drew messages from 137,000 unique Twitter users, according to data from SecondSync.
The show was viewed by an overnight audience of 8.7m, meaning around 1.5% of its viewers posted a message about it on the social network. During the time it was on-air the show accounted for 90% of all TV-related tweets.
The volume of traffic propelled Broadchurch to become the most-tweeted about show of the last seven days, ahead of entertainment heavyweights including Britain's Got Talent, which generated 170,000 messages on Saturday, Made In Chelsea (159,000) and The Voice UK (102, 000).
It also positioned it well ahead of recent dramas including Doctor Who, which has generated a series high of 85,000 tweets in its current series, and Downton Abbey Christmas special's 36,000 messages.
The Broadchurch activity peaked with almost 8,500 tweets per minute in the opening minute of the show as viewers settled in to watch, before registering small peaks every 15 minutes during the ad breaks and growing significantly again after the climax just after 10pm.
The episode was easily the most tweeted about episode of the eight-part series which had previously seen a high of just over 47,000 messages sent during last week's episode.