On the eve of delivering one of the world's largest live multi-cam VR/360 productions, BT Sport has revealed plans to add live 360 coverage of English Premier League (EPL) and Uefa Champions League (CL) matches from next season.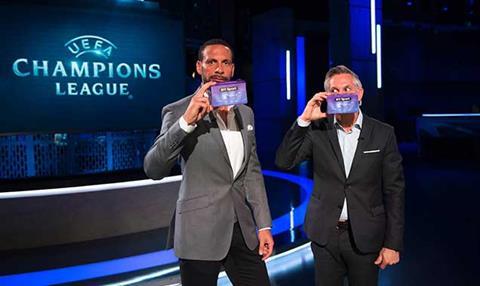 Speaking to Broadcast, BT TV chief operating officer Jamie Hindhaugh confirmed that VR would form "part of its overall coverage" of EPL and CL matches. He said its 360 production of the Uefa Champions League final from Cardiff on Saturday 3 June will be a "step change" and a template for its future coverage.
Nine months in planning, the production builds on tests the broadcaster has carried out at EPL games this season. 4K feeds from 12 Nokia Ozo VR rigs – each with eight lenses – will be supplied by Uefa production partner Deltatre and fed to BT Sport's dedicated mobile VR truck on-site.
For the first time in a BT Sport production, VR graphics will be inserted live. Created by Moov, these include graphics for clock, score, team sheets and substitutions. Moov has also created a 'jumbotron' screen within the 360 feed that will display a live linear feed of the match as well as studio analysis.
Dedicated commentary is being produced in the VR truck from a touchscreen interface. "The commentator has been specially trained in how 360 works so that they can navigate the 360 picture and understand how to deliver the best user experience," said Hindhaugh.
In another break from tradition, a SAM LiveTouch server rather than an EVS machine is handling highlights and replays for the 360 coverage.
The rigs placed around the Millennium Stadium pitch will include one positioned behind both managers and in front of the substitutes' bench.
"When a goal goes in, you can see what the bench is talking about and what the feeling is like," said Hindhaugh. "The match-day direction is broadly the same as for an HD game, except that at any time the viewer could move around the 360 view and look behind them.
"Since we can't zoom in or get conventional close-ups with VR cameras, the director has to make sure that they follow the action from the nearest camera. That's why we need so many."
This 'curated' or produced programme is being output to YouTube for the first time. Viewers can download the BT Sport VR app and select their own viewpoint from eight camera angles.
BT Sport is also offering a curated 360 feed for other broadcasters on behalf of Uefa. "We are looking very seriously into how [VR/360] becomes part of our overall linear operation," said Hindhaugh, who favours the curated feed over user selection.
BT Sport has already trialled live rugby in 360 and produced boxing bouts for 360 VoD. It will enhance its own coverage of future CL ties with live VR/360 in partnership with Deltatre.
BT Sport has also trialled production with VR firm LiveLike.
"My long-term editorial vision is about short sharp shocks rather than watching a whole 90 minutes of a match in 360," Hindhaugh added. "360 is an accompaniment to the main screen for when you want to see a different angle on the action. People need to be realistic about that."
BT Sport chief engineer Andy Beale will be discussing the CL final coverage in the Content Distribution & Live Production theatre at the Media Production Show on Tuesday 13 June at 4pm