BVE 2015: Michael Burns takes his pick of the products on show at this year's BVE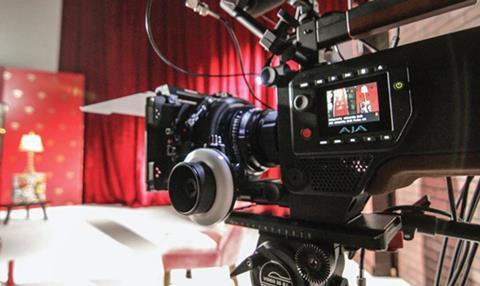 Ikegami (F25) will give its HC-HD300 a European debut at BVE. The flexible docking-style camera for studio or field use is equipped with a 1/3-inch bayonet lens mount and employs three 1/3-inch CMOS progressive-scan 1920 x 1080 native sensors in RGB prism formation. The camera also supports a range of commonly used HD video formats. Ikegami is also showing a new feature for the HDK-97 Arri: an internal HD to UHD up-converter that delivers 4K direct from the camera's CCU.
The Cion, which AJA (G20) (pictured above) launched at NAB last year, is capable of shooting at 4K/Ultra HD and 2K/HD resolutions and offers in-camera ProRes recording, including 12-bit ProRes 444, to AJA Pak SSD media at up to 4K/60p. Cion also outputs AJA Raw at up to 4K/120p.
The Garland Partners (L16) stand is hosting the UK debut of the LiveU L200 uplink unit for live video transmission from field cameras. Weighing 500g, the LU200 is available in a pouch or camera-mount configuration, providing two built-in 4G LTE/3G modems with integrated antennas in a casing that is suitable for any video camera. The LU200 can also serve as a standalone video encoder with satellite integration functionality, or be used as a LiveU DataBridge mobile hotspot for all IP applications. The unit supports wi-fi and LAN connections and includes LiveU's proprietary antenna modules for extra resiliency.
Lynx Technik (A02) is launching its DolbyE to Dolby Digital/Dolby Digital Plus Transcoder with integrated SDI frame synchroniser. The unit detects the input signal and switches its operation to the appropriate format.
Avid (F60) is demonstrating its new Pro Tools 12 release with flexible licensing, as well as Pro Tools First, a free version of the digital audio workstation. Avid Cloud Collaboration, initially to be accessed by Pro Tools users, with others to follow, is also on show, enabling artists to compose, record, edit and mix sessions while working with other Pro Tools users in the cloud.
Calrec (D20) is showcasing its Dante interface, which works in conjunction with Hydra2 across the range of Calrec Bluefin2 consoles. The single-width 3U interface card adds Dante AoIP connectivity to every client on a Hydra2 network, providing 64 audio input and 64 audio output channels.
Cloud-based technology firm Amagi (R06) will make its debut at BVE, showcasing its channel playout, regionalisation, linear OTT and monetisation platforms, including the Storm Plus satellite and cloud receiver and decoder. Storm Plus acts as a local content store, capable of inserting into a broadcast feed HD video, multiple audio tracks including Dolby surround, subtitles and multilayer animated graphics.
As well as demonstrating the latest version of its Cerebrum customisable monitoring and master control system, Axon Digital Design (K19) is launching Smart DVB, its new platform for live MPEG-2 and DVB transport stream reporting. The complete suite of tools can monitor, report and analyse live transport streams to ensure health, conformity and quality across the digital distribution chain. The company is also showcasing its new live video production mixer SynLive, which can scale up to offer a 4-wire, 4K-compatible system.
Among the solutions that Vizrt (L06) is showcasing at BVE is its new broadcast control platform Viz Opus, which provides a newscast automation system, real-time graphics and video playout and audio mixing. Visitors can also see the Stype (B34) kit performing live with Viz Virtual Studio. Stype is a bolt-on camera tracking system for a Stanton Jimmy camera crane that delivers precise data about the camera's position in a 3D space.
A new version of Media Composer is on show from Avid (F60), offering HFR and native 4K editing through the Avid Resolution Independence architecture, extended colour support and Avid DNxHR – a new extensible codec.
Wohler (L01) products at BVE include Tachyon Wormhole, an update to the file-based retiming solution that enables automated plus or minus runtime adjustment of media assets, while preserving closed caption/ subtitle integrity, as well as video and audio quality.
Sony (F50) will give a European debut to its 30-inch BVM-X300 4K OLED Monitor. The monitor has a high dynamic range mode and a wide colour gamut in an HD or UHD workflow.
EditShare ( J12) is showing its new Geevs v7 video server for post, broadcast and sport, offering single client control of multi-server playback and recording. Version 3.2 of the Flow media asset management platform will also be on show. This adds support for 4K codecs, offers file upload/download capabilities that expand remote collaboration, and new automated transcoding and delivery options.
Version 6.2 of compliance tool Vidchecker will be on show from Vidcheck (R16). It includes test template updates to DPP spec V4.3 and additional DPPrequired AS-11 MXF file structural tests.
Workflow management and automation tool ContentAgent from Root6 (J16) continues to streamline the AS-11 UK DPP deliverables workflow with insert edit and metadata update facilities. Card- Agent, a tool for multi-user ingest environments such as news and reality shows, is also being demonstrated.
A range of camera supports are being launched at BVE. Shadow Cam (E23) is showing its digitally stabilised S-Gimbal modular system. Also on show is the Shadow Cam S-5, a three-axis and two-plane camera stabiliser for DSLR and high-end cinema cameras.
Hague Camera Supports (F01) is showcasing two new products: the Hague DSR Dual Shoulder Rig and Hague Levitator, both aimed at camcorders and DSLRs. The former is based on the standard 15mm x 60mm pitch rod system. The £300 Levitator's handles are free-moving and the camera is self-balancing – similar to a Steadicam but without the weights.
Shotoku (C36) is showing the SH100 ENG Fluid head, which makes it easy to adjust the head from low to high torque, and provides smooth movement for camera work. Also on show are the SX300 EFP pan and tilt head with wide balance capability and the TP200 two-stage pneumatic studio pedestal.
On the storage front, Quantum (R24) is unveiling three Q-Cloud systems that integrate the cloud into multi-tier, hybrid storage systems. Q-Cloud Archive and Q-Cloud Vault use the public cloud as an off-site tier within a Quantum StorNext 5 workflow, while Q-Cloud Protect for AWS enables customers using Quantum's DXi de-duplication appliances to replicate data to the Amazon Web Services cloud. According to Quantum, customers can use the benefits of the cloud without changing existing applications or processes.
G-Technology (M12) is showcasing its new range of ruggedised hard drives. The G-Drive ev RaW with Rugged Bumper is available as a 1TB or 500GB 7,200rpm drive, with a removable rugged bumper that is drop-proof from 1.5 metres. The G-Drive ev ATC with Thunderbolt or USB 3 is a 1TB 7,200rpm drive in a watertight, buoyant case that can be dropped from 2 metres.
XenData (P35) is showing a USB 3 LTO6 drive that connects to a laptop and enables file archiving and restoring via drag and drop. The X2500-USB writes to high-capacity 2.5 TB LTO cartridges, able to securely store more than 100 hours of compressed HD at 50Mb/s.
Appearances from actor, director and writer Richard Ayoade and Twilight director Catherine Hardwicke will ensure there is a sprinkling of stardust over the Excel.
Ayoade, who has starred in The IT Crowd and The Mighty Boosh, and directed The Double and Submarine, will discuss his career highs and lows with writer and actor Adam Buxton. In Conversation with Ayoade will take place on Wednesday 25 February at 5pm in the 4K Theatre.
On Tuesday, US director Hardwicke will deliver a keynote session about shooting her latest feature: Miss You Already. The session, which takes place at 5.15pm, will examine the value the UK offers as a production hub for a global film industry and how Miss You Already, which has an international cast and a British crew, reflects the growing multinational nature of British cinema.
BVE takes place 24-26 February at Excel, London