Avoiding death by supersized ice cream, creating a huge dunking biscuit and putting a pie in a pub was all in a day's work for Heston Blumenthal's new series, says Jenny Byrom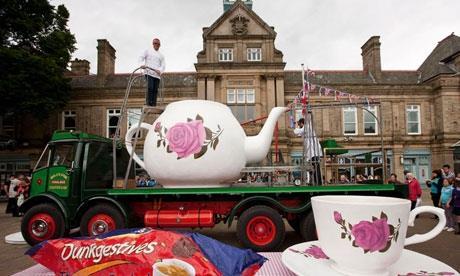 CREDITS
Heston's Fantastical Food
Production company Betty in association with Snail Porridge
Commissioner Liam Humphreys
Length 4 x 60 minutes
TX Tuesdays, 9pm, Channel 4, from 6 November
Executive producer Jenny Byrom
Series producer Natalie Hill
Series director Jay Taylor
Summary Chef Heston Blumenthal brings back the wonder and excitement of childhood food by creating giant-sized versions of meals and treats
It's not often that your career rests on the success of a giant dunking biscuit, the world's largest Kit Kat or an enormous 99 Flake ice cream.
To many it looked like a lovely breezy summer afternoon in a Gloucester park, but the tension within the team making Heston Blumenthal's new Channel 4 series, Heston's Fantastical Food, was evident. In less than 20 hours, the wooden palette swinging 50ft above our heads in the strong winds would be replaced by a ton of ice cream – literally one tonne of the stuff.
There would be thousands of people watching on as we craned the giant Mr Whippy into place on top of the world's largest ice cream cone. If all went to plan and five months of development paid off, our food hygiene and health-and-safety consultants said that depending on the weather, we might have as little as 20 minutes to shoot and serve it before it potentially sheared off into a mess on the floor.
There was also a chance that the temperature of the ice cream would rise to the point where it would be unsafe to consume. We had cleared the bins within a 60-metre radius of rubbish to minimise wasps, and prayed that no passing bird would take a dump.
World-record challenge
This was the most difficult stunt. The prototype had already split in two in the factory and health and safety insisted we had crowd barriers just in case the ice cream fell apart again – it could have killed someone.
C4 wanted world-record attempts in every episode. Heston wanted it to taste delicious whatever the scale, so we had to work out how much we could achieve within the laws of physics while ensuring all was legal.
Knowing our careers depended on the success of a giant dunking biscuit was a little unnerving, but it was delicious. A word of warning: an edible sweet garden does wonders for morale – but the sugar crash is immense and should be avoided at all costs.
These films were monsters to make. There were so many elements – cookery, archive, engineering, history, public events and world-record attempts – that weaving them all together was a challenge.
We'd already stretched the budget to allow the art department to do the set and prop builds. Comments such as "we don't really have enough to build a pub inside a pie; fly in the giant biscuit packet; shrink wrap a steam train… but we need to make it work" didn't raise any eyebrows on this production.
Despite exec producing the series, I still ended up having to muck in, helping to build the sets, direct second units, make the teas, help design the nostalgic branding for the packaging, and whatever else needed doing. We all pulled together and the relief after each stunt succeeded was palpable.
The films that ran smoothly were the ones where everyone was in the same room from the start. Heston was a pleasure to work with; his eyes light up when he's talking about food and it's fascinating listening to him coming up with creative and bizarre culinary delights. The chefs and team at the Fat Duck had just a few weeks to come up with ingenious creations that would usually take months to develop.
We didn't always know if what we were trying to achieve was possible – either on our tight schedule, or due to physics. This was new ground for Heston too, and the first time he'd worked on such a large scale.
We had to borrow industrial ovens, whole production lines and giant freezers. Everyone embraced the challenges but the bar was set very high: we were safeguarding Heston's reputation. Everyone expects him to do something outrageous and wonderful and we couldn't disappoint.
We weren't just building big props; we were building big food and feeding the public, so health and safety and release forms took on a whole new dimension. We had to get people to sign forms about their health, make them read food allergy lists. Things had to be lined or made with food grade materials. We became a catering company, dispensing food to the masses – and that's before we'd even started filming anything.