This eye-opening film inspired by a true story could not have been made without the help of the UK Film Council, says Andrea Calderwood.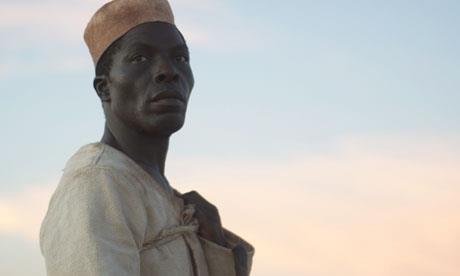 I AM SLAVE
Production companies: Slate Films/Altered Image
TX: 30 August 2010, Channel 4
Writer: Jeremy Brock
Director: Gabriel Range
Producer: Andrea Calderwood
Production designer: Christina Casali
Commissioning editor: Camilla Campbell, Katherine Butler
Summary: Inspired by real life events, I Am Slave is the dramatisation of one woman's fight for freedom from modern-day slavery
The idea for I Am Slave was brought to me by Jeremy Brock, with whom I'd worked on Mrs Brown and The Last King of Scotland.
Jeremy had been inspired by the true story of a young girl who was kidnapped from her family in the Nuba Mountains of southern Sudan, and after spending her teenage years captive in Khartoum, is sent to work as a slave - in today's London.
As well as being shocked by the discovery that slavery is going on in London today, Jeremy wanted to dramatise the story from the inside, so the audience could feel the emotion of a father losing his child, or a child being forced away from her family.
Knowing how difficult it is to raise feature film money for this kind of subject, we took the idea to Channel 4. Liza Marshall, head of drama, was keen, and we approached Gabriel Range to direct - I'd been impressed by his work, particularly his documentary-style dramas like Death Of A President. Gabriel and Jeremy collaborated closely on finding a way to tell the story that felt relevant to the UK, rather than an issue in a faraway land.
Unfortunately, we chose probably the worst possible year to make a film as there were huge cuts across the industry. But Liza was very supportive and got us as much money as she could from Channel 4, which meant we could then go into the process of raising finance from the feature film word.
Luckily, Jeremy's script was so evocative that we were quickly able to gain support from the UK Film Council, The Film Agency of Wales (backing Gabriel as a Welsh director) and Molinare. Putting these financiers together took several frantic months of negotiation while we were gearing up to shoot the film in London, and finding a country to double for Sudan.
We were keen to film in Sudan. The film features the spectacular Nuba wrestling made famous by the photographs of George Rodger and Leni Riefenstahl, and we wanted to set some of our drama amid the real thing. So the summer of 2009 was spent pulling together the finance for the film, while also trying to find ways to get into Sudan for research, even before we tried to set up filming there.
We recced alternative locations in Kenya, and Gabriel and I went into Sudan with the help of an expert on aid and mine clearance projects in the country. Gabriel did manage to get to the Nuba mountains by a long and circuitous route, and while he came back a shadow of his former self, he undertook some valuable first-hand research, and was more determined than ever to film there.
We pulled the funding together very close to the wire and started filming in London on the last possible date to get two weeks of the shoot done before Christmas in order to meet our delivery deadlines. I didn't advertise it to the crew at the time, but finance wasn't closed until Christmas Eve, with a determined band of lawyers all keeping the email traffic going between Christmas drinks and shopping. London was uncharacteristically frozen and snowy, which was a great contrast to the heat of Kenya.
We tried until the last minute to find a way to film in Sudan, but were defeated by the lack of infrastructure and the political situation. Khartoum and the Nuba Mountains had to be recreated in Nairobi and the Rift Valley with the support of Kenyan production services company Blue Sky. We ended up with both an exhilarating wrestling scene enacted by Sudanese exiles in Kenya and Kenyan wrestlers, and a spectacular raid sequence in a convincing Nuban village built by our designer Christina Casali.
London and Kenya were like two separate films, with Kenya having to be pulled together very quickly on two weeks prep.
This is the short account of a very intense year. It took a big commitment from everyone involved to get it done. The end result is a powerful film on an urgently important subject, about to be launched internationally as a feature film, as well as being screened on Channel 4. It required both a broadcaster and dedicated film agencies to make the film possible and is exactly the kind of film that will become even harder to make if the government does indeed abolish the UK Film Council.
My tricks of the trade
Work with the best - approach the most talented people you can think of, and sometimes, if you're lucky enough, they say yes
Go with your instincts - whenever I've gone against what my gut's telling me, I regret it
Resist the many people who will try to say producers should work for nothing, for the privilege of getting the film made. We have to stay in business too
SETTING THE SCENE
Cristina Casali
Production designer
The script for I Am Slave gave me three distinct areas to create: Khartoum, the Nuba Mountains and London. Khartoum and the Nuba Mountains were not viable shooting locations so the production focused on Kenya.
Scouting began with the Nuban village where Malia, our central character, was born, raised and abducted. The village was the focal point of her life, so it had to be authentic. My research for the village took me from the iconic Nuban photographs of George Rodger and Leni Riefenstahl through to contemporary news images.
On our second recce to Kenya, we found the location for the village, a beautiful raised plateau in the Rift Valley. The plan was then to fi nd the remaining Sudanese locations in and around Nairobi and to shoot in February 2010.
As well as building the village, the story called for its destruction. In December, I contacted our SFX co-ordinator in South Africa and began a dialogue with him about the construction of the village and his requirements to burn it safely.
On a snowy morning in January 2010, leaving my London crew to finish off the final weeks of shooting, I arrived in Nairobi and met my new team, handed over a set of construction drawings and began work ready for a shoot in early February.
The Kenyan construction manager employed his staple crew of masons, carpenters and painters, with Masai labour to thatch the roofs of the village huts. The Masai were so entrepreneurial that they had set up a café on site and were feeding the construction crew by the time we came to shoot.
After eight exhausting weeks I felt all the work created at the locations was fantastic and I believe the on-screen results will have the dramatic effect intended.