Confronting the horrors of ISIS
Production company Archery Pictures for Channel 4 and National Geographic Channel
Commissioner Beth Willis
Length 4 x 60 minutes
TX C4, 20 August, stripped over four nights
Executive producers Liza Marshall; Kris Thykier; Peter Kosminsky
Writer/director Peter Kosminsky
Producer Steve Clark-Hall
Line producer Alex Sutherland
Production designer Pat Campbell
It's dusk on a warm evening in a small desert town as a film crew gears up for a shot. You don't have to know what it is they're filming to know what it's about: the two leads are dressed head to toe in black, bearded and armed to the teeth.
They are plainly, as too many hideous video clips of beheadings and boot camps have shown, ISIS fighters. If you listen, you can just pick out their dialogue – they're speaking in English about the delights of having two wives (you get one flat for each) and the wonder of impending martyrdom, the reason they both came here.
Even though it's obviously fiction (there's a full camera crew; between takes, hair and make-up appear and trim both their beards; armourers check that their weapons are empty), it's unnerving to watch.
We're not in Syria but Almería, southern Spain, where the locals lean out over balconies with their cameraphones, looking somewhere between confused and unsettled. One camera operator tells me he's been having nightmares.
This is The State, Peter Kosminsky's new drama series for Channel 4 about four Britons – two men and two women – who go to Syria to join ISIS and live under the so-called caliphate in Raqqa.
"The problem with filming this kind of thing," says producer Steve Clark-Hall, "is that it's very, very open to misunderstanding."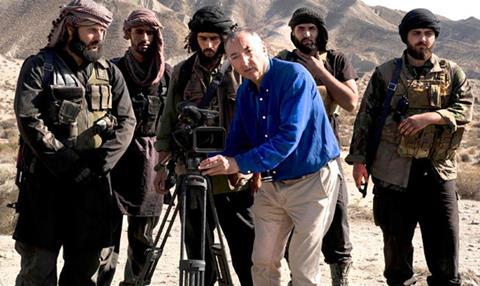 Sam Otto, who plays 19 year-old Jalal Hossein, one of the men who goes to fight for what he thinks is the cause, goes further.
"It's very unnerving wearing an outfit that has such stigma attached to it," he says. "When I had my first fitting, everyone in the room went quiet, including me, staring at myself in the mirror. It feels like a barrier to the world, and in a terrible way, it has a dark power about it.
"It's designed to make young, powerless men feel powerful, and I had a sense of that when wearing it. On location, we were kept hidden as much as possible, but it was pretty awful to consider what people might think if they saw us with no context of what we were doing."
You can see what he means. The iconography of ISIS – the black uniforms, the desert setting, the keffiyehs, the filmed atrocities on social media – is seared on the modern consciousness.
Recreating it for a drama was always going to get a reaction – on set in southern Spain, filming required a and co-funder National Geographic are preparing themselves for a strong reaction when it is aired.
But it is not quite the drama you expect. Kosminsky, returning to a subject and world that he touched on in his 2007 C4 drama Britz, says his interest in the subject began like most people's.
"I was watching the news and seeing these stories of not only British Muslims, but predominantly young Muslims, from all over what you might call the developed world and parts of the Arab diaspora making this journey to Syria," he says.
"I thought that a lot of the focus was on radicalisation: you know, how were three girls from Bethnal Green radicalised in their bedrooms when nobody was aware of it?"
Kosminsky felt the process of radicalisation had been addressed in documentary and drama – not least in Britz a decade ago.
"What I thought was more interesting and less well known was what actually happened to them when they got there. I thought, 'Well, I wonder how possible it would be to find out?'"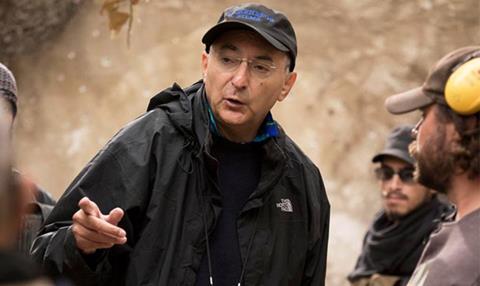 He hired a specialist researcher and started digging, looking at the swathes of online material published by ISIS, both video and written. "There were hundreds and hundreds of videos, some of which I wish I hadn't seen," he says.
He and his team also looked through trial documents back in the UK that contained reams of mobile communications, as well as conducting interviews with subjects who he implies were in Syria but whose details, understandably, he will not reveal.
In summary, though, he says: "There's nothing depicted that we don't have a source for."
Some of what's shown in The State beggars belief, not least among Kosminsky's own crew. "To give you an example," says Clark-Hall, "in the script, there's this market stall selling AK-47s. I said, 'Peter that can't be true. If you invade a country, you don't sell guns.' He said, 'Yes, they do.'"
Clark-Hall worked with Kosminsky on Britz and the 2002 BBC drama The Project. "Peter researches things meticulously and neutrally. He's not interested in taking sides, he's interested in trying to just establish what is happening."
The State, therefore, doesn't offer much in the way of backstory for its four young travellers, but instead goes straight in on what life is like once they arrive in Syria. Unsurprisingly, it's awful, particularly for the women.
"I'm not talking about the treatment of the slave women, the Yazidi women, because we knew about that," says Clark-Hall.
"It's just the treatment of Muslim women within society that I found profoundly worrying. We kind of know about the violence, the horribleness, the fighting and the Caliphate and all that. But it's just the way that a woman's place in that society is so alien to the way we are aware of our relationships with women."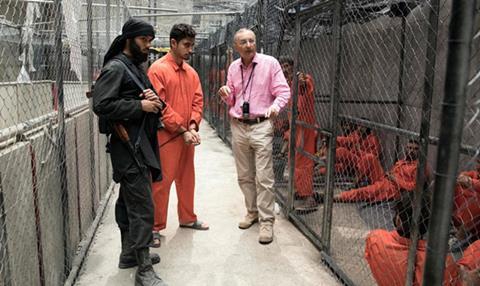 Clark-Hall found himself heading up a splinter unit charged with filming fictional versions of ISIS's infamous beheading videos.
"Obviously, the real ISIS material is out there – they put it out there," he says. "They are unashamed of their behaviour to such an extent that they proselytise it and promote it on the web. But we wouldn't use that because it shows innocent civilians being mistreated. So we've recreated those in a dramatic form. It's a matter of decency."
That means Clark-Hall had to study the videos themselves to recreate them shot for shot.
"They're good at what they do, no question, and there must be people who… although many of course are now dead, but there must be people working there who have come from a video editing and computer graphics background – there's no question, given the level of assurance."
Much of The State is in Arabic, making casting a daunting process. Nina Gold and Robert Sterne (Game Of Thrones) took up the challenge and unearthed Otto as Jalal, Ryan McKen as his best friend Ziyaad, Shavani Seth as teenager Ushna and Ony Uhiara as young doctor and mother Shakira.
"It's been the most massive, exhausting casting I've ever known on a project," says Clark-Hall, who has worked on huge Hollywood blockbusters like the recent King Arthur: Legend Of The Sword.
"There are something like 61 speaking parts – most of them played by actors you've probably never heard of. With one or two exceptions, all of the cast here are young, relatively inexperienced and they had to be found.
"One of the major lead characters, Shakira, she speaks a lot of Arabic. Ony doesn't speak any Arabic at all. She's had to learn phonetically and give a performance in a language she doesn't understand. And she's extraordinary."
The production used four different translators and voice coaches to work with the actors, running from the scripting stage through to the performance and then well into the edit. Then there was the matter of the female cast having to spend most of their time fully covered.
"The issue for me was how to convey an emotionally satisfying performance, when you can only see the eyes," says Kosminsky.
"It was the actors who were doing it along with Gavin Finney's camera work. There is an expressiveness in their eyes and the camera is often in tight, since it was all hand-held, so you can get in so close."
With the performers in place came the question of where to film. Turkey, Morocco, Malta and Jordan were all considered, but Almería came out on top.
It has the look of the Middle East, a strong infrastructure – Game Of Thrones has been shooting there for several years – but most of all, security is less fraught in a non-Muslim country.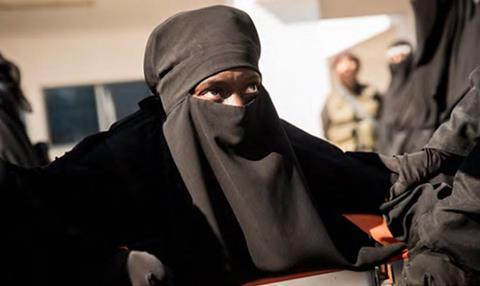 "It's much more complicated than a usual shoot because it's very specific," says line producer Alex Sutherland. "We're looking for authenticity rather than just building something or doing it on a green screen. The challenge is to find that authenticity, to find something that is going to be as real as we can take it."
On the 11-week shoot, that meant difficulty in setting up the scenes and dismantling them after the actors had gone. "People don't know what it's about, but the subject matter is provocative," Sutherland says.
"You've got to be really careful. We're going to some of the areas here in Almería that most shoots don't go to because they're not looking for that type of place. We're looking for somewhere where things like this might happen."
Have there been difficult moments? "Yes, there have. I'm not going to say what. We just have to be very smart."
"The wilder areas that we were in, in Almería?" adds production designer Pat Campbell. "It's good that we're out of them."
Kosminsky calls The State one of the hardest things he's ever had to make, but C4 drama head Beth Willis insists that the results are worth it.
"Understanding why young people can become radicalised and what life in the so-called ISIS is like for those people – their preconceptions, their experiences and their realisations – felt urgent and topical.
"Peter's work is always revealing, complex, important and compelling and it was an honour to have him make this project at Channel 4."
Recreating the caliphate in Spain
"This is the frontline in Syria," says production designer Pat Campbell, looking out over a flat-bottomed valley in southern Spain. She points to a dilapidated old farmhouse that is doubling as an ISIS outpost on the frontline, complete with notches beneath the windows for gun barrels to rest in and prayer mats in the barn.
"It's a funny thing. You come to Spain and everything is different. You think, 'great it doesn't look like the UK at all, we're fine.' But you're not fine at all - you've actually got another whole level to add on to it. That's been hard."
That whole other level is what makes The State look like reality, not a dressed set, with fine details picked up through assiduous research.
"There were lots of things where you just don't want to see it. But it's invaluable to us. News footage. Internet. Social media. It's a hard project and the material that you see is very upsetting. It's chronic, actually."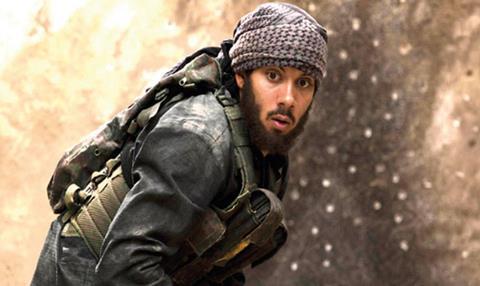 Among Campbell's main challenges were the writing, the flags and the signage."We have to check everything. It's incomprehensible to us but we're really trying very, very hard to not have a Homeland moment." [Homeland showed Arabic graffiti that read 'Homeland is racist']
All of the exterior signage was added in post-production. "That's been another thing that's been important on location - to try to stay low key. We can't go on to a street and put up banners and flags and signage. We're a small, tight unit slipping in and out of places."