The Garden doc will reappraise US president by drawing parallels with Tudor king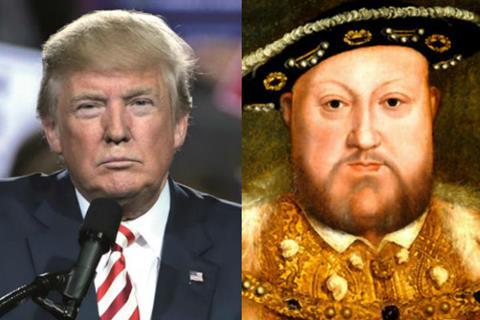 Channel 5 is to "reappraise the Donald through the lens of history" with a doc comparing the US president with Henry VIII.
ITV Studios-backed The Garden is producing Trump and Henry VIII (working title), which will feature Tudor historians and 'contemporary Trump-watchers' analysing and comparing the behaviour of the two.
They will pose whether a close study of the famed Tudor king can help us understand what makes the US president tick. C5 described the programme as "the most unusual take on the president, but potentially the most interesting".
The 60-minute film was ordered by factual commissioning editor Lucy Willis. Simon Finch will exec produce for Planet Child indie The Garden, while Thatcher: a Very British Revolution's Stephen Finnigan will produce and direct.
"This documentary explores one of history's most iconic rulers in a bid to help us understand one of the most controversial figures of modern times," said Willis.
"Love Trump or hate him, it will make for fascinating viewing."
Willis recently called on the indie sector to "crack the contemporary history space for me" while speaking at the Televisual Factual Festival.
Yesterday afternoon, C5-owner Viacom UK chief James Currell revealed he was stepping down "with immediate effect" after two years at the helm.