The documentary commissioning editor for BBC1, BBC2, BBC3 and BBC4 is looking for series and one-offs with "purpose" and "proposition" that can really make an impact.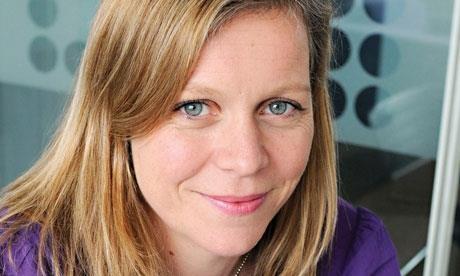 Fact File
Career
2009 to date: BBC commissioning editor for documentaries on BBC1, 2, 3 and 4;
2006-2009: commissioning exec for BBC docs;
2003-2006: head of documentaries at IWC responsible for Stephen Fry's Emmy award-winning series Secret Life Of The Manic Depressive (BBC2), Eighteen With A Bullet (BBC3) and The Other Side (C4);
freelance series producer/director with credits including C4's Lagos Airport (2000), RTS award-winning Living With Cancer (2002) and Great Britons: Churchill (2003)
Education: History degree from Bristol University Lives West London
Watches: Box set HBO dramas like Mad Men, The Wire, In Treatment and David Attenborough back catalogue with her children
Wishes she'd commissioned: One Born Every Minute
If there are two words that sum up Charlotte Moore's aim for BBC documentaries, they are "purpose" and "proposition". The corporation's commissioning editor for documentaries on BBC1, 2, 3 and 4 smiles: "I'm constantly asking: what's the sense of purpose and proposition? That goes across all the channels. We need to not just reflect but try to provoke people to really engage with a subject; to look at it with a different perspective.
"Documentaries are not just there to reflect or record contemporary life. The best docs should really challenge our preconceptions."
The examples trip off her tongue, ranging from Wounded to Famous, Rich And Homeless and Terry Pratchett - Living With Alzheimer's. "If my overall message were anything, it's the fact that we can make a real impact with docs. There's nothing really that we shy away from," she says.
On all four channels, what makes a doc something Moore would want to commission is if it feels like a real issue of the moment. "There are all sorts of subjects about how we live our lives today, whether it's about parenting, unemployment or how we look after our elderly," she says.
Moore's remit is broad, encompassing both indies and in-house producers. She stresses the importance of teamwork, and has a group of indie commissioning execs with whom she works closely. "I think dialogue is so important for any producers I work with. I have a great team and we meet every two weeks to talk about all the ideas we're interested in. We are very collaborative," she says.
All the channels are "absolutely important" to her, but they all have a "different tone, different approach and different subject matter". She is passionate about BBC3 as this is where she sees the BBC's future, younger audience. "One of the things I really want to do is to help documentaries have a more modern approach, and that's why BBC3 is a really interesting area," she says.
Her shopping list is detailed and extensive. On BBC1, there has been "huge success" with the 10.35pm slot. In fact, Moore says, "single docs are having a bit of a heyday across all four channels".
July's Between Life & Death is an excellent example of this, she says. It was filmed over six months in Addenbrooke's Hospital and follows the journey of a man who can only move his eyes, and is eventually asked if he wants to live or die. It was an "extraordinary film looking at a very modern dilemma," says Moore.
When A Mother's Love Is Not Enough, about the realities of caring for a disabled child, hits a similar "reputational" vein (for "reputational" read "standout"). She cites Madness In The Fast Lane and My Big Fat Birthday Party as strong, "popular" films for the slot.
Then there are the BBC1 landmark documentaries - impactful films such as The Day The Immigrants Left and series such as Famous, Rich And Jobless - which feel like a real "event" for the channel. Moore is happy for these to be presenter-led, but they must be purposeful - it's about finding "new ways" of looking at Britain and the world. She was a fan of Britain From Above for its original take, and Rivers With Griff Rhys Jones. "I don't think event-led [has to] mean big series any more. Wounded felt like an event," she says.
Moore is looking for popular, narrative-driven pieces that can "grow an audience" for the 8pm and 9pm slot on BBC2. Lambing Live "felt like an original, fresh take for documentaries" and was an example of "new shape, new form" - something for which she is always on the lookout. She also wants singles or series that can both reflect and challenge modern Britain - think Great Ormond Street, Welcome To Lagos and Inside John Lewis.
The upcoming BBC2 school season, with docs ranging from Gareth Malone's Extraordinary School For Boys to an access-driven piece following parents and kids through Birmingham's education authority, is a "classic example of how we're trying to make an impact". Ditto the troubled families season in the new year, which includes Neil Morrissey - Care Home Kid, and an observational series also planned for 2011 following Bristol's child protection teams.
In terms of BBC3, Moore says single docs in particular are earning their place. From Tulisa - My Mum and Me through to Small Teen, Big World, it's about engaging young people in challenging subjects. The 8pm, 9pm and 10pm slots on BBC3 can be singles or series, and she's keen to find popular, entertaining ways to explore modern life ("Baby Beauty Queens is a great example of that").
BBC4 is, Moore explains, one of the hardest places to bring new audiences to. "What we're trying to do is make a mark, and we've got a strong tradition of doing that with seasons - although standout singles and series are important too," she says.
It's not about niche and quirky, it's not about strange subjects that no one else wants to do, "it's often about quite mainstream, contemporary subjects but with original takes… it's amazing how many ideas I get that feel very straight."
There is room for the director's voice (she cites Ian Denyer's Tweed as "insightful and subtle", and is excited by Penny Woolcock's upcoming film about homelessness in London); contemporary history (such as Britain Goes Camping and Mud, Sweat And Tractors - a "clever way to tell social history"); and international stories beyond Storyville (Syrian School; Zimbabwe's Forgotten Children).
"A lot of the subjects I'm talking about are not going to stop being an issue," she says. "But we have to shine different perspectives on them."
SCHEDULE STRENGTHS
"Variety of subject matter, tone and approach across channels." BBC3's standout ob-docs are engaging with a younger audience and achieving strong numbers.
SCHEDULE WEAKNESSES
"I'd like to bring more new, diverse faces - in terms of presenters - to our documentaries. And I'd like to find more ambitious, risk-taking docs to create real impact in the schedules."