Our plan to recreate the energy of the UK's leading comedy festival was a technical challenge like no other, says Chris Jones
Comedy Central at the Edinburgh Fringe, Comedy Central
Production Company Electric Robin with Comedy Central
Commissioner Craig Orr
Length 1 x 22 minutes; 10 x 7 minutes (digital)
TX Friday 28 August
Executive producers Kevin Batchelor, Rebecca Hewett, Chris Jones
Production managers Jessica Langley, Seema Nabavi
Head of production Jacqui Saunders
Technical producer – Ross Brandon
Development producer Emerald Paston
Director James Clampin
Producer Leah Draws
Editor Kazeem Manzur
At this moment in time, the presence of live audiences in venues is a no go, with many having little option but to shut up shop. Sadly, for the first time in its history, the Edinburgh Fringe Festival is cancelled, dealing a devastating blow to legions of comics.
Determined to provide a platform, Comedy Central joined forces with Fringe organisers to commission a series of live shows featuring up and coming stand-ups who would have been Edinburgh-bound, and we at Electric Robin were delighted to be brought in as co-producer.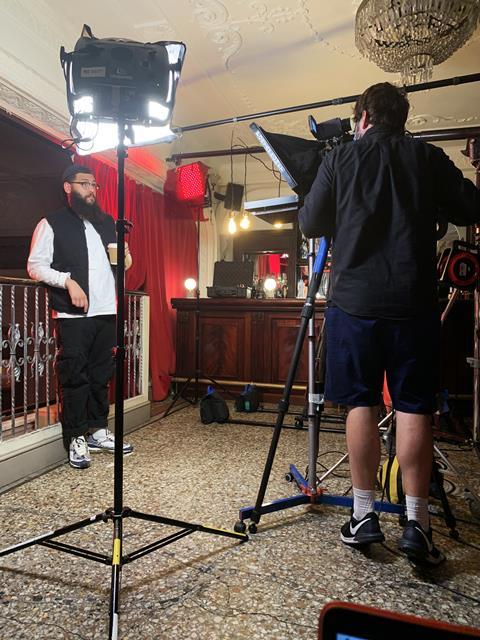 Blending technical know-how with heightened editorial ambition that pushes boundaries is what we do best, so this was the perfect partnership.
Electric Robin spent part of lockdown working closely with shows such as Have I Got News for You and Home Alone With Joel Dommett, helping them to get up and running remotely without compromising too much on the audience experience.
Comedy Central at the Edinburgh Fringe presented a whole new challenge – namely, to safely recreate the vibe of an authentic stand-up environment as much as is humanly possible.
Anyone who has ever attended live comedy will know what an audience brings, aside from verbal abuse. It's the energy and momentum that lifts a performance while providing emphasis to the beats of a routine.
You may have been party to a number of remote live comedy shows, where promoters have tried hard to keep the scene alive and support out of work comedians. Often, they're unable to see or hear audiences, resulting in a weird atmosphere, so while you can never fully simulate the live experience, we needed to get close without simply resorting to Zoom.
We were challenged to safely recreate the vibe of an authentic stand-up environment as much as is humanly possible
Prior to joining Electric Robin six years ago, I wasn't exactly blessed with technical flair. Performing anything more complex than switching a camera to the 'on' position involved, at best, a lot of praise and reassurance and, at worst, a frantic hunt for the manufacturer warranty.
Fortunately, I'm surrounded by brilliant technical minds and robust producers who have, on countless occasions, turned the seemingly insurmountable into a well-oiled machine. You could say there's been an osmosis effect.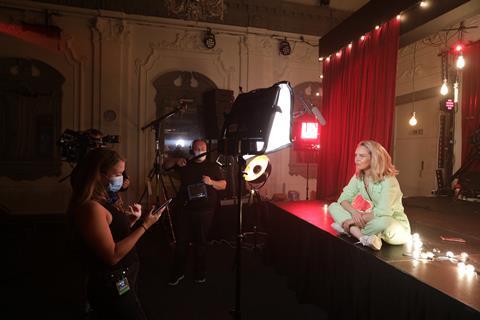 I've learned there's nearly always a solution to a technical production migraine. It might not be the slickest solution, at least not until it's refined, and you'll likely need to take a leap of faith away from your comfort zone. On this occasion, that leap involved remote link ups to around 150 audience members dotted around the UK.
We already had a top-notch host in Jamali Maddix, ten cracking stand-ups ready to grace the stage and a gorgeous venue. All that remained was an audience worthy of the Fringe; one that we could hear as well as see, all reacting in real time. If we were to get the very best out of our performers, this would prove a crucial component.
Right, hold onto your seats as this is where it gets a bit technical…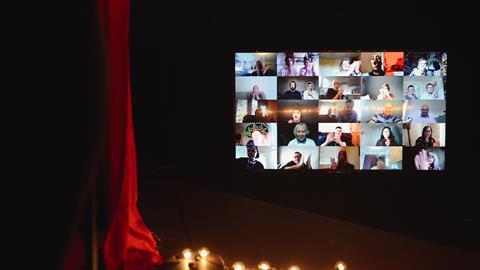 Bespoke system
Once we'd secured audience members, the production team set about a meticulously run process of checking internet speeds, ID verifications, framing out anything we couldn't clear in front rooms and so forth.
Meanwhile, a bespoke system would take live low-latency audio feeds to minimise the delay between the performer's dialogue and audience reactions. Often when using remote conferencing, one-person speaking will cause another to cut out, and the last thing we wanted was our performer muted. We therefore started from scratch, building a system which would allow everyone to talk at the same time. It worked.
With this solved, the artists themselves were able to interact with audience members audible through an in-ear monitor, albeit with a split-second delay and while performing as early as 10am.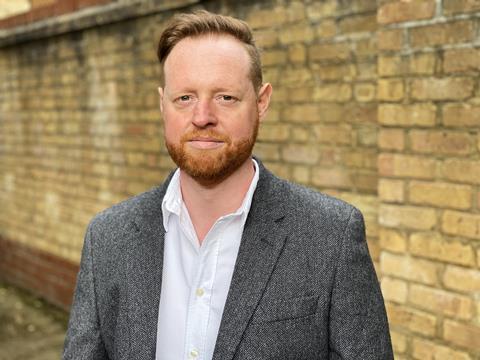 My lockdown tricks of the trade – Chris Jones, executive producer
Communicate – always. The faster a production gathers pace, the more likely it is to unravel if you let this slide.
Make peace with the unexpected. That curveball will be hurled whether you like it or not.
Look out for your team, especially when everyone is working in their own safe distance silo. Burnout is harder to spot on Zoom.
Cover yourself for the edit. Requesting a few more minutes with a contributor is nothing compared to gaping holes in post.
Don't be too precious about imparting knowledge. Experience is there to be shared.
The schedule and budget called for block records, and thankfully the audience were more than up for some alternative comedy with their cornflakes.
However, it's the acts themselves that deserve the biggest praise. Given the big empty theatre space, crew, cameras, an unusually early call time and a screen full of audience members, they well and truly bossed it – even while fending off remote hecklers. Hats off to each and every one of them.
So it can be done. Even in adverse safe-distancing conditions that requires a level of scrutiny which, seven months ago, nobody had seen coming. Let's see what the next challenge brings.
Lighting the stage for a digital audience performance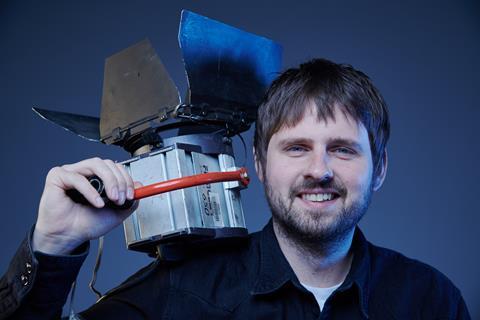 Conor O'Grady
Director of photography
Shooting a live performance is all about being in the moment and creating the best possible environment for the best possible show. The absence of a live audience needed careful consideration, starting with venue selection.
Our space needed to contain enough square footage to house our stripped back 'essential' crew, something we now have to factor in for safe distancing.
For this large a space, creating intimacy was key. With comedians on stage and an audience monitor at floor level, our art director Amelia Annfield built an arch at the front of the stage to bring the ceiling height down – which also meant I could hide my key lights.
To further enhance the intimacy, we then lit the stage with everything else falling into darkness.
Lighting was a trade-off between the act having enough space to roam, thereby not inhibiting their performance and controlling the spill without ruining the intimacy.
We lit this way so that the in-camera exposure was aligned with how it felt to be there. This isn't always the case when filming. Quite often it will feel brighter on set than how it appears in camera, so it was important for the act to feel as though they were truly performing without compromising the audience experience.
With limited opportunities to gig regularly, many of the acts, understandably, felt rusty. To physically step onstage under what felt like 'show lighting' actually made them nervous, but in a good way.
Looking out into darkness – aside from the audience monitors – I am sure this upped their game. Subsequently, we succeeded in hitting the right balance of authenticity, and the audience really enjoyed themselves.
Top Tips for PPE
Wearing a mask can fog up your eyepiece. Either think about using a monitor or use a camera with an anti-fog electronic viewfinder, so that your breath doesn't become an issue.
Be mindful of your lunch choice. Think about how your breath will smell afterwards. You'll be stuck with that aroma for the rest of the day, potentially in a hot venue. If in doubt, bring mints.