Sponsored content
Find out more
Mei Gray and Will Maltby unveiled as winners of its children's journalism competition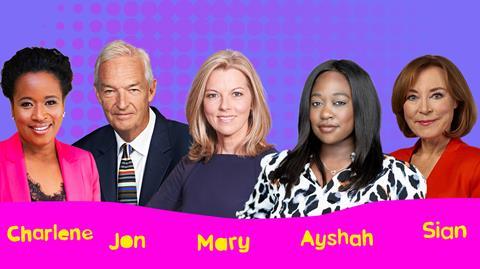 ITN has announced Mei Gray and Will Maltby as winners of its first ever children's journalism competition, My News in 65.
Gray wins in the 7-10 age group for her piece on the Covid-19 puppy boom with Will Maltby securing top place in the 11-14 category for his report on children's mental health.
The kids' competition launched at the end of last year as part of ITN's 65th anniversary celebrations. Young people were invited to make a 65-second piece on one of three themes: happiness, change and inspiration.
The entries were judged by: ITV News presenter Mary Nightingale, Channel 4 News presenter Jon Snow, Channel 4 News reporter and former BBC Newsround journalist Ayshah Tull, ITV News and Loose Women presenter Charlene White, and 5 News presenter Sian Williams.
The most popular theme among the submissions was change, as children considered the impact of Covid-19 on everything from their school lives, friendships and mental health, to how it has affected their local high street or climate change more widely.
Mei Gray's piece caught the judges' attention for its intelligent and engaging response to what is a nationwide issue.
Jon Snow complimented the report on the angle and its rounded approach. While Ayshah Tull added the piece had "great originality in looking around and seeing what's new. I thought Mei was standout brilliant and the interviews were great."
The judges also praised Mei's keen news sense, pointing out that it was a topic that Channel 4 News covered recently.
In the 11-14 category, Will Maltby's entry looked at the issue of mental health and wellbeing. The judges were impressed with the thoughtful set-up of Will's report and his thorough research, noting how he had carried out a survey of his friends.
Mary Nightingale said Will was clearly interested and engaged in the subject. Sian Williams, a professional psychotherapist, added that he "came across as credible" and "was passionate about the subject."
Another popular theme was inspiration and several children reported on Black Lives Matter or chose to report on inspirational figures in their lives, from their best friends to grandparents.
Another judge, Charlene White said: "I was inspired from an early age by Sir Trevor McDonald and having worked recently with young people making IRL with Team Charlene, I know the breadth of creativity our next generation of journalists possess – and their thirst for truth and passion for questioning."
The shortlisted entries were judged for the originality of the stories, creativity and connection with the audience. Sian Williams added that she was looking for "potential, not video quality. A reporter needs to connect with the viewer with drive and personality, highlighting an issue in a way that feels passionate, credible and engaging."
Two highly commended awards were also given. Sarah Mirkin was singled out in the 7-10 category with her report on animals in lockdown. Sarah reported on how animals have felt during lockdown covering the emergence of Japanese zoom calls to cheer up penguins and how some animals have flourished because of lower levels of pollution.
The judges loved Sarah's energy and presence describing her approach as: "sparky, sweet, confident". Jon Snow described the piece as "beautiful story telling" and "an original angle".
In the 11-14 category the judges were also highly impressed by Nell Vaz Te on her well-rounded report on students choosing their GCSEs during lockdown, which included a survey of students and advice on what would make the process easier.
Other entries praised by the judges included: Daniel Simmon's climate change report; Laila Yakub's interview on joint enterprise and Amelie Zarifeh's playground reporting on Black Lives Matter.
Other stand-out entries in the younger age group included Vedantika Chakraborty on children's mental health, Leo Bourne's report about Covid affecting his local high street, Hana Mueen making friends over fences during lockdown, Julien Baye's windrush report, Maria Ali Modan's piece on schools in Blackburn and Holly Wenham's piece on the Kennington Angel.
ITN is the UK's largest commercial news provider making ITV News, Channel 4 News and Channel 5 News. ITN Productions also makes documentaries, sports production and advertising.
The competition will open again with new themes in September 2021 until the end of the year. Winners will each receive an I-pad; a chance to meet judges via zoom and when lockdown restrictions ease, a day at ITN including a tour of the newsrooms.