Fifth series of Cornish drama launched with 5.8m
In this week's drama arena, Poldark returned in rather decent shape for BBC1, while the channel's Dark Money found the going a tad tougher.
Meanwhile, Top Gear seems to have found its feet on BBC2 once more with its Flintoff/McGuinness/Harris combination in the latest reboot of the franchise that Angela Rippon and Noel Edmonds once fronted.
BBC2: TOP GEAR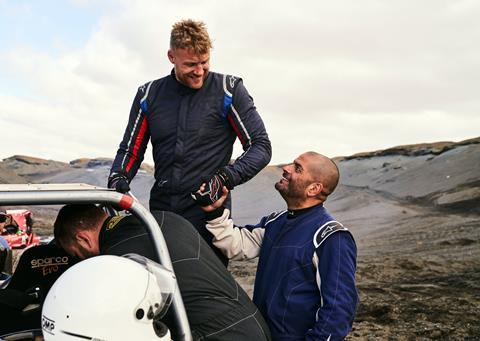 The latest series of BBC2's Top Gear ended with 3.2 million/14% on Sunday 14 July (at a delayed 8:25pm instead of 8pm due to the Wimbledon women's doubles final overrunning) after 1.3 million recorded and watched.
This was the lowest of the series, but over the five-week run Top Gear averaged 3.8 million/18% – 1.5 million and nine share points more than Matt LeBlanc's last series, which averaged 2.3 million/9% from 17 February for five weeks.
This summer's average is also ahead of 2017's run (LeBlanc's debut as main host), which averaged 3.1 million/12% over the course of seven weeks from 5 March.
This series averaged 168,000 via non-TV devices, comprised of 94,000 via PC/laptops, 30,000 on tablets and 44,000 on smartphones, raising the average to nearly 4 million. Top Gear's last ever Jeremy Clarkson and co series averaged 6.3 million/22% and 2 million ABC1 men in 2015.
BBC1: POLDARK
Poldark returned for its fifth series on BBC1 on Sunday 14 July at 9pm with 5.8 million/23% – 165,000 fewer than 2018's launch on 10 June (6 million/24%) and one share point fewer. In terms of non-TV viewing, it was watched by a further 158,000 via devices.
The 72,000 on PC/laptops was the best, almost bringing the total to 2018's launch number. Poldark's fifth series opener gathered 3.7 million/28% ABC1 adults, the best upmarket rating for the drama since 2017's third series finale (3.7 million/29%) on 6 August.
The show's TV rating was behind the launch of Gentleman Jack's opener, the slot's previous incumbent, which began on 19 May with 6.5 million/28%.
BBC1: DARK MONEY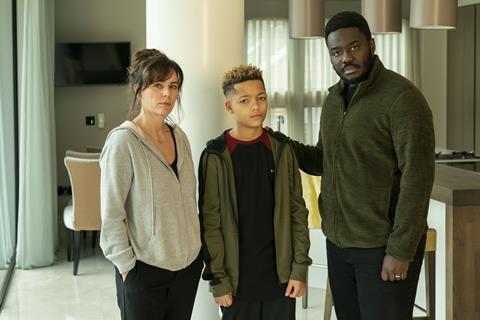 BBC1's four-part drama Dark Money launched on Monday 8 July at 9pm, gathering 3.4 million/15% after 845,000 recorded and watched, with another 104,000 watching via non-TV viewing.
Tuesday's second episode achieved 2.8 million/13% after 864,000 recorded and watched – no data for device viewing was available.
Dark Money's opener was the third-lowest launch of any BBC1 drama this year so far, ahead of Years And Years' 3.3 million/15% on Tuesday 14 May and Trust Me's 2.9 million/13% on Tuesday 16 April.
Consolidated ratings 8 - 14 July

| | Title | Day | Viewers (m) (all homes) | Share (%) | Gain (m) | Gain (%) | Broadcaster |
| --- | --- | --- | --- | --- | --- | --- | --- |
| 1 | LOVE ISLAND | FRI | 4.35 | 19.88 | 1.38 | 46.40 | ITV2 |
| 2 | TOP GEAR | SUN | 3.18 | 14.22 | 1.25 | 65.10 | BBC2 |
| 2 | POLDARK | SUN | 5.80 | 22.53 | 1.25 | 27.50 | BBC1 |
| 4 | KILLING EVE | SAT | 3.27 | 19.39 | 1.07 | 48.80 | BBC1 |
| 5 | EASTENDERS | FRI | 4.48 | 25.38 | 1.05 | 30.50 | BBC1 |
| 6 | THE HANDMAID'S TALE | SUN | 1.94 | 8.30 | 1.01 | 108.30 | C4 |
| 7 | CORONATION STREET | FRI | 6.06 | 33.36 | 1.00 | 19.80 | ITV |
| 8 | BEECHAM HOUSE | SUN | 2.87 | 11.07 | 0.99 | 52.30 | ITV |
| 9 | LOVE ISLAND | SUN | 4.42 | 17.59 | 0.97 | 28.20 | ITV2 |
| 10 | LOVE ISLAND | TUE | 4.54 | 20.45 | 0.96 | 26.90 | ITV2 |
| 10 | CELEBRITY GOGGLEBOX | FRI | 3.56 | 16.43 | 0.96 | 37.00 | C4 |
| 12 | CORONATION STREET | WED | 6.06 | 29.78 | 0.94 | 18.30 | ITV |
| 13 | LOVE ISLAND | THU | 4.43 | 20.35 | 0.92 | 26.30 | ITV2 |
| 13 | LOVE ISLAND | WED | 4.58 | 19.83 | 0.92 | 25.20 | ITV2 |
| 15 | WILD BILL | WED | 2.95 | 12.85 | 0.88 | 42.50 | ITV |
| 16 | DARK MONEY | TUE | 2.84 | 13.02 | 0.86 | 43.80 | BBC1 |
| 17 | EASTENDERS | TUE | 4.14 | 21.53 | 0.85 | 25.90 | BBC1 |
| 17 | EASTENDERS | THU | 4.93 | 30.10 | 0.85 | 20.70 | BBC1 |
| 17 | DARK MONEY | Mon | 3.38 | 14.85 | 0.85 | 33.40 | BBC1 |
| 20 | CASUALTY | SAT | 4.11 | 24.06 | 0.81 | 24.50 | BBC1 |
| 20 | EASTENDERS | Mon | 5.03 | 26.77 | 0.81 | 19.10 | BBC1 |
| 22 | CORONATION STREET | Mon | 6.34 | 32.13 | 0.80 | 14.50 | ITV |
| 23 | LOVE ISLAND | Mon | 4.56 | 19.68 | 0.79 | 20.90 | ITV2 |
| 23 | HOLBY CITY | WED | 3.23 | 17.05 | 0.79 | 32.20 | BBC1 |
| 25 | CORONATION STREET | WED | 6.49 | 37.21 | 0.75 | 13.10 | ITV |
| 26 | EMMERDALE | FRI | 5.31 | 29.34 | 0.72 | 15.60 | ITV |
| 27 | LOUIS THEROUX: SURVIVING AMERICA'S MOST… | SUN | 2.07 | 8.76 | 0.71 | 52.40 | BBC2 |
| 27 | CORONATION STREET | Mon | 6.47 | 35.07 | 0.71 | 12.30 | ITV |
| 29 | HOLBY CITY | TUE | 3.16 | 16.53 | 0.70 | 28.40 | BBC1 |
| 30 | EMMERDALE | THU | 5.51 | 30.03 | 0.69 | 14.30 | ITV |