The creators of Lip Sync Battle plan to add new elements to the celebrity karaoke format and introduce a kids' version in a bid to create a long-running brand like Saturday Night Live or Top Of The Pops.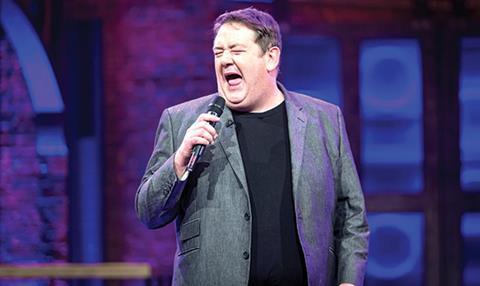 The US show has been renewed by Spike for a third series and the format is being remade in nine global territories, including the UK, where Channel 5 is expected to order a second series.
The show features two celebrities going head-to-head in each episode. Performers in the US have included The Rock, Anne Hathaway and Channing Tatum.
Viacom executive-turned-independent producer Casey Patterson, who oversees the show, believes its simplicity and humour, and a constant supply of new talent, will give Lip Sync Battle the potential for a long lifespan, over and above the likes of The X Factor or The Voice. The US show will be supersized for its third series of 20 x 30-minute episodes.
Patterson said: "There's so many things that we could do: theme nights or duets, or a tournament of champions. We'd love to get the cast of Star Wars on. We're just getting started."
Spike is also working with sister channel Nickelodeon to develop a kids' special with young stars after finding it was attracting a large youth audience.
Lip Sync Battle had an unusual start. The Office creator Stephen Merchant, The Office US star John Krasinski and his wife, actress Emily Blunt, devised the initial idea after lip-syncing Blackstreet's No Diggity together.
Krasinski then 'performed' the song on NBC's The Tonight Show With Jimmy Fallon, and Fallon's indie, Eight Million Plus Productions, and Matador Content developed the idea as a half-hour format.
It was picked up by Viacom's Spike after NBC passed.
"The biggest challenge was to fight our instinct to over-produce the show. We needed to resist tropes like real prizes, points, recap packages and complicated voting systems. We felt like time spent on anything other than the performances was wasted. It doesn't have traditional television bells and whistles."
The format was launched to global broadcasters by Viacom International Media Networks (VIMN) at Mip TV last year, only 10 days after its debut on Spike.
International sales chief Caroline Beaton said there have been bidding wars for the rights in some of the major territories. "You didn't need to be a rocket scientist to know that this was going to be a pretty big global format," she added.
"We've got some iconic IP within the Viacom group, normally MTV shows, but this elevated us to another level in terms of primetime, shiny floor entertainment. We've never had anything like it."
VIMN has closed 30 option deals for the show, with nine versions on air or in production (see box). The team is also set to close a major deal across Latin America and will likely launch the kids' version at Mip Jr in October.
Viewer appeal
Lip Sync Battle performed well for Viacom-owned Channel 5, consolidating to 1.9 million (9.9%) viewers across six episodes, against a 1.3 million (6.4%) slot average.
"With formats, the easy bit is signing the deal; the tough bit is making sure that the new version is as good or better than the original," she said. Beaton added that casting was the most important element in global versions and that networks need to have relationships with A-list talent.
There are regional differences: the Chinese version focuses more on local songs, while the Polish version largely features stars who established themselves on YouTube. "
This is a classic variety comedy show; it could have existed 50 years ago. The surprising twist is that it was produced in such a way: two minutes at a time [for the performances], which are standalone and can live online and travel around the world instantaneously," added Patterson.
INTERNATIONAL ADAPTATIONS
Africa (MTV Africa)
Canada (MusicquePlus/V)
Chile (TVN)
China (Shenzhen TV/Sohu)
Indonesia (Net TV)
Norway (TV2 Humor)
Poland (TVN Player)
Philippines (GMA Network),
pictured
UK (Channel 5)