THURSDAY: Death in Paradise continued to dominate for BBC1 despite losing twice as many viewers as ITV's Jericho.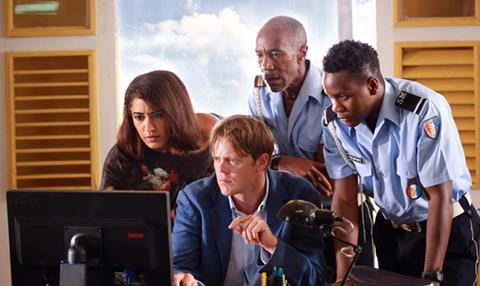 Death in Paradise (BBC1) 9pm-10pm
6.1m (27.3%)
Red Planet Pictures' Caribbean-based series slipped by 700,000 viewers after it returned last week with 6.8m. However its share grew marginally - from 27.1% - and it remained well ahead of the channel's slot average of 4.1m (19.8%) for the past 12 months.
Opposite, ITV Studios' Jericho returned for its second episode on ITV with 3m (13.7%), dipping from the 3.3m (15.5%) who tuned in to the launch.
Elsewhere at 9pm, Celebrity Big Brother entertained 2.3m (10.7%), while Restoration Man continued with 1.8m (7.9%) on C4.
BBC2's Stargazing Live bowed out with a series low of 1.2m (5.3%). It averaged 1.4m (6.2%) across its stripped three-part run, according to Barb data provided by overnights.tv.
Despite an exploration of the International Space Station, it was unable to match the previous series average of 1.8m (8.6%) in March 2015.
Dickensian (BBC1) 8pm-8.30pm
2.5m (11.7%)
Earlier in the evening, Red Planet's Charles Dickens-themed drama recovered from Wednesday's series low of 2.2m (10.4%) but remained down on the 3.5m (16.3%) series average.
It was beaten by Emmerdale on ITV, which was watched by 6.5m (30.4%) from 8pm to 8.30pm, while property format Location, Location, Location informed 2.5m (11.7%) on C4.
On BBC2, Chris Packham's World's Sneakiest Animals uncovered 1.2m (7.9%) across the hour on BBC2. The three-part series closed with an average of 1.5m (7%).
Channel 5 rounded off the 8pm slot with the second episode of history series Britain's Bloody Crown, which informed 830,000 (3.9%), after launching with 791,000 (3.6%).