Disney chief executive Bob Iger has urged his ABC network and production division to work more closely together as the Hollywood studios' drive for vertical integration gathers pace.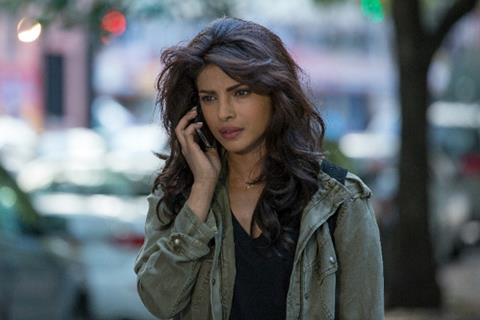 Speaking to investors after unveiling Disney's 2Q16 results, in which revenue grew 4% year-on-year to $13bn (£9bn), Iger said it was vital that the Disney-owned business collaborated more closely.
"You have to look at the business as not just a distribution or a network business, but as a content creation business," said Iger. "ABC Studios has done a great job of creating content that can be leveraged beyond the ABC network into a world that has an unbelievable appetite for that content. And that's not just domestic; that's globally as well."
He highlighted terrorist thriller Quantico [pictured] as a show that performed well on ABC and globally, after it was picked up by broadcasters including UKTV's Alibi.
Iger's plans for ABC stoke a growing trend that the broadcast networks owned by the studios, including CBS, NBC, Fox and The CW, ramp up the volume of shows commissioned from their own production units. The strategy hands them a stake in the lucrative international sales revenues.
ABC shows
His remarks come ahead of the May Upfronts, where the networks announce their annual programming slate, and the LA Screenings, where international buyers screen these shows.
This year, ABC has ordered 12 comedy pilots including Minnie Driver-fronted Speechless and an untitled lesbian comedy co-produced by Kindle Entertainment. It has also lined up 12 dramas including Hayley Atwell-fronted procedural Conviction and Agents of S.H.I.E.L.D spin-off Marvel's Most Wanted.
ABC Studios is involved in 22 of these projects.
"The goal at ABC is to program the network aggressively, but to also support our studio operation aggressively because that is a very, very important, if not integral, component of the value chain," said Iger.
This year will mark the first programming slate to be ordered by former ABC drama executive Channing Dungey, who replaced president of ABC Entertainment Group Paul Lee in February. It comes a year after former ABC News president Ben Sherwood became co-chairman, Disney Media Networks and president, Disney/ABC Television Group, replacing Anne Sweeney.
"I don't think Ben should be held back by any of the old rules and he should think out of the box. The world has changed so much that the old rules just don't always apply, and he needs to consider that," said Iger.
"I've seen all the pilots this year. I had the ability to watch most of them while I was in China last week, and I like what I see. I like the marketplace. I think given the ownership of programming and the fact that a lot of these new shows are ours… I feel good about the prospects for that business," he added.
DisneyLife
Separately, Iger, revealed plans to launch UK subscription video-on-demand service DisneyLife in a number of international markets.
DisneyLife, which launched in the UK in November for £9.99 per month, gives consumers the ability to stream its television episodes such as Phineas and Ferb and movies including The Lion King and Frozen. It also offers access to a range of albums and books.
Iger said: "We really wanted to see, not only how consumers behave with the product, but what the pricing should be and whether the technology platform that we created for it to put it on would work, and we've been really encouraged by that. We're looking at other opportunities around the world to distribute that product to."