Downton Abbey triumphed in the Christmas Day ratings battle after gaining a record 4m viewers through recorded viewing.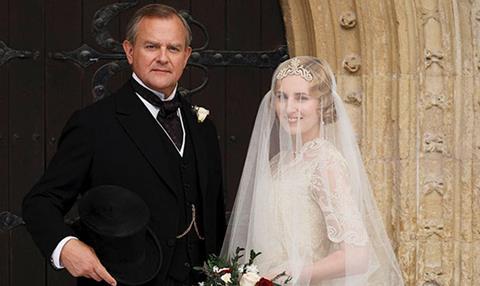 The final instalment of Carnival Films' stately home drama consolidated to an audience of 10.9m (35.7%) after posting an overnight performance of 6.9m (29.6%) on Christmas Day.
The final rating meant it dethroned the Queen's Christmas message as the top-rated show of the day. The speech was seen by a combined consolidated audience of 7.6m (47.1%) across ITV and BBC1.
ITV claimed that the audience increase for the two-hour Downton opus, which featured the wedding of Lady Edith, "set a new record for consolidated gain". The drama was still a long way off its best, when it drew 12.4m (41.2%) in November 2011.
However, Downton was comfortably ahead of any of its BBC1 rivals on Christmas Day. The channel's best effort proved to be Mrs Brown's Boys, which was watched by 9.4m (30.8%) – up 3m on its overnight audience.
Elsewhere on Christmas Day, EastEnders won the war of the soaps with Coronation Street – but only just. The BBC1 show drew a consolidated audience of 7.7m (25%), while ITV's offering managed 7.3m (24.1%).