The stars of All 4/Netflix drama The End of the F***ing World reflect on its word-of-mouth rise
When the first episode of the off-beat teen drama The End Of The F***ing World premiered on Channel 4 in October 2017, few were talking seriously about it as a major awards contender.
The show, which aired in full on All 4 rather than the main channel, was well received by critics and audiences, but it was only when it hit Netflix — which co-produced the series with C4, Clerkenwell Films and Dominic Buchanan Productions — in January 2018 that it really took off.
Its connection with US audiences in particular, through its brutally authentic depiction of adolescence, meant it soon entered the Primetime Emmy conversation.
The show had inauspicious beginnings. Starting life more than a decade ago as a self-published comic book by US graphic novelist Charles Forsman, its journey to the screen began when creator Jonathan Entwistle, who co-directed the series with Lucy Tcherniak, found a copy discarded on a London street. Securing the rights from Forsman, whose email address was on the back, Entwistle initially adapted it into the 2014 short TEOTFW.
Like the series, it followed teenager James (then played by Craig Roberts), a self-diagnosed psychopath, and Alyssa (played by Jessica Barden, who would go on to star in the TV series), a brash young woman whose aggressive confidence masks her own emotional scars, as they embark on a turbulent road trip across the English countryside.
Finding their feet
Entwistle was keen to expand this world and secured the support of Clerkenwell Films, which had loved the short, while waiting for Forsman to complete the story. During that time, Entwistle saw Channel 4's anthology series Banana, and tapped Charlie Covell, a Broadcast Hot Shot who had written two episodes, to pen the screenplay.
Barden and emerging UK actor Alex Lawther were cast as the leads. For Barden, the show's idiosyncratic humour came with its own potential challenges.
"When we were shooting, it was definitely like, 'Well, this is our humour but will anybody else get it?'" says the actress, who has had roles in Thomas Vinterberg's Far From The Madding Crowd and Yorgos Lanthimos's The Lobster, as well as TV series Penny Dreadful.
"The deadpan delivery is something you would see in adult shows [such as] Peep Show; we were just interested to see if kids would respond to it. But when we were shooting the first scene in the canteen when Alyssa and James meet, the kid sitting next to Alex couldn't stop laughing. We had to break the scene about five times. That was the moment where we thought: 'This might be all right.'"
Lawther, who played the young Alan Turing in Morten Tyldum's The Imitation Game and has more recently been seen in Warp Films' Ghost Stories and BBC/Starz mini-series Howards End, found the show's unconventional humour appealing.
"It was so odd," he laughs as he remembers that first screenplay and the way the insular James was written. "This was a character that barely says anything. Up until about episode three, he said about five 'OK's, three 'yeah's and one 'maybe'. But there seemed to be a character on the page, and that intrigued me. At first, it made me laugh, and then I reread it and I realised it was quite moving too."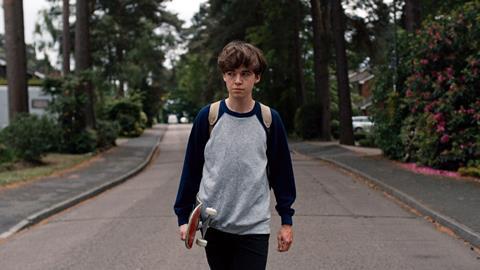 Both characters have voiceovers throughout the show, giving the audience access to their psyches, which are often at odds with what's happening on screen — a particularly essential dramatic marker for James, whose on-screen dialogue is minimal.
"Until midway through the season, when James starts to come out of his shell, I had to say to myself, 'Well, there's always the voiceover,'" he recalls. "'If none of what I'm doing now seems to make sense, we can cover up the patches.' Fortunately, I was in the good hands of Jonathan and Lucy, and it was a matter of letting myself be guided by them. And there became a sort of joy in how much was going on within those silences.
"There was always part of me that was trying to work out which voice we were supposed to be trusting more at any given moment," Lawther continues.
"Is his reality more honest, or is this self-possessed, initially quite psychopathic voiceover what we should be led by? It became really interesting as that broke down, and James started to become more honest, internally and externally.
"I was always keeping an eye on how much to give away. We shot the first four episodes before we'd read the last four. We knew roughly from Charlie where we were going, but there was always an element of leaving options open."
Although there is a lot left unsaid between Alyssa and James, the series is the story of their growing bond, which is never in doubt. Both Lawther and Barden attribute this dynamic to how they interact in real life.
"That chemistry you get is just me and Alex," says Barden. "We could sit in silence for hours and there wouldn't be a bad moment in it."
"There was always so much to play against," agrees Lawther. "I've never done a job that was quite so long, and you need someone with Jess's energy and capacity for humour when you're on the Isle of Sheppey and it's 4am and you still haven't got the shot right.
"It had a very particular style that seemed to be drawn quite clearly from criminal partner ancestors — the Thelma and Louise, Bonnie and Clyde sort of world," Lawther continues.
"But with a very modern twist in its discussions about sexuality, about them being virgins, growing up as teenagers. That's present in Charles Forsman's comic books, but it's also a real credit to Charlie Covell, how deftly she managed to cover quite tricky ground but always with a cheeky soul."
For Barden, the opportunity to play Alyssa — who is, alongside the likes of Phoebe Waller-Bridge's character in Fleabag and Frankie Shaw's in SMILF, one of a new breed of outspoken on-screen women — is something she is embracing. She is honest, however, about the fact this appreciation was not immediate when she first starred in the short, aged 21.
"I didn't understand how unique this project was, how unique Alyssa was, and how much she was a good fit with me," she recalls. "I was so early on in my career, I didn't have the experience of trying to find good roles."
For Lawther, too, the depiction of James as a multifaceted, vulnerable young man is one of the show's greatest strengths.
"I liked finding a character that was, in such an imaginative and extreme way, trying on a mask that very clearly wasn't him, because it was easier than accepting that he might be very normal," he says.
"I found that really moving. I liked how much he cracks and opens up. I also loved the dynamic of this hapless young man, who's ultimately very fragile, and this fast-paced, sometimes potentially dangerous young woman. You don't know who's leading who. They are both, at times, very soft and vulnerable with each other, and at times aggressive and cold and tough. I liked that both of those things were possible for both of them."
A slightly different edit of this article first appeared on screendaily.com