The Last Leg took a giant leap forward in 2016 with a live, daily pre-watershed show reviewing the Rio Paralympics.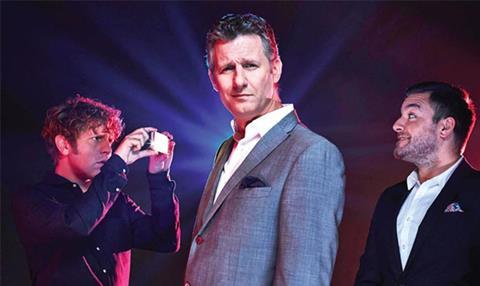 Not only was it a huge challenge to transform the show from its weekly, live format into a daily stripped event, but the task was made more daunting by the decision to pull it forward into an 8pm slot.
It was a major gamble from Channel 4 to put an entertainment format at the heart of its Rio coverage and there was a lot resting on hosts Adam Hills, Alex Brooker and Josh Widdicombe.
But the format made the transition seamlessly, attracting a new, young audience to the channel's Paralympics coverage, without sacrificing any of The Last Leg's notoriously edgy humour and anarchy.
Critically, Live From Rio also helped grow the volume of 16 to 34 year-olds tuning in to the Paralympics, with an average audience of almost 2 million – climbing throughout the tournament to hit a high of 2.3 million.
Bolstered by the success of the daily show, The Last Leg secured a bumper order for 2017, notching up a supersized 40-hour order, double the length of the previous run and underlining the channel's commitment to its topical satire.
The judges declared it a "pioneering" programme. In true Last Leg fashion, another added: "This show stands on its own in this genre… just not on its own legs."
SHORTLIST
BRITAIN'S GOT TALENT
Thames for ITV
In its tenth series, the entertainment juggernaut continued to boast impressive energy and "as good as it gets" production values.
Opening the show with the audition of its first-ever winner Paul Potts in front of an audience of 12 million, BGT continued to provide astonishing family fun, with sword swallower Alex Magala and a vegetable entertainment specialist.
LIP SYNC BATTLE UK
Whizz Kid Entertainment for Channel 5
Celebrities letting down their guard to mime to hit songs proved an irresistible formula for audiences as more than 2.5 million tuned in to watch David Walliams and Alesha Dixon set the bar high on the launch show. Airing a UK version of the US format was a brave move for C5, particularly after it re-imagined it as a longer version with new props, set and production techniques.
STRICTLY COME DANCING
BBC Studios for BBC One
The 13th outing of the ballroom-dancing phenomenon continued to wow families with its female presenting duo and double dose of warmth and glamour - with Ed Balls as the ace up its sleeve. The two-hour movie week special, with 14 routines staged to the highest production standards, was a highlight, attracting crowds of more than 12 million.
Hosted by Greg Davies and creator Alex Horne, the smart panel show, in which five comedians were set a series of unusual challenges, hit the right note with audiences. Neatly offering an insight into the minds of its participants, the second series found its feet on the channel as UKTV's highest-rated original commission of 2016.
HIGHLY COMMENDED
LOVE ISLAND
ITV Studios and GroupM Entertainment for ITV2
The revived format firmly found its feet in its second outing. Producing seven fastturnaround shows over a six-week period on location in Mallorca was the first challenge before the weekly highlights show was upgraded to offer a companion show bursting with unseen footage.
The target 16-34 demographic flocked to the island in droves and the series peaked with 1.8 million viewers.