We needed a full arsenal of kit to capture the best footage of a giant, dusty California landfill site, says Rob Greig
Secrets of the Mega Landfill, Channel 5
Production company Icon Films
Commissioner Daniel Pearl
Length 1 x 90 minutes
TX Thursday 2 July (TBC)
Executive producer Stephen McQuillan
Producer/director Rob Greig
Assistant producer Chloe Garfoot
Researcher Nicole Bartlett
Production manager Phoebe Sinclair
Edit producer Rob Wooton
Senior producer Joanna Grace
Editors Tim Trusler; Ross Hamilton
Post-house Icon Films
When you get the call asking if you would like a job filming at one of the world's biggest landfill sites, many could be forgiven for saying, 'No, thanks'. However, as I'd worked with Impossible Engineering for Discovery, it was right up my street, and within a couple of days I was on my way to Icon Films in Bristol.
It was a whirlwind from the start. The team at Icon had miraculously managed to get access all areas to one of the biggest landfill sites in the US and the world – the Frank R Bowerman site in California – in just two weeks after another site fell through.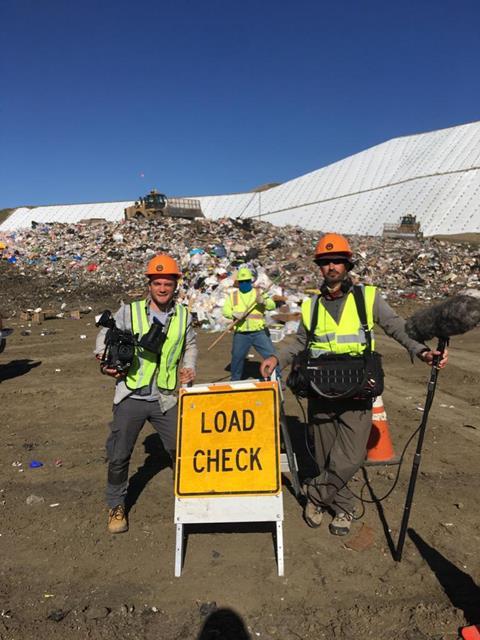 Our challenge was to follow the work of the mega site and the people on the ground, for a feature-length specialist factual documentary for Channel 5 in just eight days.
What greets you is a site bigger than Disneyland, 725 acres in size, canyons carved out of the hillside to fill with trash and mountains made from more rubbish before being covered with dirt.
Seven-hundred and fifty trucks of garbage arrive constantly, dumping a million bags of rubbish a day, on top of four hundred and fifty feet of unwanted junk. It's an epic task that never stops.
The team there weren't allowed to stop working – you're talking dozens of bulldozers, trash compactors and other machines weighing in at 70 tonnes a piece all moving around you.
The noise was constant, and it was so hard to tell when a machine was close by. While concentrating on a small part of the action at any one time through a camera eyepiece, I had to be extra vigilant and we had to keep an eye on each other constantly.
What greets you is a site bigger than Disneyland, 725 acres in size, canyons carved out of the hillside to fill with trash, and mountains made from rubbish
But it wasn't just the noise and danger posed by the machines. The team and I have all worked in various locations around the world, so none of us strangers to shooting in extreme heat. However, that coupled with the stench of a landfill is a force to be reckoned with – it was a struggle for the body to cope.
Taking care of equipment
The equipment had a different battle to fight. The dirt and dust on site are relentless, and with so many moving camera parts, extreme care had to be taken to make sure that nothing broke.
Even with us vigilantly cleaning equipment on a regular basis, we did lose one camera to the elements and had to organise a replacement at the last minute. The team back at base scrambled to find a kit hire place in LA as fast as possible without us losing any time on location.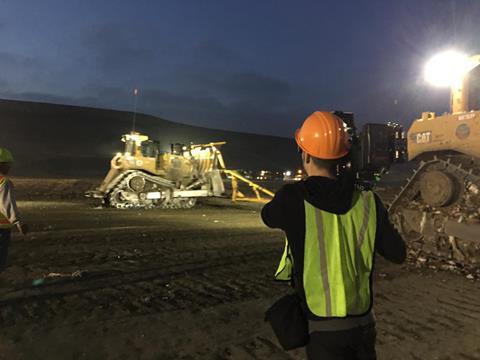 When it comes to kit, the amount we took on location may seem like overkill to many, but we could not have produced the film we did without it all.
The Mega Secrets… strand for Channel 5 prides itself on high production values – exclusive access behind the scenes of the world's most impressive businesses and locations, from resorts, cruise ships, airports to landfill sites – and for that, you can't just 'run and gun'.
My tricks of the trade – Rob Greif, producer/director
Guide the team but respect them for their strengths in their roles.
When plans come unstuck, don't let contributors see you panic. The solution will come in time.
Don't be a hero. Make use of the support you have.
Conduct chats, not interviews. Memorise key points; printed questions are only a last resort.
It means taking multiple cameras; two FS7s using EF Canon lenses (as well as a very wide 11-16 Tokina lens to get the almost intimidating low angles of machinery), an A7Smk2 for gimbal work on the Ronin-S; the 5D for timelapses often on the syrup genie (a motorised slider); a DJI Mavic Pro 2 drone; and a raft of Go-Pros with the clamps and grips to get every POV known to man – all to make sure we got every stylised shot possible.
The noise was constant, and it was hard to tell when a machine was close by. I had to be extra vigilant and we had to keep an eye on each other constantly.
That's not forgetting the specialised audio kit to do battle with the noise including essential personal digital recorders to get sync from contributors while they were operating the machines.
Achieving the level of quality the channel expected while dealing with heat, noise, heavy machinery and the sheer size of the site was an intense challenge but one Icon deals a lot with on its many international productions.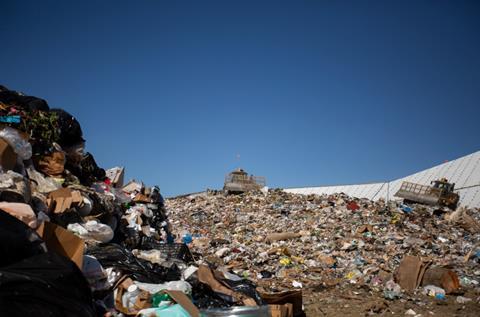 To manage it all successfully it invests in in-house technical staff, who are cameramen as well as editors. Ross Hamilton was the director of photography that I had on shoot, responsible for carrying out most of the specialised footage on site.
Having that role on location with an editors' eye was a definite bonus for the film and a bonus for the budget. There's no doubt that investing in staff training and all the in-house kit mentioned above is a huge financial help on a small budget production.
Using prior knowledge of Secret of… to organise the shoot
Ross Hamilton
Technical coordinator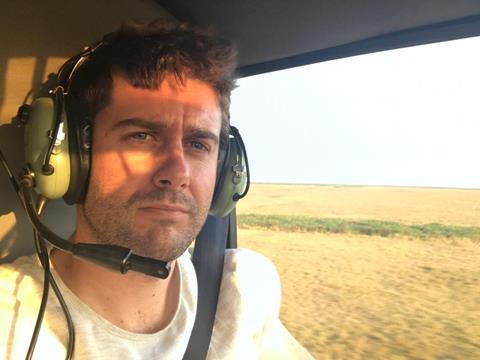 On this production I was working as both a DoP and one of the offline editors – admittedly a rare combo, but it does have huge advantages.
Rob Greig, the PD in the field, wasn't the same person who would take the programme through the edit so I was a very useful link between the two worlds.
Secondly, the show was to be a mix of engaging 'on the shoulder'-style content, but with a huge amount of high-end contextual imagery – as a large percentage of the film would inevitably be narration.
Often there are extended sections of voiceover, maybe 30-40 seconds long, which demand so much more than a handful of generic GVs. Each of these sections must to tell its own visual story.
I had previously cut a Secrets of… film for Channel 5 that followed this format, so knew how much of this imagery would be needed. It was even more so in this case, as it was to be a 90-minute show, rather than the standard 60.
On that note, the drone was an absolute necessity. I accept that drones are everywhere now, sometimes overused, but a location of this magnitude definitely warranted a view from above. The budget dictated that we could only take the DJI Mavic Pro2, although considering its size and price, it delivered impressive results.
I would launch the drone up as often as possible, three for times a day on average, capturing as many different activities around the site, in as many different lighting conditions as possible.
On location, I operated mainly as a separated unit from the main crew who were shooting the sync. Each day I would get the story beats from Rob, and then work out how I could best cover them, and what camera system to deploy.
Being a separate entity from the main crew gave me the freedom to hop around the site as I desired, for instance, leaving a timelapse running, while covering something else on the drone at another part of the site.
Like every shoot, careful planning and management of your time is key, especially when working alongside an operation like a landfill that won't wait.