BBC dramas And Then There Were None, Dickensian and Sherlock performed strongly over the festive period, as ITV's scripted efforts struggled and Fungus The Bogeyman helped Sky 1 to its best audience of 2015.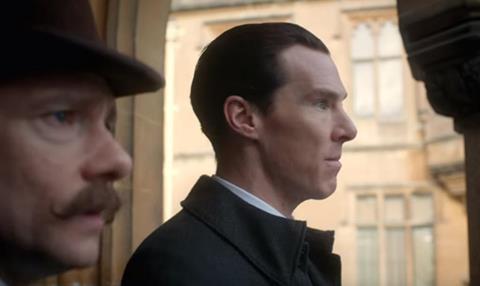 Boxing Day
And Then There Were None (BBC1) 9pm-10pm
6m (27.5%)
The Boxing Day drama contest was won by the Mammoth Screen and Agatha Christie Productions series, which was stripped across three days.
The mystery, which followed the disappearances of a group of 10 people, went on to grip an average of 5.5m (25.3%) over the course of its series.
It was comfortably ahead of the 4.6m (22.2%) series average recorded by BBC1's previous Christie adaptation, Partners in Crime, from July in a Sunday 9pm slot.
Dickensian (BBC1)
7pm-7.30pm: 5m (25%)
8.30pm-9pm: 4.3m (20.9%)
The first episode of Red Planet Pictures' 20-part murder mystery performed well, beating BBC1's equivalent 7pm Boxing Day offering in 2014 - The Boy In The Dress, which delivered 4.8m (21.1%).
It also topped the 3.7m (18.7%) who tuned in to the opener of Tony Jordan's First World War drama The Passing Bells in November 2014.
Inside Lego at Christmas (C4) 8pm-9pm
2.1m (9.9%)
Channel 4 returned to the headquarters of toy manufacturer Lego from 8pm to 9pm. Waddell Media's documentary was behind the previous one-off about the brand, which informed 2.5m (11.8%) on a Sunday in June.
Peter and Wendy (ITV) 8pm-10pm
1.5m (7.2%)
On ITV, Peter Pan-inspired drama Peter and Wendy tanked, falling well below the channel's slot average of 4.7m (23.2%).
Sunday 27 December
Harry Price: Ghost Hunter (ITV)8.30pm-10.30pm
1.6m (8.4%)
ITV also struggled the following day after Bentley Productions' one-off drama was hobbled by the second episode of And Then There Were None on BBC1.
Fungus the Bogeyman (Sky 1) 6pm-7.30pm
742,000 (3.8%)
The adaptation of Raymond Briggs' children's book overtook the launch of the second series of The Moaning of Life to become the channel's most-watched show of 2015.
Imaginarium Studios and DNeg TV's show, which was stripped across three episodes,went on to entertain an average of 438,000 (2.1%).
Walking The Himalayas (C4)8pm-9pm
1.9m (9.1%)
October Films and GroupM Entertainment's follow-up to Walking The Nile narrowly lost out to the first series, which opened with 2.1m (8.7%) in January 2015.
New Year's Eve
New Year's Eve Celebrations (BBC1) midnight – 12.10am
12.5m (62.9%)
The coverage of the fireworks from Embankment on the River Thames peaked with 12.8m (64%) at 12.05am. It was easily the biggest programme of the day and topped the 12.3m (63%) who tuned in last year.
Earlier in the evening, Channel 4's Alan Carr's New Year Specstacular entertained 1.4m (8.3%) from 9pm to 11.10pm, down on the 1.6m (9.1%) who tuned in last year. It was preceded by TFI New Year's Eve special, which pulled in 1.4m (7.3%) from 7.30pm to 9pm.
New Year's Day
Sherlock (BBC1) 9pm-10.30pm
8.4m (34.7%)
The one-off mystery, which transported the Baker Street sleuth to Victorian times, was the most-watched show of the day but it failed to outperform the opening episode of the third series.
The Empty Hearse was seen by 9.2m on 1 January 2014, although its share was slightly lower at 33.8%.