Screenwriter Ryan Murphy is one of the busiest men in US television, with recent series including American Crime Story: The People vs OJ Simpson, American Horror Story and Scream Queens.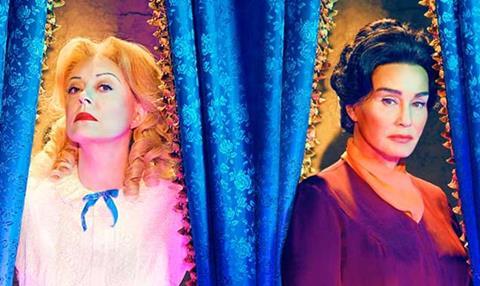 FEUD
Distributor 20th Century Fox Television Distribution
Producers Fox 21 Television Studios; Plan B Entertainment
Length 8 x 60 minutes
Broadcaster FX (US)
US cable network FX has been the biggest beneficiary of this and his latest project, eight-part miniseries Feud, based on the rivalry between Hollywood stars Joan Crawford and Bette Davis, also airs on the channel.
The drama looks at how the two women competed on and off screen during their collaboration on classic movie What Ever Happened To Baby Jane?. It also explores how the pair endured and dealt with ageism, sexism and misogyny as they moved into the twilight of their careers.
Starring Jessica Lange as Crawford and Susan Sarandon as Davis, the series also features Stanley Tucci as studio mogul Jack Warner, Alfred Molina as director Robert Aldrich and Judy Davis as gossip columnist Hedda Hopper.
It is a co-production between Fox 21 Studios, the cable arm of the Rupert Murdoch-owned conglomerate, and Plan B Entertainment, the TV and film indie run by Brad Pitt, who receives an executive producer credit.
When it launched on FX in early March, Feud was the channel's highest-rating series debut since American Crime Story: The People vs OJ Simpson, beating series including Tom Hardy's Taboo and Marvel's Legion.
FX Networks chief executive John Landgraf says Murphy "keeps reinventing TV" and Feud is "equally as ambitious" as his previous work.
Feud offers a "seductive, insightful look at what lies behind legendary personality conflicts", he adds. 20th Century Television Fox Distribution will be hoping that the story's classic Hollywood setting and subject matter appeals to buyers around the world.
While the Crawford/Davis duel is limited to one series, Murphy is turning Feud into an anthology series – with its second outing focused on the UK.
The next 10 x 60-minute series will explore the relationship between Prince Charles and Princess Diana. It will be written by Murphy and The Slap's Jon Robin Baitz, and will air in 2018.