The Sports Tech Innovation Forum highlighted how technology is being used to engage fans
The passion of sport fans to get close to the action has long been a driver of innovation in the television industry.
This was underlined throughout the day at Broadcast's Sports Tech Innovation Forum, held at BT Sport Studios at the Queen Elizabeth Olympic Park on 22 November.
Leading figures from the sports production industry – including BT Sport chief operating officer Jamie Hindhaugh, Sky Sports director of content Steve Smith and IMG head of engineering Tim de Marco – reflected on the innovations that have transformed sports coverage in recent years, as well as those that look set to revolutionise production in 2019 and beyond.
The event took place in the same week that BT Sport showcased the potential of 5G in production, broadcasting the world's first live sporting event – the EE Wembley Cup – over 5G using remote production.
Hindhaugh stressed that such technical innovation is crucial for sports broadcasters. "Two things drive credibility in our industry: one is the on-air talent and presence you have; the second is about innovation and doing things differently."
He said the reason that BT has invested early in tech such as 4K, HDR, Dolby Atmos and live 360 highlights, is to "take audiences to the heart of sport."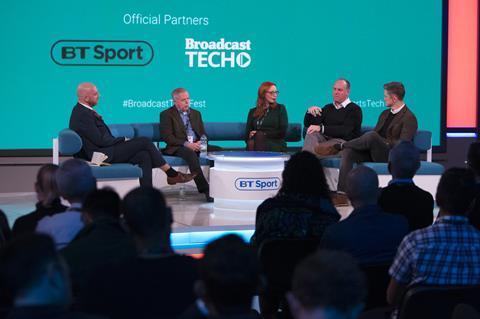 The superior sound of Dolby Atmos, for example, "brings the atmosphere of the stadium" to your home, while the colour enhancement of HDR "enables viewers to see the Manchester United red shirt on the screen actually as it is".
Many of the speakers, such as the FA's senior video manager Damien Cullen, underlined how technology has enhanced viewer engagement with sport, which in turn has increased sports broadcasters' reach and revenues.
"Engagement is the sustainable root to a solid business," said Luc Osborne, vice-president of insight and analytics at sports streaming service DAZN.
The service has shaken up the market with its big-money rights deals and low-cost, contract-free model that offers content such as Uefa Champions League Football and La Liga in markets like Germany for €9.99 (£8.90) a month.
Osborne said: "Our whole proposition is powered by technology. The likes of Netflix and Spotify have disrupted [the TV and music] industries for the benefit of fans. Sport is the next one that needs to be disrupted. So for us, technology is everything."
Asked whether DAZN is planning to launch in the UK, Osborne said: "We're about to launch in Spain, and we've got a number of other markets we are working on. I can't comment on any specific markets, but we're aiming for global domination – so read into that what you want. We are looking to expand globally as fast as possible."
Several speakers wondered if the streamers are going to push more heavily into sport, transforming the genre, like Netflix and Amazon have done with high-end TV drama.
De Marco said: "The massive advantage they have is real-time analytic data of their viewers – how many people are watching, tuning in and out, and what people are enjoying. It's a much more in-depth view."
Need for speed
Many of the speakers outlined ways in which technological advances can boost viewer engagement with sport. Digital execs at key broadcasters stressed the need for speed in producing highlight clips for social media.
ITV head of digital for daytime, sport and factual Jaine Sykes said the broadcaster now aims to get clips onto social media within 60 seconds of a goal being scored.
Such speed boosts "reach, revenue and reputation", she added, noting that ITV had partnered with Grabyo for its live-clipping technology.
It's not just speed in delivering clips that is important, though. The speed of delivering relevant sports data to fans is also key, said Duncan Alexander, vice-president of data editorial at sports data provider Opta.
"It makes pundits look more knowledgeable and fans look more knowledgeable to their friends too," he said.
There is a greater appreciation of data in the industry, he added: "Fans want a way of talking about the game that is a bit more than, 'We were good, you were bad'."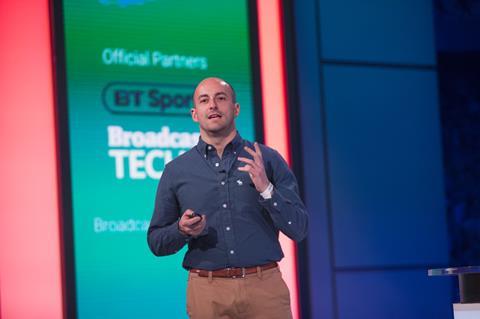 BT Sport digital director Mike Norrish said that "speed is expected right now" – and emotional sports storytelling is becoming a key focus. He cited the viral clip of commentators Ian Wright, Lee Dixon and Gary Neville celebrating after England's penalty win against Colombia in the Fifa World Cup this summer.
"Emotion is the key word in my team at the moment – how do we tell emotional stories and tap into that sporting emotion?"
5G, meanwhile, is expected to drive more creativity in sports production – enhancing viewer engagement along the way.
BT Sport chief engineer Andy Beale outlined some of the key findings from its recent 5G remote-production trials. He said that not only will it save on overheads by reducing the need for a big OB presence as well as travel and hotel costs, but it also means a better work-life balance for staff.
"They haven't got to spend two days on the road away from home. They can come to the studio an hour before the game, produce the match – and probably do a second game as well. It provides lots of opportunity for us as a business to transform, but also to improve the welfare of our staff – and [the savings will allow us] to invest in more content."
He also predicted that 5G remote production will improve creativity in sports production. Untethered cameras can move much more freely than traditional OB cameras, which are "normally stuck in a tunnel or in the corner of a pitch".
"All of a sudden you can shoot in different ways," added Hindhaugh. "Your directors and producers can play with those cameras in very different ways… the cameras that are pitchside can also travel on the coach with the team, and can go in the dressing room."
5G would also be much more reliable than 4G in enabling remote production, said BT Sport director of mobile strategy Matt Stagg.
5G network slicing, he said, allows for a "segregated, dedicated broadcast network with all of the properties we need to ensure we get signals back uninterrupted – and not interrupted by everyone on social media in the stadium".
Stagg added: "5G gives us massively reduced latency, huge amounts of bandwidth, but also this capability to have quality of service."
Other technologies were also flagged up for their potential to boost viewer engagement. Sky and BT both expressed interest in 8K, amid signs that the format could be the next big thing – Japan Broadcasting Corporation (NHK) is to launch the world's first 8K channel this month.
"When we are looking to take viewers to the heart of sport, we are looking for the best pictures and the best sound. Through that lens, we would absolutely be interested in 8K," said Norrish.
Smith added that "there is an insatiable desire for people to get higher-quality images, noting that "UHD is one of the major factors that drives upgrades to Sky Q".
The potential of object-based media was also flagged by panellists such as Beale and Eurosport senior vice-president of technology Gordon Castle.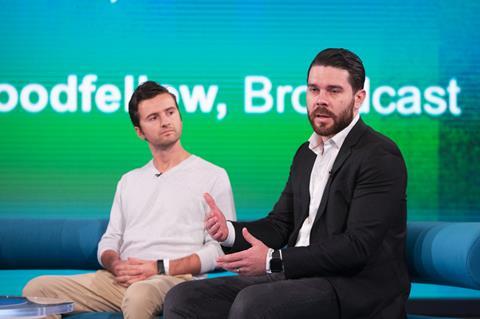 Object-based media allows the content of programmes to change according to the requirements of each individual audience member.
Rather than delivering a flattened, finished video file, it breaks it down into several objects – enabling viewers to choose, for example, to turn up the background stadium noise or turn down the commentator volume, or to customise the onscreen graphics.
"It's about giving people more choice," said Beale, adding that it allows broadcasters to be more inclusive and cater more easily for the hard of hearing or those who have problems with their sight.
Speakers were more cautious about other technologies. The merits or otherwise of immersive reality were widely debated. Few thought sport would be watched live with VR headsets, given that viewing is often a social experience.
Most thought immersive technologies could help with post-match analysis or for viewing highlights after a game. "We think there are great opportunities, but you have to be careful with putting it in the right place," said Castle.
"We can learn something from 3D, where the trouble was trying to take something that was really good for certain experiences and saying it was good for everything."
As a good example of the technology in use, he cited Eurosport's immersive, mixed-reality studio the Cube, which the broadcaster uses to analyse sporting action using augmented and virtual reality.
Debuted at the Winter Olympics in PyeongChang, it enabled athletes and Eurosport presenters to tell more engaging stories by interacting with their surroundings and explaining what was going on.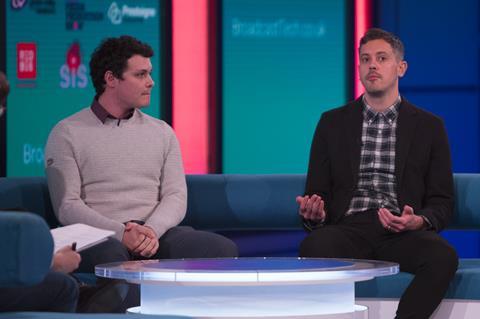 Cooling off on AI Elsewhere, there were signs that the hype around artificial intelligence (AI) is subsiding. As recently as six months ago, AI was being lauded by many technologists in the industry for its potential to speed up workflows and reduce costs in sports production. The attitude towards AI is now distinctly cooler, it seems.
"We looked at AI before the World Cup for backend [use] and for live clipping to see whether we could bring our timings down even more. It was good – but not good enough," said Sykes.
Beale added: "There's been a lot of chatter about it and some interesting use cases, but what is disappointing for me right now is that we haven't seen AI deliver tangible step changes."
Instead, many speakers stressed the need for broadcasters to focus on developing technology that can overcome real issues for many sports fans.
One such issue is latency or streaming lag, which became a major talking point during the World Cup when many online viewers heard neighbours cheering goals they had not yet seen, because the online stream was half a minute behind the TV broadcast.
"We are tirelessly focusing on that," said Osborne. "Our vast focus is on solving the basics – making sure that people can view their favourite sport on low-latency, high-quality streams. That is really the key."