A vibrant new workspace and leisure development in the heart of North London's cultural quarter is all set to rival the more established media hubs in the capital.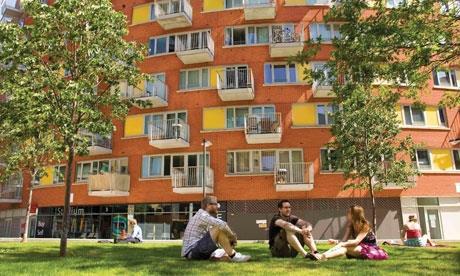 Creative, digital and media companies seeking out a new home would probably not instantly think of London N7 as their ideal destination.
In the very near future though, thanks to a new creative hub currently being nurtured in the area around Holloway tube station, they just might.
Highbury Studios is a 135,000 sq ft mixed use development that has the potential to be a serious alternative to Soho and the other established media settlements in the capital.
Not to be confused with the Highbury Film Studios that were demolished in the 1960s, it forms part of the multi-million pound Islington re-generation scheme that saw Arsenal FC move to a new stadium and brought thousands of new homes and jobs to the area.
Designed to provide a suitable setting for a community of creative businesses and artistic organizations, Highbury Studios features a courtyard garden with water feature, attractive pedestrian areas and modular office units with New York loft apartment-style high ceilings.
The units can be workshops, offices or studios and vary in size from 'incubator' spaces for start-up firms to larger areas for bigger organisations.
Importantly, they are priced to suit the budgets of creative companies with some costing as little as £15 per sq ft depending on specification.
Antony Spencer, the development consultant at Anthony Green & Spencer and a property adviser to Arsenal FC, is the brains behind Highbury Studios and is championing the project through his development company Stadium Capital Holdings
His ambition is to create a 'cool, not trendy' environment where likeminded companies can develop an artistic ecology.
"The development is located in an up and coming area, we offer West End quality at affordable prices and we are still just 15 minutes from the established locations like the West End," he says.
The hub already has 'magnet' media tenants in the form of Islington Studios, Square i Media and Heart Productions plus a host of other gaming companies, TV producers and photographers. It is just the beginning.
"Affordable office rents will persuade more creatives to move here," says Spencer. "Others will follow because they like to be around those who share their ideas and spirit."
There is also a host of other great reasons to consider Highbury Studios.
Each tenant can choose the look and feel of a unit. Or they can engage the services of the site's own award-winning architect who can put an original stamp on it for them.
The cleverly engineered infrastructure makes each office or workshop 'plug-and-play', allowing ultra-flexibility for computing and communications systems.
And then there's the fully glazed facades and sleek and understated interior lighting that makes each space unexpectedly bright and highly professional. A variety of external facilities are also on hand including a gym, an underground car park and a nearby Tesco's - not to mention 24 hour security and excellent public transport links.
All of which makes Highbury Studios a very practical alternative to some of the more isolated media communities in London.
Built below horseshoe shaped apartment blocks designed by Piers Gough, the new community even has its own mantra: 'Live, Work and Play'. This is embodied in the café culture that sits at the heart of it.
Where "scruffy" and "uninviting" houses once stood is now a fashionable piazza with a coffee shop called Sacred providing high-quality food and drink as well as delivery services and special rates for tenants.
It's all part of the magic of Highbury Studios, where an exciting community is being born.
"I couldn't find anywhere else that provided this kind of quality units," says one current media company tenant. " It's also very handy to be able to just pop in and see the people you're working with when they're right next door."
With plans for 100 megabits per second connectivity and a series of networking events there's plenty more to come too.
Maybe the next time a creative company is searching for their ideal home, Highbury Studios will be one of the first names on their list.
Contact information
Contact name Ashley Wogman
Tel 0207 935 2335
Email aw@ags.uk.com
Web www.highburystudios.com