Transformation series This Time Next Year has become Twofour's most successful international format to date, despite not yet having aired in the UK.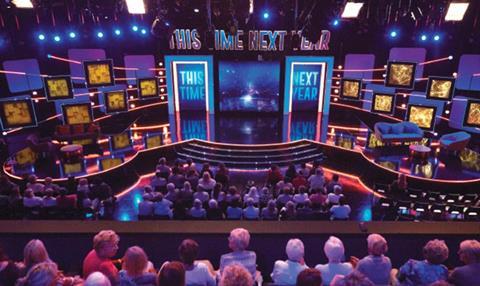 The 6 x 60-minute series, which launches on ITV later this year, is being remade by broadcasters in 10 territories, including the US and Australia, and has been optioned in a further nine countries.
International distribution division Twofour Rights has struck format deals with Australian commercial broadcaster Nine Network, Germany's RTL and Denmark's TV2, plus seven more broadcasters, including an unnamed US channel.
"We've been told it's the fastest-selling new format in the world this year," said Twofour Group chief executive Melanie Leach.
Fronted by Davina McCall in the UK, the studio-based show features contributors who want to change their lives in a major way – such as regaining the use of their legs, or getting rid of a stammer.
After explaining their plan, the contributor leaves the studio through a door marked 'This Time' and re-emerges "immediately" through a door marked 'Next Year' – though in reality 12 months have passed – to reveal whether they have achieved their target.
The idea originated from Leach reading a "trashy" magazine on a train that highlighted a woman who lost a lot of weight.
Twofour was able to convince global broadcasters to buy the show despite not having a sizzle tape, pilot or domestic ratings "It's one of those rare shows that you can't pilot and if you want to wait for ratings to track, you're in for a long wait because then you're a whole year off your own version.
"It's such a simple concept, which made it easier for international broadcasters to take the leap and go straight into production," Leach added.
Twofour chief creative officer Andrew Mackenzie said: "We were talking about Grand Designs and how everyone on our development team watches part one and part four, but fast-forwards through the middle. "We were constantly thinking of a show where you could just do lots of beginnings and endings, and skip the journey."
The show was originally developed with ITV daytime controller Helen Warner, before being ordered by ITV's entertainment team through commissioning editor Amanda Stavri.
Leach said This Time Next Year is not a standard transformation show. "It's changed the form a bit. We've taken something that has historically sat in a factual arena and put it into an entertainment wrapper – it feels different for it."
Leach and Mackenzie will be at Mipcom and hope there will be "another wave" of sales as they now have a finished episode to show buyers.
Twofour will produce a number of the international versions of the show and will work closely with owner ITV's production units in other countries.
Income generation
The company still operates its own independent distribution business, Twofour Rights, which was established in 2012, despite ITV acquiring 75% of the group for £55m in June 2015.
"International is probably the most important bit of our business," said Mackenzie. "Nothing we make as a first series in the UK will turn a profit on the primary licence. It's continuing to get tougher for every indie. If you don't have a secondary income, you'll go bust."
Twofour Rights also sells C4 skiing show The Jump and struck its first international remake deal for the GroupM Entertainment co-pro with Slovenia's Planet TV. Mackenzie said the show is expensive to produce and Twofour is considering establishing a production hub that would allow international broadcasters to adapt it at a lower cost.
Impossible Engineering: A Low-Profile Hit
Twofour's increasingly international outlook is exemplified by the fact that its most lucrative finished tape series was fully funded by the indie itself.
Impossible Engineering, which looks at the history of pioneering modern-day mega-structures, was one of the highest-rated shows last year for Discovery's Science Channel. It has also run on UKTV's Yesterday and been sold to 90 broadcasters around the world.
"It is probably the most profitable show in our entire catalogue," said MacKenzie.