Six Day Series; Amazon Prime's Alex Green; 5G; direct-to-consumer sports; behind-the-scenes at MotoGP; five-to-watch at the Rugby World Cup 2019; the growth of automation in sport
The fragility and ever-changing shape of the sports broadcast landscape is evident in issue #3 of Broadcast Sport. We kick off with a broadcaster – Amazon Prime Video – that only launched worldwide three years ago and has already bagged the rights for top-tier tennis tournaments and 20 Premier League football games a year. It's merely the start of its journey to become a major sports broadcaster, as revealed by managing director Alex Green on p6-8.
Next we investigate direct-to-consumer (p12-16), with OTT platforms hosting live games, on-demand their fanbase. Currently, these platforms rarely replace sport, but who's to say what the future may hold?
Another tech development starting to work its way into sports broadcasts is automation. In our roundtable debate on p28-30, sports organisations discuss its impact – it's less about robots taking over and more about producing content typically overlooked by traditional broadcasters.
For our cover story, we reveal the fresh, glitzy and glamourous approach the Six Day Series is taking in staging and televising its cycling events (p32-34).
Elsewhere, BT Sport's Matt Stagg unveils the dramatic changes 5G might bring to sports production and broadcasting (p26-27) and we go behind the scenes at the high-octane Silverstone MotoGP (p20-23).
I hope you enjoy the issue. See you again in November.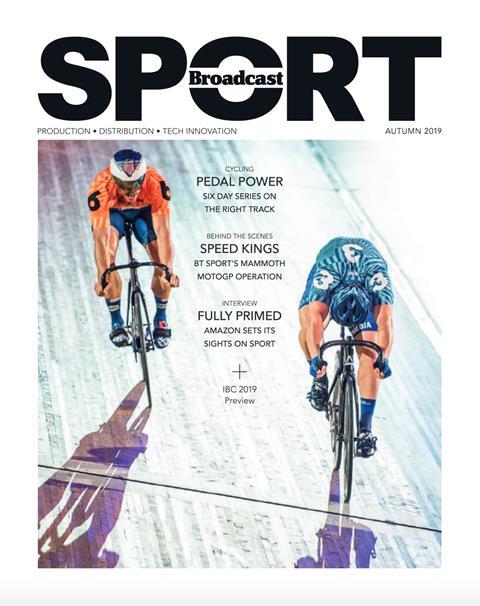 Click on the cover above to read the digital version of Broadcast Sport magazine issue #3.