ITV has made no secret of its ambitions to crank up its family-oriented adventure slate, and it's gone back to the classics for inspiration.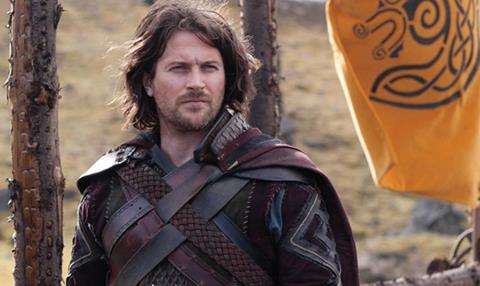 Distributor ITV Studios Global Entertainment
Producer ITV Studios
Length 13 x 60 minutes
Country UK
Along with Charlie Higson's modern twist on Jekyll & Hyde comes a new take on perhaps England's oldest tale of all.
Occupying a space somewhere between the derring-do of The Musketeers and Atlantis, with more than a touch of a less explicit Game Of Thrones, comes Beowulf.
The broadcaster has described the series as "a Western set in the Dark Ages of Britain's mythic past", with production designer Grant Montgomery drawing on influences as diverse as Gustav Klimt, Sergio Leone and Arnold Schwarzenegger movie Conan The Barbarian.
The story begins as mercenary warrior Beowulf returns to the town of Herot to pay respects to the late Hrothgar, the man who raised him. Deciding to hunt down
Grendl, the monster responsible for his death, he becomes a hero to the whole of Herot. Dragons, trolls and swordfights aplenty are promised in the CGI-laden production.
Making a hero
ITV Studios creative director of drama Tim Haines and executive producer of drama Katie Newman – the team behind ITV hit Primeval while at Impossible Pictures – approached writer James Dormer (Strike Back, Wallander, Outcast) about the show two years ago.
Dormer went on to flesh out the concept and head up the writing team. For him, the appeal lay in returning to the notion of what makes a hero.
"People connect with these mythical themes and stories, whether it's a comic book hero tale or in this fantastical setting," he says. "We've taken a step away and beyond the poem, creating our own world and characters around it, but staying true to the theme of honour in battle."
Though not very familiar with the original text, penned anonymously in the Anglo-Saxon era and a staple of the GCSE syllabus,
Dormer drew inspiration from Seamus Heaney's celebrated interpretation. He says he was undaunted by expanding the poem, which runs to more than 3,000 alliterative lines, into a potential returning series of this scale.
"It's an immigrant story told by Scandinavians who'd come over here, and the poem that people know just happened to be frozen in time," he says. "I'm just one in a long line of people telling this mythic story."
Dormer also emphasises the role of family in the narrative, noting its ensemble nature as Beowulf seeks to connect with his family.
"This has enabled us to focus on some strong women – who can get overlooked in these sorts of fantastical, mythical stories," he says.
The tale has been grounded by filming in the north-east, with ITV taking advantage of the UK's drama tax breaks and the support of the region's county councils. "This story is an integral part of this country's past," says Dormer.
The producers built the whole town from scratch in an abandoned quarry. "It's a harsh climate, but that helps give it an epic, rugged quality. With some fantastic costumes and production design, it looks much more cinematic than I could ever have dreamed it would be."
Given the battles in the series, it is expected to be aimed at the older end of the family market, airing in an 8pm or 9pm slot, rather than the Saturday teatime slots enjoyed by Primeval and BBC1's Merlin.
Fresh from the end of filming this month, ITVS GE will be taking cast including lead actor Kieran Bew (Da Vinci's Demons) and Joanne Whalley (Wolf Hall) to Mipcom. ITV will air the show next year.