US network Fox welcomes reluctant outdoorsmen to the jungle in this reality competition series from Lionsgate and Wipeout and Fear Factor producer Matt Kunitz of Pulse Creative.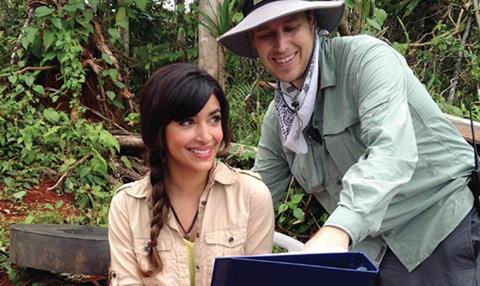 Distributor Lionsgate Television International
Producers Pulse Creative; Lionsgate Television
Length 8 x 60 minutes
Broadcaster Fox (US)
Set in Fiji's tropical jungle, the eight-part show adds some comic relief to the survival genre as top survivalists shepherd 'naturephobic' partners – among them a former beauty queen, a model and a gamer – through extreme challenges, dangerous animals, hazardous weather and hunger.
The winners will claim a cash prize of $500,000 (£400,000). "It's an emotional, comical and inspirational new concept that we're offering as both a format and a fi nished series. We are confi dent it will connect with viewers around the world," says Peter Iacono, president of international television and digital distribution at Lionsgate.
Hosted by New Girl's Hannah Simone, Kicking & Screaming will join the US broadcaster's midseason line-up in January, premiering on Tuesday nights.
The project stems from an overall TV deal inked in January between Lionsgate and Kicking & Screaming co-creators David Shumsky and Mark Harris.
The Mad Men producer has been making moves into the unscripted arena for some time, fi rst acquiring a major stake in North Hollywood-based Pilgrim Studios in 2015 and in July advancing in the UK via a stake in
Mat Steiner and Adam Wood's indie Primal Media, with Lionsgate working with Primal to produce US formats for the UK.
Meanwhile, Fox has this year been steadily boosting its unscripted slate, most recently signing on for Gordon Ramsay-fronted The F Word, which ran for five series on Channel 4 between 2005 and 2010.
Based on the titular UK show from Gordon Ramsay, the US version will feature families of food enthusiasts facing off against others around the country.
Also on the horizon for the US broadcaster is interactive series Beat Shazam from Survivor executive producer Mark Burnett and Don't Forget The Lyrics creator Jeff Apploff.