Two of kids' TV's perennial themes – dinosaurs and super heroes – are fused in this comedy adventure series for four to seven year-olds.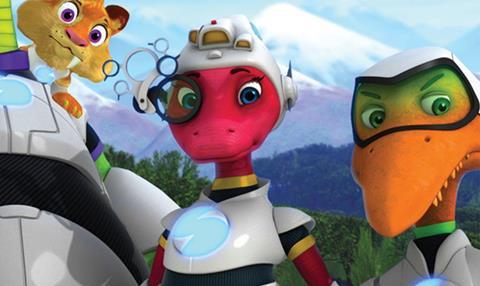 Distributor Technicolor
Producers Technicolor Creative Development; co-producer TBC
Length 52 x 11 minutes
Broadcaster None yet
Set on the prehistoric sprawling continent of Pangea, Supersaurus 7 follows a group of young dinosaurs as they chance upon a mysterious blue lava flowing from the core of the Earth. Its energy transforms them into superhero dinosaurs, each with a super-power that amplifies his or her existing traits.
Working together, they are a force to be reckoned with – but only if they learn to use their new powers correctly. The "hot-headed, heroic and technologically advanced young dinosaurs" must fend off rampaging T-Rexes, rescue distressed dinos from erupting volcanoes, and zap incoming asteroids.
They also have to confront the rise of a new threat – the mammals, led by a despotic gerbil suffering from 'short rodent syndrome'.
The series was created by Henry Coate and Chris Hayward, who between them have a number of impressive credits on more grownup series. Coate was co-creator of BBC web comedy Misery Bear and has worked on a variety of projects ranging from Alan Partridge-themed Christmas lights to creating a 30-metre giant parrot for Monty Python Live and a life-size T-Rex for National Geographic.
Hayward's long career in television comedy includes writing credits on Smack The Pony, Big Train, Trollied and Cardinal Burns.
Technicolor optioned the rights to develop and produce Supersaurus 7 from the pair earlier this year. The series is in development and will be presented to global broadcasters for the first time at Mip Junior and Mipcom.
Technicolor vice-president of IP sales, acquisitions and co-productions Alison Warner says: "We believe viewers will identify with our characters, who are in effect just kids learning to handle their new skills, while taking on some of the strangest and stupidest foes ever seen in a prehistoric world."