Parents and their adult children will end up learning shocking secrets about each other in this gameshow from US cable network Spike TV.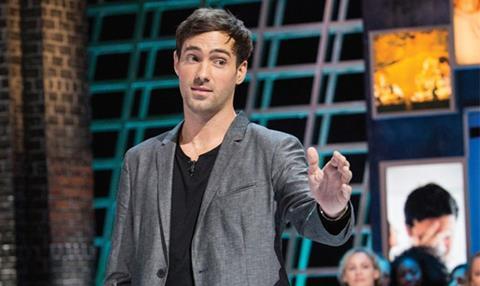 Distributor Viacom International Media Networks
Producer A Smith & Co
Length 11 x 60 minutes
Broadcaster Spike (US)
In That Awkward Game Show, three teams of two attempt to figure out embarrassing mysteries related to their teammate in order to win a cash prize.
The show launches in the US later this year and is hosted by Better Late Than Never comedian Jeff Dye, who describes the show as The Newlywed Game-meets-Studs.
It is produced by Tinopolis-owned US indie A Smith & Co, which makes Hell's Kitchen for Fox.
Viacom-owned network Spike is best known for airing smash hit musical format Lip Sync Battle.
It has previously aired competition series such as Bar Rescue and Ink Master, but this is the channel's first studio gameshow.
Viacom International Media Networks will be looking to scoop up some international adaptations during its trip to Cannes.
Senior vice-president of international programme sales Caroline Beaton says it is an "entertaining" and "headline-grabbing" format.
"We all know what it's like to uncover even the smallest of unexpected truths about your parents or children, but nothing can quite prepare you for the jaw-dropping revelations that your nearest and dearest are prepared to give when there's a cash prize at stake.
"It's uncensored, unexpected and unmissable, and ticks all the boxes for an easily adaptable global format," she adds.
In addition to the US format, VIMN is hoping that its pipeline of shows from Channel 5's in-house unit 5Production will generate deals in Cannes. The first format it is offering is It's Not Me, It's You, a panel show in which celebrity guests go head to head in a series of dating-related challenges.
The UK version was fronted by Eamonn Holmes, Kelly Brook and Geordie Shore's Vicky Pattison.