Hollywood director Baltasar Kormákur is striving to turn Iceland, which has a population of just over 300,000, into the new Denmark and hopes that claustrophobic crime drama Trapped can help him do it.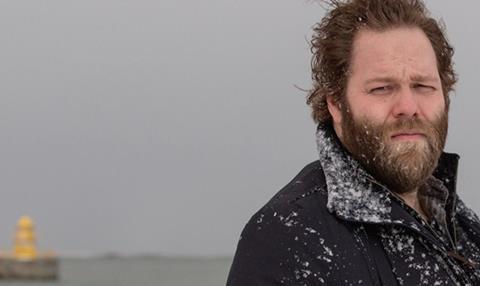 Distributor Dynamic Television
Producers RKV Studios
Length 10 x 60 minutes
Country Iceland
The 10 x 6 0minute drama, commissioned by public broadcaster RUV, is the most expensive Icelandic tele vision series ever made, with a budget of around $7.5m (£5m).
It stars Ólafur Darri Ólafsson (True Detective) as a cop in a small town in Iceland who is forced to lead a murder investigation after fi nding a mutilated body in the local fjord as a ferry arrives from Denmark.
The situation is not helped by the arrival of a blizzard that cuts off the town and strands the new arrivals, along with the murderer. "The idea of a small village with a murderer stuck there is a ticking clock," says Kormákur (below).
The show was created by Kormákur, who is better known for directing feature fi lms such as Denzel Washingtonfronted action thriller 2 Guns and recently released epic Everest.
It is written by Icelander Sigurjón Kjartansson and Clive Bradley, a Brit who wrote for BBC1 drama Waking The Dead.
The series is distributed by Dan March's Dynamic Tele vision. It has already been sold to a raft of major international broad casters, including the BBC, ZDF (Germany), France Télévisions, SVT (Sweden), DR (Denmark) and YLE (Finland).
The Weinstein Company has acquired the show for the US. "We've never had a TV series in Iceland that has gone further than the Faroe Islands," Kormákur says. "We're jealous of our neighbours in Denmark and now we get to play along. That's very important. I've been lucky working abroad and have been able to create a show that will travel and has Icelandic actors, our stories and our culture."
Shooting on location
Trapped was shot in Reykjavik as well as a small town in rural Iceland. "We needed to be here for the weather, otherwise we would need too much Styrofoam for snow," says Kormákur.
"We were quite clever. We found the village that was most likely to get snowed in. I love shooting in bad weather; there's something about being out there and getting the shot. You're at the mercy of nature."
The show is reminiscent of Sky Atlantic's Fortitude, but is told in the local language rather than English.
Kormákur jokes: "Fortitude was shot in a village that didn't have any snow."
In addition to the murder investigation, there is family drama as the wife of Ólafsson's character Andri is leaving him for another man. "It's about a complicated family – Andri still wearing his wedding ring even though his wife has left him. It gets very multi layered," he adds.
Ólafsson is arguably Iceland's most famous actor and has just fi nished shooting The BFG with Steven Spielberg.
"I always had him in mind for the part," Kormákur says. "We go way back. I didn't work with him for a while and he started growing immensely as an actor, not only physically but emotionally.
"Having a heavyset actor being a lead in a series wasn't the most obvious thing and RUV wasn't sure. It wanted a cute guy that the women would love."
Kormákur shot the show consecutively using four directors, including himself, but says he didn't approach the series any differently to a feature film.
"It was interesting to work with other directors because mostly we don't talk to each other, only the people interested in our work. I honestly don't differentiate this at all. It's produced by my company, RKV Studios, and I make my movies there, so it's very similar. It's just a series of 45minute movies and I try to shoot it like that. But it takes forever to cut."
Although the drama is close ended, Kormákur admits he has ideas for more episodes if it is a success when it airs later this year. "If we're lucky and successful, there's a way. We wouldn't go for the same idea but we've been trapped [in Iceland] for 1,000 years. We can find another story."