Ofcom has ruled out an investigation into Ferne McCann's spider eating bushtucker trial, despite the episode of I'm A Celebrity…Get Me Out Of Here! sparking nearly 1,500 complaints.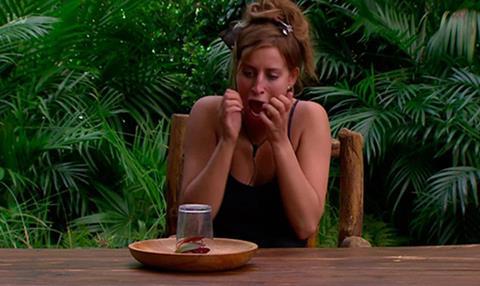 The Only Way Is Essex star was asked to eat a live water spider during the final of ITV's reality show last month, with viewers complaining about animal cruelty.
Ofcom heard from 1,448 disgruntled viewers, while separately, ITV received more than 500 complaints. But the media regulator ruled it was not out of character for I'm A Celebrity.
"In our view, this task was in keeping with the well-established format of this reality series and was unlikely to have exceeded audience expectations," a spokesman said. "We also took into account that ITV had taken steps to limit any offence resulting from the inclusion of this task."
Derren probe
Separately, Ofcom has launched an investigation into a pre-watershed repeat of Derren Brown: Something Wicked This Way Comes on UKTV's Watch on 6 December.
The show featured Brown restricting his breathing by placing a plastic bag over his head. He also walked barefoot over broken glass and said the word "fuck".
After drawing five complaints, Ofcom said: "Ofcom is investigating whether this programme, which included very offensive language and material that could be dangerous if emulated by children, was appropriately scheduled before the watershed."