For someone starting out in TV, the show was the best place to learn, says Steven D Wright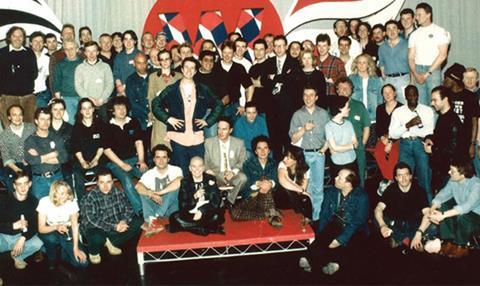 Monday 5 October 1992 was a momentous day for me as I was finally about to start working in TV. No longer a penniless hack scraping a living from the odd magazine article, I was about to become a researcher on series three of The Word (working for the enormous sum of £400pw). I was so excited.
But when I got off the Docklands Light Railway in the middle of a very bleak Isle of Dogs and entered the anonymous skyscraper at 195 Marsh Wall, E14, I was confused. This wasn't where I'd been interviewed weeks earlier. "Is this it?" I thought. "Where is the creative buzz and all those super-cool people?"
Bizarrely situated in some dull, insurancetype office surrounded by desolate docks (Waheed Alli, the Planet 24 boss, cleverly scored a 'five-year, no rent' deal – which meant no Soho, no shops, bars nor, indeed, anything that might make life enjoyable), The Word was a shock that started as soon as you came out of the lift. Here you'd meet Alan, the rude receptionist and occasional member of the gay male nun protesters the Sisters of Perpetual Indulgence, who always greeted you with a sneer or a snigger.
So cool it hurt, The Word office was a fearsome place for a telly virgin to walk into – a huge sprawling space shared with The Big Breakfast and filled with the trendiest-looking hipsters in London, all walking about with that nose in the air, 'I'm important and you're not' attitude. I felt fat, extremely Northern and shit scared.
As the new boy, I was banished to the far desks just past Jo Whiley (and her baby) and near the loos (allowing me to monitor any Planet 24 employees with bladder problems or any other habits), but it gave me a quiet spot to knock up killer ideas in those pre-internet days. Anything went in the gruesome gladiatorial bloodbath that was the Monday ideas meeting, but although the slightest weakness was pounced upon and rubbished, any hint of a good idea was immediately embraced and would end up on telly, and in the tabloids, a few days later.
The genius that made it happen was Paul Ross, a TV iconoclast and hands down the cleverest man I'd ever met. As The Word editor, he was the perfect boss: inspiring and encouraging me to come up with items that today would be banned, or get us arrested. Paul never blanched, no matter how sordid, immoral or illegal an idea was.
Like a religious cult operating with a pulsating intensity under His Holiness Charlie Parsons as our Borgia-style Pope, The Word team was filled with sinners, saints and a fair few demonic monsters (mainly the presenters). But I became a devout believer as, every week, miracles would happen. A throwaway idea suggested on a Monday morning would somehow be fleshed out, filmed and aired that Friday night to a shocked, appalled and secretly delighted nation.
I might be looking through rose-tinted spectacles but The Word was a legendary experience and the best place ever to learn the telly game. It taught me to risk everything for TV gold – and that anything was possible if you ignored the po-faced doubters and really went for it. If only that was true in the anodyne, timid and PG-rated TV world of today, eh?
Most of all, The Word taught me that first impressions aren't everything. All those snooty twats I loathed that first morning are now my BFFs. Well, everyone except Mark Lamarr and Huffty…