Unlike 3D, VR offers some potentially rich revenue streams, finds Adrian Pennington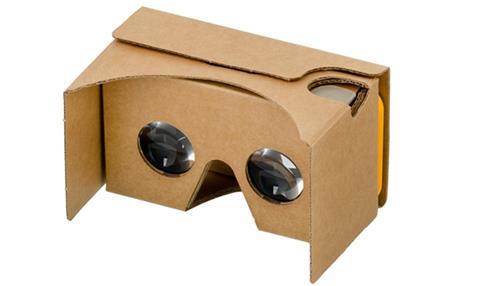 Every discussion about virtual reality turns at some point to parallels with 3D – which, as far as TV is concerned, has all but faded from view.
There are, however, key differences that go to the heart of why the industry is embracing VR.
For starters, no one need buy an expensive new screen, since at its most basic, 360-video can be viewed on a smartphone.
Second, VR is not considered a viewing medium but an experiential one. In other words, the format is significantly different from conventional entertainment to hold out the prospect that people will pay for it.
"The potential power of the experience is sufficient to justify interest from media, among many other industries," says the BBC's editor of internet research and future services Zillah Watson. "3D is an enhancement to existing viewing; VR is a fundamentally different way to tell stories, since it puts you in the scene."
There's serious money in this, reckons Jim Chabin, president of The Advanced Imaging Society, which launched a dedicated VR Society division in July. "There is a very strong sense in Hollywood that VR could develop into the next monetisation model and a significant source of new revenue," he says.
Pay-TV broadcasters and major studios are seizing on VR as a way to reconnect with younger viewers deserting TV and cinema. Short-form online content deemed most appealing to this audience is encouraged for VR (if only because fatigue is limiting the viewing duration on the first generation of hardware) and the medium is inherently mobile.
"VR is the entertainment industry's best hope for retaining millennials," says Nokia head of R&D Vesa Rantanen. "The advantage for advertisers is that it gives you the complete and undivided attention of your viewer."
Significant bets are being placed on VR turning a profit. Most investment to date has been on hardware, including $1.4bn (£1bn) funding for Magic Leap, but media is catching up fast.
Most significant is an HTC-led $10bn (£7.7bn) venture capital-backed fund to create content, with 27 other backers.
In August, US producer NextVR landed $80m (£61m), mostly from venture capitalists, to livestream events. Sky spent more than $1.5m (£1.1m) on VR camera maker Jaunt;
Discovery and HBO have taken stakes in VR and graphics developer OTOY; and Comcast acquired an interest in VR producer Felix & Paul and Altspace, which is developing social communication tools for VR.
While revenues from consumer hardware sales, including the pre-Christmas launch of Sony PS4, are estimated to hit $1.75bn (£1.3bn) this year, content revenues will barely move off zero.
Fast forward just three years, however, and hardware will generate $7bn (£5.4bn), with content (split between games and video) raking in more than $8bn (£6.1bn), predicts Futuresource Consulting.
These figures are on the conservative side. Ovum forecasts that by 2020, VR content revenues will be $15.4bn (£11.8bn) globally, comprising $7bn (£5.4bn) of games content, $225m (£173m) of VR apps and a sizeable $8.1bn (£6.2bn) of video revenues.
"The video and apps categories are 'new new' money that is unlikely to cannibalise existing revenues," notes principal analyst Paul Jackson.
While half of all VR content creation today is from games developers, there is a considerable amount of VR video being made, mostly promotional content split between brands, studios and VR kit makers or platforms like Samsung Gear.
This ranges from point-of-view adrenalin sports experiences to companions for properties like 20th Century Fox's The Martian VR, and live streams of US Open Golf.
Virtually none of this is monetised and the budgets come from marketing – but it does represent a business opportunity for producers.
"In the current free-to-consumer content model, sponsorship provides a crucial contribution to production costs and is allowing brands to experiment and to demonstrate their innovation," says Ericsson technology officer, broadcast and media services, Steve Plunkett.
Meanwhile, Sol Rogers, chief executive and founder of Rewind:VR, which has produced content for Nissan and Lexus, warns: "Great content will create demand for head-mounted displays, but it's going to take a while before they are as much a part of the furniture as a remote control.
"While distribution is limited and until we have data about consumer preferences, many brands are questioning reach and ROI, which limits the amount of content made and makes monetising VR a challenge."
Unit9 has produced VR content for Google, Samsung and brands like Stella Artois.
"A typical brief is for a single high-spec VR experience delivered to the public via an installation and usually enhanced haptically [with moving seat or vibrating gloves]," explains creative director Henry Cowling.
"The same content is accessible over YouTube or by using mobile viewers like Cardboard. A digital piece like a game will be distributed for free as an app on Android, IoS or Samsung stores."
Atlantic Productions' VR documentary films featuring Sir David Attenborough have been installed at the Natural History Museum as a paid-for visitor attraction. Associate creative director Mike Davis says adding a VR element into a shoot is easier than some might think.
"There's limited funding for VR projects, but if you have the story or subject matter, and you already have access to locations, then filming it on a different medium is really not that different," he says.
VR: in numbers
12m
Headset sales globally by 2016
30m
Headset sales globally by 2020
50m+
Installs of Google Cardboard by May 2016
1m+
Monthly active users of Samsung Gear VR
250k+
360-degree videos uploaded to Facebook by Aug 2016
171m
Active VR users by 2018
Sources: Jupiter Research; Oculus Rift; Statista
Sky is on the hunt for 20 short VR projects to fuel its Sky VR app, which launches next month, and the BBC has also explored a variety of genres.
Aardman's We Wait, an animated take on a migrant's sea crossing from Turkey to Greece, created from BBC News footage, is an example.
"There is no commissioning route for VR or 360 yet," says Watson. "We are evaluating the current pilots. We don't know how audiences will react – that is the next stage."
Infinite Wisdom Studios is being funded by the BBC to create a TV drama pilot script and interactive proposal around live entertainment. "For funding other projects, we're looking at a combination of private equity based on building revenue models, sponsorship based on hitting audiences, and VR distribution platforms that could match-fund," explains founder Michael Ford.
Revenue streams
The current phase of experimentation in production techniques and content creation will also include revenue stream options.
"Sky's strategy is around promotion and building awareness for the technology, and testing the water with different genres," says Futuresource analyst Michael Boreham.
"News and documentaries may start as a freemium model but evolve to a subscription service. Similarly, drama is likely to evolve from free to either ad-funded or SVoD, while sports is likely to evolve to either pay-per-view, ad-funded or season-pass models."
Aside from specific pay-per-view transactions, live events are likely to be a 'top-up' for pay-TV subscribers at probably $2-$4 (£1.50-£3) a month, he suggests.
This will likely be feature interviews, behind-the-scenes or locker-room recorded experiences until the technology and install base make it worthwhile to live stream a full game or concert from multiple angles.
"If you can be sat on the front row inches away from Beyoncé or Bieber, why wouldn't fans pay for that, when the technology is readily available in their homes?" says Ford. "It's only a matter of time before hardware access proliferates and so too does content demand."
At the moment, the market is too small to monetise, but broadcasters could soon "offer a Netflix-style service", where a set of curated VR content can be accessed for a monthly fee, suggests Rogers.
This will add further stimulus to make content, but is risky, says Futuresource associate director Carl Hibbert. "Poor-quality content or user experience on first trial jeopardises VR's longevity and consumers' willing ness to return to the technology."
There are further warnings against complacency.
"My private fear is that VR will go the same way as 3D, with bad content and a bad consumer experience," Sony Pictures' chief technology offi cer Spencer Stephens told IBC.
The Advanced Imaging Society's Chabin adds: "VR is either going to be a major new business model, or it's going to be a Blu-ray extra, paid for out of marketing budgets but not adding to the bottom line."
The pending launch of VR content hub Google Daydream is anticipated to boost consumer awareness further, but Ampere Analysis believes it will take a decade for VR to go mainstream.
"Two hardware cycles from now, VR will be massive," suggests The Foundry chief executive Alex Mahon. "Consumer gear will be less invasive, easier to hook up to a VR system and more like a pair of glasses than a phone."
A BBC survey of Edinburgh delegates revealed that 76% think 360 video will be mainstream in five years and 39% believe it could be the future.
Some 63% indicated they would commission VR within the next two years.
"If we take a five-year view, this technology will definitely be part of media, but what form it will take is open to question," says Watson. "It may not necessarily look as it does now."
Ford adds: "We can't really compare it to anything to gauge its exact potential. VR isn't a silver bullet, but it's not a poisoned chalice either – and it's definitely not 3D in disguise."
Broadcast is holding a Virtual Reality Creative Summit in London on 6 December.
For more information, speakers and to buy tickets, visit vrsummit.co.uk