Formula 1's McLaren Group has launched an animation unit and secured its first commission from Sky Sports F1 featuring Lewis Hamilton and Jenson Button.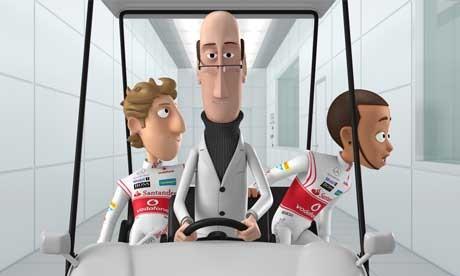 McLaren Animation has been set up as a joint venture with Oscar winning visual effects and animation studio Framestore.
Tooned, a CGI series will feature the voices of Lewis Hamilton, Jenson Button and Alexander Armstrong. It will be debut on the Sky Sports F1 channel on 8 July.
For full production credits visit
Armstrong will voice Professor M, who he described as a blend of Steve Jobs and Q from James Bond movies.
Chris Waitt and Henry Trotter, the writers and directors of Tooned, have previously worked on A Complete History of My Sexual Failures, Fur TV and J-Factory.
The animated division will be closely aligned with McLaren Marketing and Ron Dennis, executive chairman of McLaren Group, said it would create a "more demographically accessible 'face' for McLaren".
"Tooned is the result of extensive market research carried out by McLaren, which John [Allert], our Group Brand Director, and I then analysed carefully together. It's an exciting and creative concept that addresses the insights gleaned from our research in a very innovative way", he added.
Framestore founder and chief executive officer Sir William Sargent said: "The films you see today are a start – and their simplicity and quality hide an enormous commitment in time and technology from a world class team at Framestore – one that has been excited by the McLaren challenge in the same way as they have on a Harry Potter or Superman film."