From the Rio Olympics to the Euros, 2016's major sporting events were a showcase for
emerging technologies such as UHD, VR and Dolby Atmos.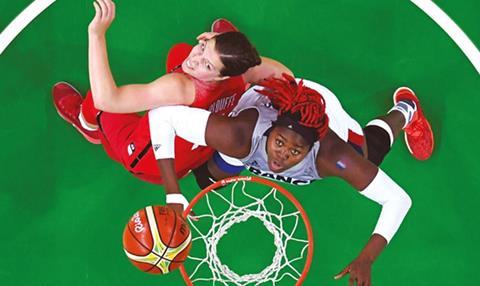 There's no argument about what was the year's biggest live event: host broadcaster Olympic
Broadcasting Services (OBS) churned out more than 7,100 hours of coverage from Rio, with broadcasters including NBC Universal and the BBC contributing to 350,000 hours aired globally.
This smashed the 100,000 hours broadcast from London 2012 to reach an estimated all-time high TV audience of 5 billion.
Particularly significant, says OBS, was the unprecedented reach across digital platforms. The volume of online coverage was nearly double that of traditional TV, with live streams available from every session for each of the 28 sports featured – amounting to 218,000 hours, almost three times 2012's 81,500 hours. OBS calls it "a milestone in Olympic broadcasting history".
Drawing on more than 1,000 cameras, including mini-cams mounted on cycles and drones deployed for overhead views of events such as canoeing and triathlon, Rio was a testbed for future production tech.
The BBC was among the broadcasters offering viewers a 360-degree view of select Olympic action, part of 85 hours of live VR content captured for posterity.
With NHK, OBS achieved the largest live 8K UHD production to date, with around 100 hours sent back via satellite to public viewing areas in Japan and down-converted for 4K Ultra High Definition (UHD) output.
Pushing boundaries
This mix of capture and distribution has laid the groundwork for Tokyo 2020. "Along with the use of advanced technologies, we believe this experience has helped to define how we will move forward in the digital era," says OBS chief executive Yiannis Exarchos.
By comparison, the year's other major sporting event, Euro 2016, was far smaller – but even here, tech boundaries were pushed.
Uefa's host broadcast team shot eight matches in 4K for the first time at the tournament, produced by lead contractor Telegenic, and tested immersive sound system Dolby Atmos and VR.
Nokia Ozo camera rigs were positioned behind the goals, on the centre line, in the tunnel and in the dressing room, in a production managed by Deltatre. The results suggest more work is needed.
"The debate we are having is about which experience feels most natural to the user," reports Deltatre chief product and marketing officer Carlo De Marchis.
"Football is a challenge because of the size of the pitch. For sports with smaller areas of play, like basketball, a full live-streamed game in VR may work better because you can make it more immersive."
On 13 August, Sky officially debuted its live UHD service for Leicester City's opening Premier League game with Hull. It was one of 124 planned 4K broadcasts of Premier League matches this season, a tally strategically designed to contrast with BT Sport's 42 live 4K games (the sum of its rights package).
Yet while Sky will give the UHD treatment to the full 2017 Formula One racing calendar, BT Sport – in its second year of 4K coverage – has a broader range.
It is fielding the format at FA Cup, Uefa Champions League and Europa League football games, as well as Aviva Premiership rugby matches. MotoGP meetings, FIM Speedway races and even PSA squash matches are also being covered in 4K.
Down-converting HD
To streamline workflow, reduce onsite facilities and minimise risk, both broadcasters have opted to downconvert UHD to produce their regular HD programming.
"This is all about making sure that the HD editorial product isn't compromised," says Sky director of operations Keith Lane.
That means no experimenting yet with High Dynamic Range (HDR), although it is likely to be a fixture by this time next year.
"The bigger issue is working out an elegant workflow so we can produce HD HDR, UHD HDR and Standard Dynamic Range deliverables out of the same truck," says Sky Sports technical manager Robin Broomfield. "We know where we want to get to, but it's an added complexity."
Meanwhile, as part of its attempt to innovate ahead of Sky, BT Sport will become the first UK broadcaster to implement Dolby Atmos surround sound into its live productions from early 2017.
Sky's planned switch to UHD set the clocking ticking for OB suppliers to upgrade around mid-2015.
While Telegenic had equipped trucks for 4K as early as 2013, specifically for the Fifa World Cup in Rio the following year, and Timeline had been commissioned to supply BT's 4K output, other outfits held back to gauge demand in the market.
More pertinently, there was a critical technical decision to be made: whether to equip with the reliable, but ultimately inflexible and outmoded, combination of four HD SDI cables, or take a leap of faith to the relatively untested, patchily standardised but future-facing approach of data-centric IP systems. Get the timing wrong and an OB firm could face ruin.
Lacking any UHD contract, Arena gambled on what managing director Richard Yeowart called the biggest risk of his career.
Unveiling a trio of 32-camera channel all-IP triple expanders at a combined cost of more than £20m, he declared: "Quad HD is a sticking-plaster approach to UHD."
Partnering with Grass Valley, the key onboard equipment included LDX 86 cameras, IP processing and routing kit. It paid off when the company landed rolling contracts with BT Sport and Sky for its first two facilities, with the third scanner due in the new year.
These large-scale trucks also put paid to the idea that the introduction of IP might entail an immediate reallocation of resources for remote production.
"The amount of deliverables has more than doubled," says Grass Valley product specialist Phil Myers. "It's not just HD with stereo and 5.1; we're also having to do UHD with 5.1 and Dolby Atmos and stereo and then make an HD variant and a clean version for the world feed."
With HDR yet to be added to the mix, it seems premium events will need the larger on-site production spaces for some time to come.
"Just a simple thing like being able to reduce the weight of cabling in a truck that is going up and down Britain every week using a large amount of fuel is a bonus," says Myers.
Other firms are upgrading too. CTV is building an IP core for its latest scanner and will arm it with a contingent of Sony HDC-4300 4K cameras in time for Sky's Open golf coverage in July 2017.
NEP UK: A PHOENIX FROM THE FLAMES
The fire that gutted NEP UK's head quarters with the loss of six OB vehicles in November 2015 forced the company (rebranded from NEP Visions in July) down the tried-and-tested Quad-HD route to UHD.
Barely 10 months after that potentially business-crippling event, the firm had not one but four 4K OB trucks on the road, each built to a similar template.
Costing around £10m each, they were equipped with Sony HDC-4300s cameras, EVS XT3s, SAM Kahuna 9600 vision mixers and Imagine Communications Selenio signal processing.
Like rival Arena's trucks, the OB facilities are designed to operate in HD and UHD.
ACQUISITIONS SPREE
Following a string of purchases in 2015, including Ireland's Screen Scene, parent NEP Group continued its acquisitions spree with June's deal for flypack and facilities provider Broadcast Solutions Group and July's acquisition of Danish OB firm DBlux (now operating as NEP Denmark). In November, it spent £124m on kit and services provider Avesco.
The company also signalled its intent to move into cloud-based post and remote production. "Because of clients' changing demands, we have to be more than just an outside broadcast company," says NEP UK and Ireland president Steve Jenkins.
The group already offers these services outside the UK, with NEP Netherlands using cloud technology on RTL shows Carlo's TV Cafe and Voetbal Inside.