Broadcasters' experiments with virtual reality, UHD and live production over IP pointed to the future of television in a year when sales of 4K sets took off.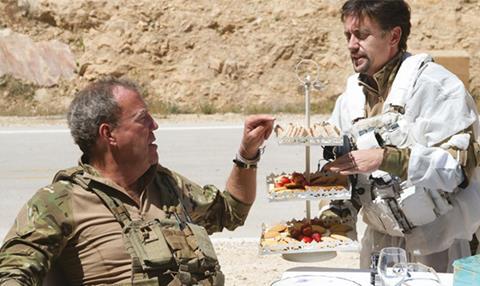 The BBC, Sky and BT were among dozens of media organisations experimenting with virtual reality production in 2016, even though the addressable audience is, as yet, too small to monetise.
Nonetheless, in a sign of how seriously the creative community views VR, Hollywood studios launched the VR Society in July and Bafta formed a VR advisory group in October.
In the short term, VR consumer gear will be dominated by low-cost 'shells' into which people slide their smartphones, epitomised by Google Daydream's £70 holder for Android phones, and more expensive head-mounted displays (HMDs) offering more rounded 360 experiences, including Sony's £350 PS4 VR.
The overwhelming popularity of smartphone VR combined with the current generation of HMDs, which many consider uncomfortable, heavy and with inferior screen resolutions, has led to warnings that the format could misfire.
"Poor-quality content or user experience on first trial jeopardises VR's longevity and consumers' willingness to return to the technology," says Futuresource associate director Carl Hibbert.
The format's novelty is among the factors limiting current VR content to a few minutes. Production tools are as nascent as storytelling grammar, stitching software is varied in quality and post-producers are performing colour grades and editorial by looking at a flat screen image.
"You can't do edits or sound in VR environments because the tools don't yet exist," says Technicolor entertainment technologist Mark Turner.
The US National Basketball Association will stream one game a week in VR during the 2016-17 season, but live VR has yet to be commercialised by a UK broadcaster, despite trials.
"We've put VR cams on Formula 1 cars, but the speed of the action, especially as the cars corner, can be nauseous to a viewer," says Sky VR creative director Richard Nockles.
But development will be rapid because of serial investment being made in the technology. Discovery and HBO have taken stakes in VR developer OTOY; Comcast has acquired an interest in VR producer Felix & Paul; and Sky has launched its VR Studio and an app to distribute 20 original commissions.
Meanwhile, Nokia has released live broadcast capabilities for its VR rig Ozo, Google is building a high-end VR camera system with Imax, and Facebook is working to integrate live social media into VR system Oculus.
"Two hardware cycles from now, VR will be massive," predicts The Foundry chief executive Alex Mahon. "Consumer gear will be less invasive, easier to hook up to a VR system and more like a pair of glasses than a phone."
Going live over IP
At the start of 2016, questions surrounded the equipment and protocols needed to create a complete chain for live production over IP. There has since been a gear change and the mood music at IBC in September was that IP live was 'problem solved'.
"Before that show, the use of IP in a programme environment was theoretical, but what we've learned is that IP is working," says David Wood, EBU Technology & Innovation's deputy director of technology and development. "IP is now at a tipping point."
Tech vendors began 2016 in competing camps aligned to different IP paths, but momentum inexorably shifted behind the Alliance for IP
Media Solutions (AIMS), a 50-plus coalition of manufacturers backing standards ratified by the Society of Motion Picture & Television Engineers (SMPTE).
Significant new endorsers include Sony, Evertz and the International Association of Broadcasting Manufacturers (IABM), though NewTek remains a vocal outlier.
Nowhere is this more explicit than at Belgium broadcaster VRT, which remodelled its live IP production studio on IBC's show floor.
This demonstrated how a number of potentially rival kit makers could make their equipment work together for the benefit of a client — arguably the first time such interoperability has been achieved in the traditionally closed broadcast engineering industry.
Yet implementations of the technology remain thin on the ground.
Announcing plans to conduct the country's first virtualised live event broadcasts, for Dave in partnership with Ericsson, UKTV did not quite commit to virtualised playout of all its channels.
The hesitation facing broadcasters is not whether to invest in IP, but why invest now?
"The economics of IP make more sense at the enterprise level and probably do not yet stack up for smaller projects," admits Snell Advanced Media (SAM) head of product marketing Tim Felstead. "The industry has to make a case for IP beyond pure return on investment. IP is not swapping one technology for another; it offers a whole new approach to market."
"The technology works," agrees Sony marketing director Michael Harrit. "The discussions we are having are around how much customers are willing to pay for this service."
UHD production
Just as Planet Earth ushered in HD for the BBC in 2006, so its sequel Planet Earth II is the first BBC series produced entirely in UHD. Just as significantly, it's been given a High Dynamic Range (HDR) sheen.
HDR concerns the difference between the darkest and brightest parts of a picture and is considered a more profound upgrade than resolution.
The ITU standard for working with HDR was ratified in July based on the BT 2020 UHD standard and offering two options for production, known as PQ and HLG.
PQ is designed for playback on displays up to 10,000 candelas, giving it more dynamic range. HLG (codeveloped by the BBC) is a better format for enabling a consistent HDR playback on both the most recent and older 4K displays.
"Crucially, the standard enshrines the ability to convert between them," says Andy Quested, chair of the ITU group responsible for the breakthrough. "So if a Hollywood movie is delivered to a broadcaster in PQ, it can be converted to HLG for delivery, easily, and without damaging the output," he adds.
Increasingly, commissions are likely to arrive with 4K and HDR deliverables.
These include Sony TV/Crackle. com's Snatch and Amazon's The Grand Tour. Sky Atlantic's forthcoming drama Riviera is also UHD/HDR. DoPs and colourists will need to get up to speed.
"We've a lot more to learn about grading in HDR when the end display can be 10 or 100 times brighter than what we're used to," advises Quested.
The next steps
Leaps in technology are arriving faster thanks to rising broadband capacity, powerful computer processing and an insatiable demand to communicate with video. Based on this trajectory, a number of clues about the media of 2020 and beyond emerged this year.
Products for working in 8K UHD resolution, for example, are becoming a regular feature of kit trade shows.
The pick of the bunch was the Millennium DXL digital cine camera, fusing a Red 8K sensor with Panavision optics, which debuted in June.
While Japanese state broadcaster NHK plans to deliver 8K transmissions to domestic audiences by 2018, the arrival of new mobile communications standard 5G could, in theory, speed 8K video to the home anywhere.
The broad outlines for 5G were agreed this year, with telcos lining up dozens of private and public trials from 2018 onwards. It means baseline speeds of at least 20Mbps and extremely low latency — a combination that will make high-resolution, individually delivered media a reality.
Higher frame rates were also back on the agenda in 2016. The technique, which erases motion blur in fast action, will be introduced by sports broadcasters once Gigabit Ethernet capacities permit.
Director Ang Lee shot war drama Billy Lynn's Long Halftime Walk at 120 frames a second, an unprecedented speed that tested the boundaries of what it means to tell fictional stories using hyper-realistic images.
In what might seem a retro step, celluloid continues to find favour.
Kodak launched a new Super 8 camera in January and film processor CineLab London opened a 65mm lab in October to service a revival in large-format cinematography, including Kenneth Branagh's upcoming movie adaptation of Murder On The Orient Express.
Perhaps the most ground-breaking product of the year was the Lytro Cinema Camera. The prototype, which debuted in April, uses light-field photography to measure the geometry of the light that strikes the sensor.
Software can then reconstruct virtually any aspect of a scene, including focal length or frame rate — theoretically affording unrivalled creative freedom in post-production.
A commercial model is due in the spring and the Silicon Valley firm is already working towards a handheld, portable next-generation update.
SET MANUFACTURERS BACK 4K TECH
Strong growth in display sales and increasing UHD content helped cement 2016 as a 'banner year' for 4K UHD, according to the Consumer Electronics Association.
Penetration of 4K screens into UK homes will top 1.68 million this month, representing 10% of UK households, according to Futuresource Consulting, which predicts a rise to 27% by 2018.
The launch of Sky Q, including the 4K-compliant Silver set-top box and an app that permits playback on smartphones for the first time, prompted rivals to launch upgrades.
Virgin Media debuted Virgin TV V6 with an updated TiVo user interface and the ability to play Netflix and YouTube 4K content.
YOUVIEW UPGRADE
Not to be outdone, BT announced an overhaul of digital TV recorder YouView, and is eyeing a summer 2017 release for a BT TV app that will allow users to stream content to mobile devices.
Reports suggest that the operator is in talks with YouView consortium members (including the BBC and ITV) to take full control of the platform in a bid to speed development of new features and to add UHD channels.
With the introduction of High Dynamic Range (HDR) into the production and transmission workflow, HDR-enabled screens are making their way to retail. These are being badged Ultra HD Premium, a seal of approval that the display meets the specifications agreed last January by the UHD Alliance – a group including Samsung, Sky, Amazon and Warner Bros – to promote the new format to consumers.
In addition, vendors are keen to source UHD/HDR content to their products. Samsung, for example, has a partnership with Amazon and Netflix to offer HDR titles to its UHD TVs.
LG's new flagship G6 TV (pictured) is capable of playing back HDR with High Frame Rate content up to 120p, an achievement devised with the EBU and the BBC (although frame rates from UK broadcasters are pegged at 50p for a while yet).
TV manufacturers also differentiate their products using panel technology like OLED and LCD. Philips' latest OLED screen, for example, boasts a way of illuminating the back of the TV to match the mood of what's happening on the screen.
If the camera plunges into the green jungle, the wall behind the screen will match the hue. 4K will be one of the major product trends at the Consumer Electronics Show in January, where manufacturers are expected to unveil a wider selection of 4K screens in sizes above 40 inches.