Show to move to mid-May in 2020 after 25% visitor boost
The Media Production Show is to move earlier in the calendar to 13-14 May 2020, on the back of a record-breaking attendance this week.
This year's event at London Olympia was visited by 6,500 people, which represents a 25% increase on 2018. New additions among the slate of free seminars included the Technology and Post Creative Hub, a Production and Lighting Theatre and a Broadcast Sports Zone.
The name of the show will be tweaked for 2020 to become The Media Production & Technology Show. The change is intended to reflect both the event's planned additional content and "the exciting ways in which technology is helping drive change in the industry".
Over 300 experts shared their experiences and opinions with standing room only at the majority of sessions. Speakers included execs from the likes of IMG, Avid, Kudos and Pinewood Studios.
Media Production Show event director Charlotte Wheeler said: "We've been overwhelmed with positive feedback from visitors and exhibitors, citing the breadth and depth of the seminar programme, the diversity of attendees and the overall value that the show offers.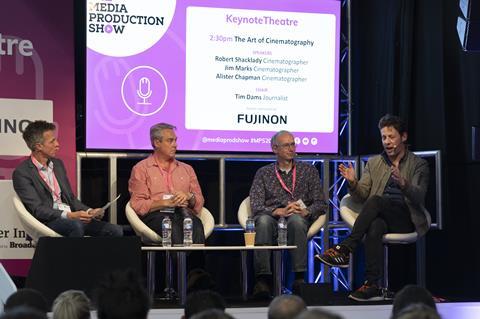 "The developments we will make in 2020 – with extra space and more technological content in addition to our established production focus – will offer a more rounded view of the industry and its myriad opportunities."
The show also saw its highest rebook rate ever, with exhibitors including Panasonic, Fujifilm, XTFX, Barclays, Sennheiser, HHB, Lawo, Jigsaw24, ITV Content Delivery, Digibox, Cooke Optics and Artem all signing up for 2020.
New exhibitors already signed up for next year include Lynx Technik, JPY, Archiware, Canford Audio, Interra Systems and Argosy Cable.
The Media Production & Technology Show 2020 will take place at London's Olympia on 13-14 May 2020.
The view from exhibitors
HHB director of marketing Lexie Hogan said: "We had a great time at MPS this year. Our schedule was absolutely hectic and we met some great new faces, saw everyone we wanted to see and got some fantastic new leads. We're very much looking forward to seeing what next year has in store for us."
ITV content delivery manager Bethan Wilkin said, "This was our first show and it's been a great experience and totally surpassed our expectations. We got exposure to an extremely receptive audience which has been incredible."
Cooke Optics European sales director Carey Duffy added: "This year's show has been fantastic. We had some really diverse conversations, which was useful to educate the people who weren't aware of what we are about. We're certainly looking forward to next year." "