British firms have been busy at international sales market Natpe with a raft of deals including a Colombian version of Tuesday's Child's You're Back In The Room and a Brazilian version of The Garden's The Audience. Click for more.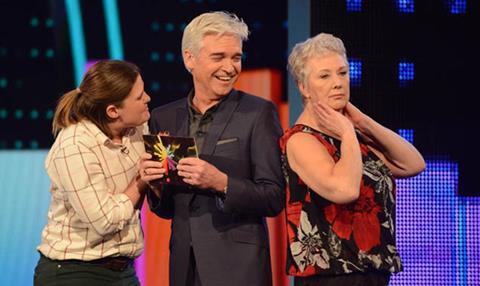 Colombian broadcaster RCN is to launch a local version of Tuesday's Child's entertainment format You're Back In The Room after striking a deal with BBC Worldwide. The broadcaster has ordered a 15 x 60-minute version of the ITV show, titled Hipnosis: Un Juego de Mente, from local indie Miracol Media.
ITV formats The Audience and BBQ Champ are being remade in Brazil after the company's international distribution arm struck local deals. SBT has ordered 14 x 60-minute BBQ Brasil, while Globo will adapt The Audience as a strand within the broadcaster's Fantastico variety programme.
Fremantle Media has inked a co-development deal with Argentinean broadcaster Telefe. The two companies will develop entertainment and non-scripted formats for the Argentinean market and for pan-regional broadcasters.
Twofour Rights have closed a series of sales across Latin America. Globosat in Brazil has acquired Stammer School, while Wobi in Mexico has bought the first three series of Alex Polizzi: The Fixer.
Endemol Shine Group's US bosses Cris Abrego and Charlie Corwin will oversee the super-indie's Latin American operation. The pair will serve as co-chairmen, Endemol Shine Americas.
Fremantle Media has promoted Georgia Brown to the role of executive vice president of global scripted and factual content. The former BBC Worldwide and Shine International exec will manage the company's third-party content and manage its in-house produced programming for its international distribution division.
USA Network is adapting Norwegian crime thriller Øyevitne (Eyewitness) after striking a format deal with distributor DRG. The US cable network has ordered a 10 x 60-minute version of the Nordic noir thriller, to be produced by Universal Cable Productions and Shades of Blue creator Adi Hasak.
Mad Men producer Lionsgate has formed a television joint venture with New Regency, the feature film producer behind The Revenant and Fight Club. The two will produce high-end drama for international broadcasters and Lionsgate will also distribute New Regency film titles to global networks.
Mexican broadcaster Televisa is to remake Israeli comedy drama Loaded after striking a deal with Keshet International. The Spanish-language version is the second adaptation after Channel 4 commissioned a UK version from Hillbilly Television.
Cineflix Rights is shopping scooter gang reality docu-series Hell's Satans and documentary Miami Porn at Natpe after striking a deal with US Hispanic broadcaster Fusion. Both deals were brokered by Cineflix Rights' Anthony Kimble, vice president of co-productions and US acquisitions.