What is the streaming behemoth's state of affairs when it comes to content spend and ROI?
New wave of production spending
Netflix's explosive increase in content spend has created waves across operators and channel groups alike. With Amazon also investing heavily in content, it seems that these new disruptors of content are poised to become longstanding fixtures for the production industry.
Traditionally, a group's content spend followed a fairly simple feedback loop which limited the expansion of the company. The company would need to grow its audience to secure better carriage agreements, which would enable it to expand onto new platforms: in turn this would allow the company to monetise a wider base and generate higher carriage fees. This process created a cap on the growth rate. If a smaller channel invested heavily in content, the limited reach of the channel would render the most premium content under-monetised and a non-viable return on investment. Additionally, expansion into international markets required investment to target audiences and key players, as well as to build relationships with local operators.
Newer models of distribution are built on very different foundations. For traditional channel groups and broadcasters, this presents a dangerous asymmetric competition, however, the same model which allows such explosive growth may be masking an underlying instability in these business models.
Debt-led expansion
Netflix operates an extreme debt-led growth strategy: the company spends more on content and marketing than it generates in revenues. Netflix hopes the strategy will enable it to build a subscriber base which can sustain its high levels of content spend in the future. The key differentiator between a traditional player and Netflix is that the latter, as an OTT player, can aggregate its audience globally and does not need to negotiate individual carriage agreements to expand its subscription base.
The theory of debt-led expansion has few moving parts, and can be summarised by a simple graphic: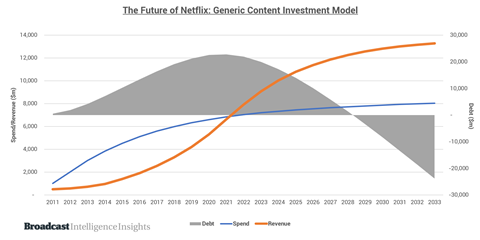 In the early years, heavy investment generates a content-rich service while word-of-mouth marketing and limited advertising allows subscriptions to rise, with the business dependent on only a small proportion of its potential reach. Spend on content is skewed towards acquiring shows which can be made available for a number of years, allowing future subscribers to benefit, not just the current limited base.
As the business matures and becomes more geographically diverse, the company switches from long-term third-party content deals to producing its own content, allowing it to monetise content more efficiently over the multitude of territories it now operates in. Revenues will continue to grow as the service's content library reaches a critical mass with an appeal to most audiences.
At this point, content spend can be sustained at existing levels because the company's global distribution allows it to reach increasing numbers of people, maximising its value. If we compare this generic plan to Netflix's performance, there are a number of similarities.
This chart comprises actual Netflix results up to Q1 2018 and presents forecasts based on the assumption that costs will stabilise as they are spread over a larger audience, and revenue generation will be more effective as the large library attracts more and more subscribers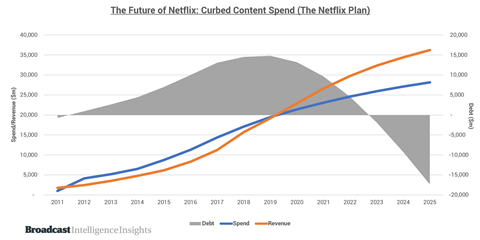 Importantly, this method requires a leveling of spend per subscriber starting from 2019. Currently, Netflix spends around $75 a year on content per subscriber, which has increased by $19 dollars over the last five years. A typical channel-group such as Disney will spend around $10 per subscriber (aggregated across all Disney channels).
Netflix's success will, therefore, rely on the untested premise that subscriber acquisition will become 'easier' over time. This runs counter to Netflix's Q2 2018 reports in which it revealed that subscriber targets were missed by almost one million accounts despite Netflix effectively doubling its marketing spend compared to previous quarters.
The challenges ahead
Netflix's success will therefore rely on the untested premise that subscriber acquisition will become 'easier' over time. This runs counter to Netflix's Q2 2018 reports in which it revealed that subscriber targets were missed by almost one million accounts despite Netflix effectively doubling its marketing spend compared to previous quarters.
Netflix's international regions present a key challenge for the business, which raises concerns around its true global potential. India has been highlighted as an important growth area for the business, with chief executive Reed Hastings commenting "the next 100m [subscribers] are from India".
However, Netflix is a late entrant to the market and local conditions favour the incumbents; heavy regulation means consumers are able to access strong basic pay-TV packages, which are affordable and deliver a range of high quality content to its burgeoning middle classes, and Amazon's bundled proposition is proving successful at attracting consumers for both shopping and video services.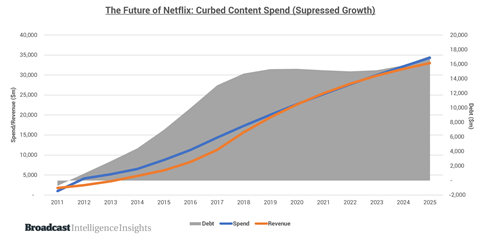 Despite its size, India remains a single country, but Netflix's potential problem highlights that the relationship between spend and subscription revenue is far more linear in international territories than the Netflix plan requires.
A continuation of Netflix's current level of spend per subscriber will cannibalise its delicate margins, potentially creating a scenario in which it is forced to spend increasing amounts to gain more subscribers and sending debts spiralling past a point of no return. While a linear content-consumer scenario would seem to indicate the death of Netflix, instead it merely indicates the unsustainability of its existing model.
Most content groups generate nearly twice as much as they spend on content by striking windowing deals with an array of subscription and free-to-air channels, as well as selling content D2C. The latter forms just a part of their portfolio, targeting hard to reach subscribers or monetising niche or catalogue content.
If Netflix fails to become a cash generating business in the latter half of 2019, it may be forced to adopt some of the same measures; selling content across multiple windows, including licencing content and transactional retail. Transitioning from its single model D2C service to a wider distribution would not be the death of Netflix, instead this would effectively herald the birth of the next US major studio.