But National Theatre's Shakespeare production fails to outscore slot average
This week, the National Theatre's production of Shakespeare's star-crossed lovers at last saw the light of day on Sky Arts after its 2020 West End run was cancelled because of the coronavirus.
Meanwhile, what the Montagues and Capulets are to lovers of Shakespeare, so Brooklands is to fans of piston heads and camshafts, Frazer Nash racers and Routemaster buses, as Yesterday happily discovered.
On Sunday at 9pm Sky Arts' transmission of the National Theatre production of Romeo and Juliet achieved 101,000/0.6% – par for the slot in share terms since the channel went on to Freeview in September 2020 (93,000/0.6%) and slightly more in volume.
Over half the audience was ABC1 adults (58,000/0.6%), whose result was par with the Freeview slot average (53,000/0.6%).
Sky Arts' highest show of the week was Saturday's documentary The Bee Gees: How Can You Mend a Broken Heart at 9pm (163,000/1%).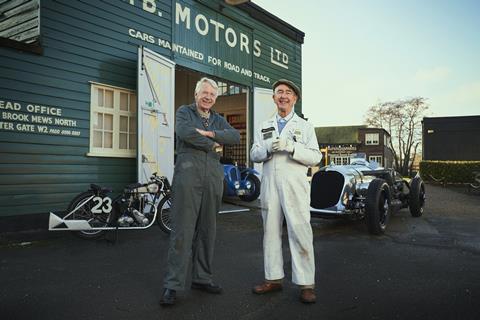 On Tuesday at 8pm Yesterday launched Secrets of the Transport Museum with 356,000/2%, the highest rating for the channel this week. It just nipped ahead of Bangers & Cash on Thursday at 8pm (327,000/2%).
Another 87,000/0.5% watched Secrets of the Transport Museum's Friday 9pm repeat to total 445,000 for the week.
Sky 1's best of the week was the final episode of Syfy comedy drama Resident Alien, which achieved 266,000/2% on Thursday at 9pm. This is the highest individual overnight for the 10-part series ahead of the previous best, 25 February at 9pm (221,000/1%).
On Thursday at 10pm, Sky History launched US factual series Assembly Required, starring the cast of 90s US sitcom Home Improvement doing actual DIY. Its 20,000/0.2% was virtually par with the slot average. Including two more transmissions, its first week totalled 36,000.
Top 50 Non-PSB programmes - 29 March - 4 April

| | Title | Day | Start | Viewers (000s) (all homes) | Share (%) | Broadcaster/producer |
| --- | --- | --- | --- | --- | --- | --- |
| 1 | LIVE: ARSENAL V LIVERPOOL | SAT | 19.45 | 1,042,400 | 6.08 | Sky Sports Main Event |
| 2 | LIVE: MANCHESTER UNITED V BRIGHTON | SUN | 19.00 | 901,600 | 4.80 | BT Sport 1 |
| 3 | LIVE: NEWCASTLE V TOTTENHAM | SUN | 14.00 | 868,000 | 11.12 | Sky Sports Main Event |
| 4 | LIVE: LEICESTER V MANCHESTER CITY | SAT | 17.00 | 786,100 | 5.62 | Sky Sports Main Event |
| 5 | LIVE: ASTON VILLA V FULHAM | SUN | 16.00 | 701,800 | 5.68 | Sky Sports Main Event |
| 6 | LAST OF THE SUMMER WINE | MON | 19.20 | 479,900 | 2.82 | Drama |
| 7 | THE REPAIR SHOP | SAT | 21.00 | 460,800 | 2.69 | Quest/Ricochet |
| 8 | LIVE: CHELSEA V WEST BROM | SAT | 11.30 | 446,500 | 6.17 | BT Sport 1 |
| 9 | SALVAGE HUNTERS | TUE | 20.00 | 410,100 | 2.30 | Quest/Curve Media |
| 10 | QI XL | WED | 21.00 | 375,600 | 2.09 | Dave/Talkback |
| 11 | LIVE: SOUTHAMPTON V BURNLEY | SUN | 11.30 | 374,700 | 5.58 | Sky Sports Main Event |
| 12 | AUSSIE GOLD HUNTERS | MON | 21.00 | 370,800 | 1.88 | Quest |
| 13 | SECRETS OF THE TRANSPORT MUSEUM | TUE | 20.00 | 357,500 | 2.01 | Yesterday |
| 14 | INSPECTOR GEORGE GENTLY | MON | 20.00 | 352,200 | 1.85 | Drama |
| 15 | SALVAGE HUNTERS: THE RESTORERS | WED | 21.00 | 349,300 | 1.94 | Quest/Curve Media |
| 16 | LIVE: WALES V CZECH REPUBLIC | TUE | 19.30 | 344,500 | 2.03 | Sky Sports Main Event |
| 17 | CALL THE MIDWIFE | SUN | 20.00 | 343,700 | 1.73 | Drama/Neal Street Productions |
| 18 | THE INSPECTOR LYNLEY MYSTERIES | TUE | 20.00 | 334,900 | 1.91 | Drama |
| 19 | BANGERS & CASH | THU | 20.00 | 327,100 | 1.79 | Yesterday/Air Television |
| 20 | FIND IT, FIX IT, FLOG IT | TUE | 19.00 | 325,300 | 2.06 | Quest/HCA Entertainment/Yeti Television |
| 21 | WOULD I LIE TO YOU? | FRI | 19.50 | 293,400 | 1.63 | Dave/Zeppotron |
| 22 | ARE YOU BEING SERVED? | FRI | 18.00 | 291,600 | 2.18 | Drama |
| 23 | THE WALKING DEAD | MON | 21.00 | 274,800 | 1.39 | Fox |
| 24 | WHEELER DEALERS | THU | 21.00 | 274,200 | 1.64 | Quest/Betty |
| 25 | THE BROKENWOOD MYSTERIES | SAT | 18.00 | 269,400 | 1.68 | Drama |
| 26 | RESIDENT ALIEN | THU | 21.00 | 265,700 | 1.59 | Sky 1 |
| 27 | GREAT BRITISH RAILWAY JOURNEYS | WED | 19.30 | 265,300 | 1.67 | Yesterday/Naked |
| 28 | ONE FOOT IN THE GRAVE | WED | 21.40 | 263,700 | 1.73 | Yesterday |
| 29 | NEW TRICKS | WED | 22.00 | 261,500 | 2.37 | Drama |
| 30 | DALZIEL AND PASCOE | THU | 20.00 | 241,100 | 1.38 | Drama |
| 31 | SCRAP KINGS | TUE | 21.00 | 240,500 | 1.40 | Quest/Back2Back Productions |
| 32 | GREAT BRITISH RAILWAY JOURNEYS GOES TO IRELAND | TUE | 19.30 | 235,100 | 1.45 | Yesterday/Naked |
| 33 | FATHER BROWN | SAT | 20.00 | 234,900 | 1.28 | Drama |
| 34 | LIVE: BIRMINGHAM V SWANSEA | FRI | 19.30 | 231,400 | 1.31 | Sky Sports Main Event |
| 35 | SOPHY RIDGE ON SUNDAY | SUN | 8.30 | 231,000 | 4.84 | Sky News |
| 36 | ANTIQUES ROAD TRIP | MON | 20.00 | 228,400 | 1.25 | Really/STV Studios |
| 37 | SKY SPORTS NEWS | FRI | 16.00 | 221,500 | 2.44 | Sky Sports News |
| 38 | THE YORKSHIRE AUCTION HOUSE | MON | 21.00 | 220,800 | 1.12 | Really |
| 39 | JUDGE JOHN DEED | WED | 20.00 | 218,400 | 1.19 | Drama |
| 40 | THE BILL | THU | 12.00 | 214,700 | 3.69 | Drama |
| 41 | POLICE INTERCEPTORS | THU | 20.00 | 214,200 | 1.17 | Paramount Network/Raw Cut Television |
| 42 | TASKMASTER | MON | 22.00 | 205,800 | 1.56 | Dave/Avalon |
| 43 | TRAFFIC COPS | FRI | 20.00 | 202,600 | 1.12 | Paramount Network |
| 44 | GILLETTE SOCCER SATURDAY | SAT | 15.00 | 202,000 | 2.69 | Sky Sports News |
| 45 | MAGNUM P.I. | SUN | 21.00 | 198,100 | 0.94 | Sky 1 |
| 46 | LIVE: SCOTLAND V FAROE ISLANDS | WED | 19.00 | 197,600 | 1.17 | Sky Sports Main Event |
| 47 | HYPOTHETICAL | WED | 22.00 | 191,300 | 1.57 | Dave/Hat Trick Productions |
| 48 | WINTER ROAD RESCUE | THU | 21.00 | 190,500 | 1.14 | Paramount Network |
| 48 | MORTIMER & WHITEHOUSE: GONE FISHING | SUN | 20.00 | 190,500 | 0.99 | Dave/Owl Power |
| 50 | ROOM 101 | WED | 20.20 | 190,100 | 0.99 | Dave/Hat Trick Productions |