Some unkind types have branded Nick Ferrari the voice of the 'white van man' in the past - but they'll have to reassess their views now.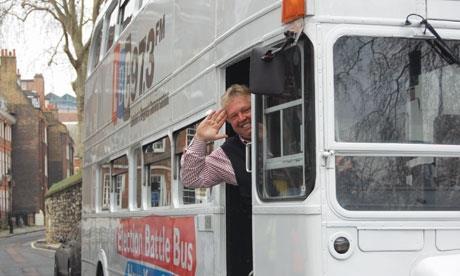 The LBC DJ will be the voice of the 'white bus man' in the run-up the election, broadcasting live from the station's rather splendid Election Battle Bus.
Grab your partners…
Kayvan Novak may be revealing a new side to himself by turning Fonejacker into Facejacker for his new series, but he's not the only one. Channel 4 head of comedy Shane Allen also showed off hitherto hidden talents at the show's launch, defeating all-comers in a Country & Western-style hoedown dance-off. Yee-hah.
BPG success on a shoestring
Never let it be said that budget cuts are holding back the TV industry. The cream of British programming was honoured at the Broadcasting Press Guild last week, and the key to winning seems to be resourcefulness. Sandi Toksvig provided her own coffee cups to keep the Sky Arts Theatre Live! team quenched, and the cast and crew of Carnival's BBC4 drama Enid provided furniture and props. Off Cuts loves the can-do attitude. Thanks to UKTV's Dave for sponsoring the awards.
More from BPG
Still at the BPG awards, the gong for quick thinking goes to chair and host Neil Midgley from the Telegraph. He faced a challenge following a (lengthy) acceptance speech by the team behind Occupation - not least because his script was accidently whisked away as exec producer Derek Wax left the stage. "I've got to say something that will come as no surprise to anyone who's worked with Kudos," quipped Midge. "Derek, you've stolen my script."